A place in the shade: Israeli buyer choses Hungary for his family getaways
Boris, Tranio client from Netanya in Israel, is an adventurous 83-year-old mechanic. To escape the summer heat with his likeminded wife, he bought a flat in Hungary's famous spa town of Hévíz. Boris shared with us his love of healing waters and family, which he plans to reunite from the four corners of the earth in his new home away from home.
— What led you to buy property abroad?
— My wife and I decided to find a flat in Europe near one of the health resorts. We are not active travellers but despite our age, we've shared a passion for downhill skiing for over forty years now. Our favourite place is Bansko in Bulgaria where we go every winter. And in summer we would go to health resort of Piešťany in Slovakia — to rest up after our winter sports holidays.
— But finally you chose neither of these destinations and went for Hungary instead. Why?
— Bansko is dead during the summer and I have enough sea and sun in Israel. Piešťany is as expensive as any other prestigious health resort. Actually, my daughter who lives in Hungary gave me the idea: she's how I heard of Hévíz. The town has it all: therapeutic muds, a thermal lake and great European nature. Have you been to Israel? Go to a sauna and you'll have an idea of what summer is like there! So Hévíz turned out to be a perfect shelter from the Israeli heat. To cut it short, my wife decided: "Let's make a push and buy a small flat in Hévíz".
Hévíz spa town sprung up on the shores of the Hungarian lake bearing the same name, the largest of Europe's hot water springs. Even in winter the water temperature doesn't fall below 25°C. Its waters are rich in minerals, helping to cure rheumatic and inflammatory diseases. The therapeutic muds from the bottom of the lake are used by Hévíz's public clinic to treat hypoacidity and chronic gastritis treatment.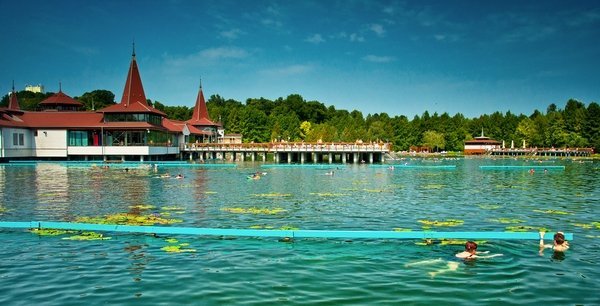 — How long did it take you to find the flat through Tranio?
— I began searching for an apartment on January 19th, 2015. It was like a hobby for me: every day after work I would look through advertisements on different sites and compare the prices. I looked through about five hundred offers! I took note of Tranio's website and made a call. Your manager, Inna Opalyuk, put me in contact with a reliable Hungarian realtor, Nadja Királyházi, who had several potential properties. By late January, my wife, daughter and I were already visiting property.
— What criteria did you have in mind?
— It was simple: we needed a flat for the whole family! I have three daughters, five grandchildren and we love spending time together. I told my son-in-law: "two-bedrooms will do, but if you put some money in, we'll buy a three-bedroom one." He agreed. I took out my savings and got a four-year loan from an Israeli bank, bringing our joint budget to €75,000 — and we chose property accordingly. We saw about a dozen options on the spot in a day. I'm not very demanding — fresh air and clean water is all I need, as they say in Zakarpattia.
— And finally, what property did you settle on?
— We bought a three-bedroom 56 sq m flat on the ground floor of a gated residence. It has all the essentials: gas, electricity, furniture and home appliances. And I've already found my favourite spot outside where I'll have my coffee.
The residence is within fenced grounds with two other ones: all two-storeys with four flats in each. They can't be more than two years old. It's just a fifteen-minute walk from the lake and there are lots of shops and cafés nearby.
— Was it hard to register property in Hungary?
— We got the permit to buy property — that's mandatory for foreign citizens here — quite quickly. Then we collected most of the documents, except the one confirming succession rights of the children (the previous owner had registered his three minor grandchildren there). That's why we got it furnished, but nobody had lived there. When the parents decided to sell the property the permit was needed to protect the grandchildren's inheritance and basically made me divide my payment into three parts — one for each grandchild. What a hassle it was! We'd signed all the paperwork in winter but only got the permit in May!
— What took so long?
— Ask these pencil pushers why… One day there would be a flu epidemic, the next something else. That's the way they work, so we just had to wait. On the other hand, every letter we got from them was cause for celebration!
— If you only come to Hévíz for summer, how will you use the flat the rest of the time?
— We will live there in turns. My relatives can come whenever they like: one daughter with her children, the other one, my grandson with his girlfriend... In other words, my home will never be empty. We could rent it out, but who will look for the tenants and keep it clean? No we're not going to do this.
— Will you get the whole family together for a house warming?
— Not the whole family, I don't have that much money. First, my wife and I will come to celebrate in private. Then it will always be busy with my children and grandchildren.
Ivan Chepizhko, Tranio
Subscribe not to miss new articles
We will send you a content digest not more than once a week
Subscribe
Done!
Top 5 Articles of the Month