Costa del Sol resorts: best places to buy a holiday home
The Costa del Sol is a 150km-long coastal region in Spain's southern autonomous community of Andalucía. Located on the Mediterranean sea, it earned its name, "The Sunny Coast", thanks to the hot climate and 320 days of sun per year. Every year 10 million tourists visit the region. It can be accessed from the nearby international airport (near Malaga) and has many different points of attraction, from sandy beaches, mountains and lively villages to golf courses and nightclubs.
The region is also getting a lot of attention from foreign buyers after several calm years and prices are now growing. By October 2015, they had increased by 1.3% year-on-year, according to Spanish portal fotocasa.es. The majority of buyers choose Marbella, Estepona and Benahavís.
This guide explores the most popular property destinations along the Costa del Sol, from upmarket Sotogrande in the East to the "Balcony of Europe", Nerja, in the West.
Average property prices in Costa del Sol resorts
EUR/sq m
| | |
| --- | --- |
| Sotogrande | — |
| Manilva | 1,296 |
| Estepona | 2,846 |
| Puerto Banús | — |
| Benahavís | 2,133 |
| Marbella | 2,264 |
| Fuengirola | 1,705 |
| Mijas | 1,428 |
| Torremolinos | 1,600 |
| Benalmádena | 1,698 |
| Málaga | 1,647 |
| Torrox | 1,598 |
| Nerja | 2,065 |
| Andalucía | 1,440 |
Sources: fotocasa.es, September-October 2015
Sotogrande
Sotogrande is not a town, rather an elite housing development that is adjoined to the town of San Roque. It is famous for the natural beauty of its surroundings and developed infrastructure. There are several artificial lakes, polo clubs, five golf courses, a marina and about 2,500 luxury mansions.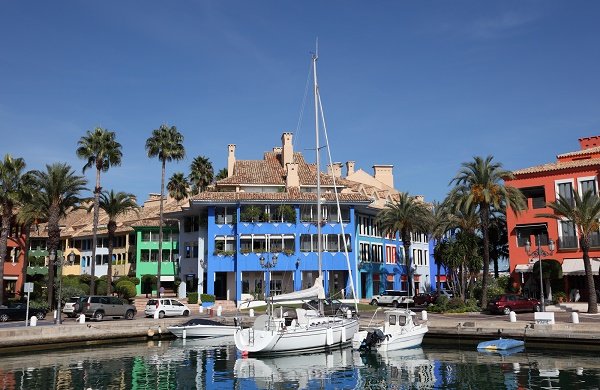 Sotogrande is empty most of the year but comes to life in July and August when millionaires, diplomats, celebrities, models and members of royal families come here to relax on holiday. Aside from millionaire mansions, there are two-bedroom apartments for sale from €200,000 and houses from €600,000.
Manilva
Manilva is a quiet city that up until recently revolved around wine and vineyards. It has a good choice of bars and restaurants as well as the fishing port and a world-class marina (for 300 boats). The main attraction is the XVIII-century Duquesa Castle (Castillo de la Duquesa) and the 8 km stretch of sandy beaches.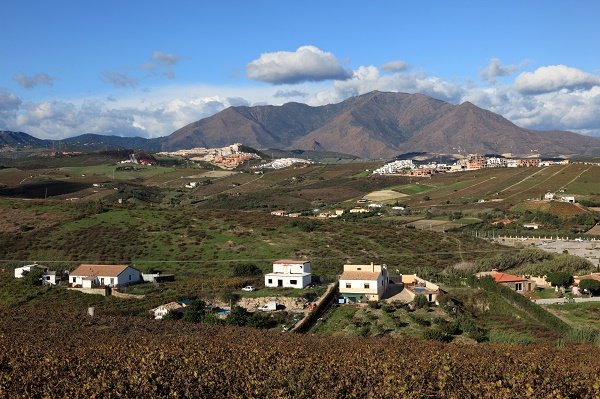 There coast hosts many residential developments, including Duquesa Village and Residential Duquesa, which both have 500 apartments and a golf course. For more upmarket property, buyers head to Marina de Casarea and Casarea del Mar.
Last year prices hit rock bottom after many houses were foreclosed in the years after the 2008 crisis. However now there is increasing demand for reasonably priced property.
Prices for a two-bedroom, two-bathroom apartment close to the marina and the beach start at €120,000 and three-bedroom townhouses start from €180,000.
Estepona
Estepona is one of the most popular resorts on the Costa del Sol, but thankfully the town has managed to preserve its authenticity and the centre has traditional architecture, tapas bars and small shops.
There is also a marina, quaint squares and Europe's biggest orchid garden. The Selwo Aventura, a safari-themed park and its 2,000 animals, is just 20 minutes away from the port. Visitors can enjoy the eight golf courses and seven museums in the area.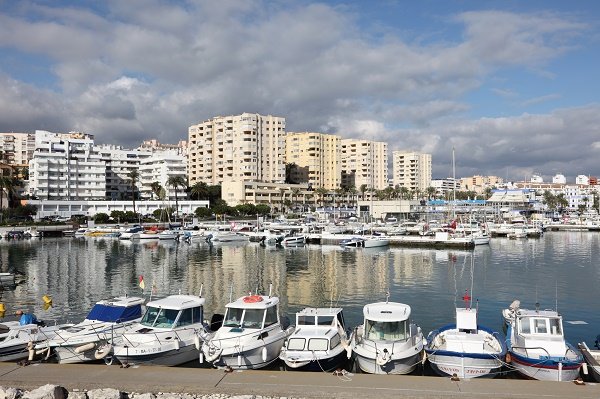 Estepona has 21 kilometres of beaches including four blue flag ones: Playa del Cristo, La Rada, El Saladillo and nudist Costa Natura.
The town's most prestigious neighbourhood is called the "Golden Mile" thanks to the many five-star hotels and houses on the seafront. El Paraiso is a popular district for families and those who want to own a Spanish villa. New developments are popping up in the nearby town of San Pedro (located within the Estepona municipality).
Apartments in Estepona cost from €150,000, or €200,000 in more upmarket areas and townhouses can be found for €200,000–450,000.
Puerto Banús
This upmarket village is an elite destination, with luxury houses and designer shops, just 30 minutes west of Estepona. Millionaires regularly moor their yachts in the town's marina, which has attracted the rich and famous from around the world since the 1970s.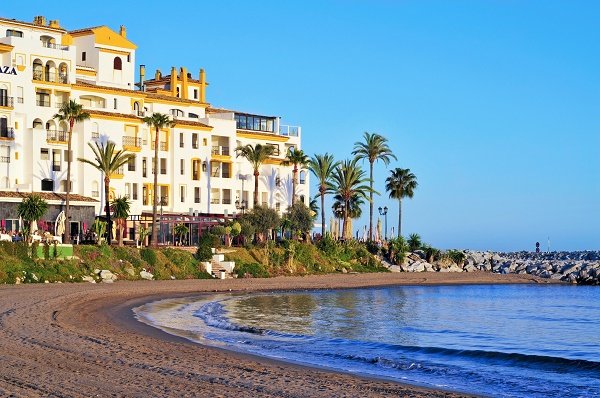 Four million tourists visit Puerto Banús every year, attracted to the trendy bars, clubs and boutique shopping. Property close to the marina and the beach is the most popular. Prices for elite apartments with a view start from €1.5 million, but buyers on a more modest budget can find a flat for €250,000–300,000.
Benahavis
Benahavis is a small village nestled in the mountains — 7 kilometres from the coast — between Estepona and Marbella. It has all the infrastructure, including many restaurants and bars, action sports facilities and about a dozen golf courses. Benahavis was named "the dining room of Costa del Sol" for its culinary achievements.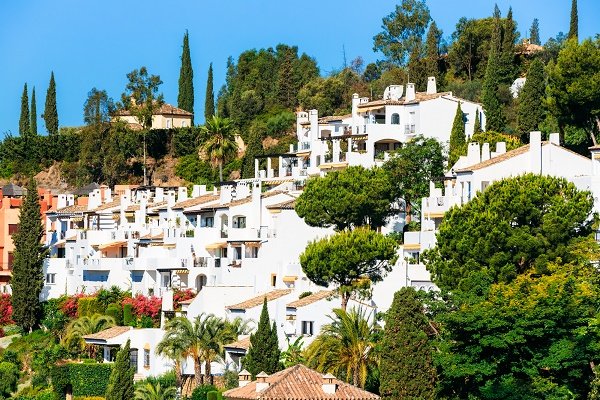 Among the landmarks of Benahavis there are a X century Montemayor castle, church Iglesia de Nuestra Señora del Rosario, Moorish watchtowers and a XVI century palace.
A luxurious housing development La Zagleta is located close to Benahavis. Thanks to this neighbour Benahavis became the richest municipality in Andalucía. In recent years, many villas have been built here, some of them owned by foreign citizens. The average property price in La Zagaleta is €5.5 million. Apartments in Benahavis cost from €130.000, houses — from €260,000.
Marbella
This beautiful resort town is famous for its spectacular seafront and 25 km stretch of beaches, six of which have been awarded blue flag status. Marbella's main beaches are Playa de la Bajadilla, Playa de Venus and Playa de la Fontanilla. In the historical centre, you can find the Square of Oranges (Plaza de los Naranjos) and the city hall. The town also have ancient Arabic ramparts, Salvador Dali sculptures on Avenida del Mar, olive oil, a bonsai museum and a 400-year-old church: Iglesia de Nuestra Señora de la Encarnación.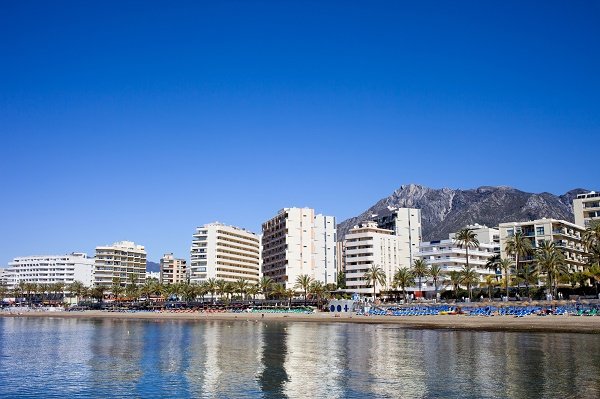 For those looking to relax, there are 16 golf courses, four marinas and 20 spas. These activities are also excellent options to unwind after an exciting night on the town — Marbella's historical centre is one of the best places for nightlife on the coast. Its party potential has earned the reputation of being the "Saint Tropez of Spain".
The "Golden Mile" (coastal stretch between Marbella and Puerto Banús) is the best place to go for expensive and luxurious residential real estate. However, the most in demand properties are modern two-bedroom apartments close to the beach. Prices for flats and townhouses start from €100,000.
Fuengirola
Fuengirola has some of the best beaches in Spain along its 8 km coastline. Fuengirola's seafront has many restaurants, bars, nightclubs and shops along it, as well as a marina and a yacht club. Tour companies recommend this town as the best family resort of Costa del Sol. There are about 20 parks and gardens, an aquapark (Parque Acuatico de Mijas) and an animal park (Bioparc Fuengirola). There are also ruins of the old Arabic castle Sohail on the outskirts of town.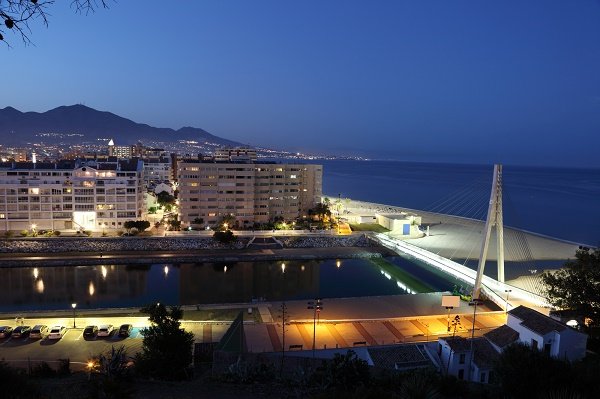 One quarter of the town's residents are foreign, British and Scandinavian in particular. There are many high-rise apartment buildings with great views as well as narrow streets with villas. The coast is densely developed so new residential projects are being built further from the sea. Upmarket property prices are 1.5–2.0 times lower than in Marbella and Puerto Banús. Apartment prices start from €80,000, houses — from €200,000.
Mijas
Mijas is a traditional Andalusian mountain village with a limited coastline. It is particularly popular with foreign buyers, which are mainly British. The town has both authentic architecture and a modern feel. There are 12 golf courses, several beaches and monuments like a XVI century church, Moorish fort and a watchtower with spectacular views over the sea.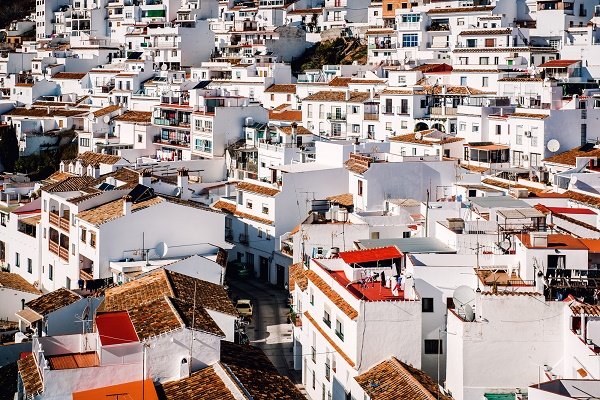 Mijas Pueblo, Mijas Costa, Cala de Mijas and Las Lagunas are all located within the Mijas municipal borders. There is 12 km of coast, divided into several beaches with restaurants serving up the local speciality, fried fish (pescaíto frito). It is also a great place for diving and windsurfing. Apartment prices start at €80,000 and houses sell for at least €150,000.
Torremolinos
This town, just 13 km west of Malaga, was the first to be developed as a resort on the Costa del Sol. In 1959, its first luxurious hotel was opened and, by 1965, Torremolinos was one of the most popular destinations towns in Spain. Translated as the "Mill Towers", it had a watchtower surrounded by 19 mills during the Muslim conquest of Spain. Known to the British as "Torrie", it is major resort, which lacks the prestige of resorts like Marbella. The majority of foreign citizens (mostly British, Irish and Scandinavian) are permanent residents.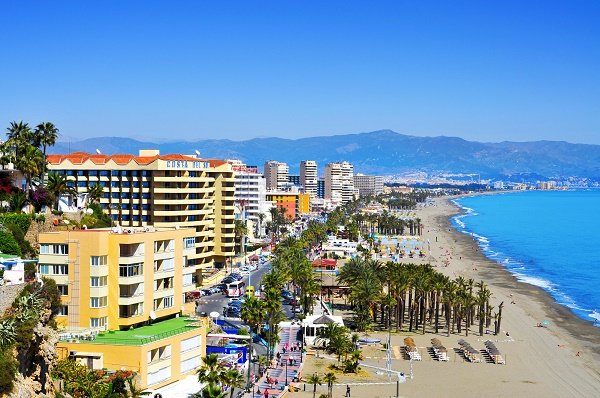 The town is famous for its beaches and spectacular seafront, but inhabitants also benefit from good infrastructure, numerous entertainment options and parks. The resort targets young people, but those looking for quiet and cultural holidays will also enjoy the local heritage and scenery. It is home to the biggest aqua park on the Costa del Sol, Aqualand, and even a crocodile farm. Real estate prices in Torremolinos range from €100,000 to €400,000 on average.
Benalmádena
Benalmádena is a universal resort with leisure facilities for young people and thrill-seekers as well as relaxed places for family holidays. There are two golf courses, a casino and the world-class Puerto Marina that can moor 1,000 yachts. The coast is 20-km long and includes 15 beaches.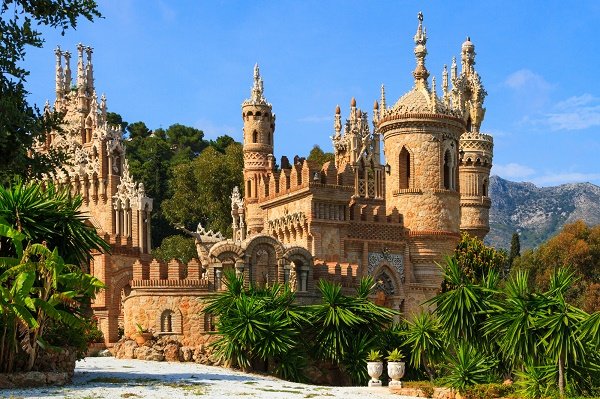 The town is divided into three distinct parts: the historical (and not very touristy) Benalmádena Pueblo with its many narrow streets, quiet squares and white houses; Benalmádena Costa with its discos, malls, a marina and many attractions; Arroyo de la Miel, a developed area and financial and economic hub. Flat prices start from €86,000, houses cost from €230,000.
Malaga
Malaga is lively port city with 16 beaches, including the famous La Malagueta, but tourists also come here for the entertainment, shopping and guided tours. It also is also home to the Malaga Movie Festival, Pablo Picasso and Antonio Banderas.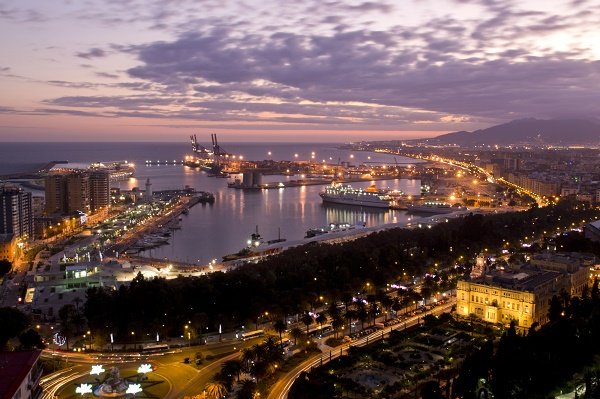 Historical monuments include the 1,000-year-old Alcazaba castle, an ancient Roman amphitheatre and about 30 museums on a variety of topics like cars, wine and flamenco. The Malaga International Airport is just 8 km away. Prices start from €75,000 for flats and €325,000 for houses.
Torrox
Torrox is close to Malaga, but not very well known to foreign real estate buyers, even though it has the same mild climate and gorgeous coastline as the rest of Costa del Sol.
Tourist attractions include the archaeological centre El Faro and the church Iglesia de Nuestra Señora de la Encarnación. The coast stretches over 9 km with dark sandy beaches like Ferrara, El Cenicero, Calaceite, El Morche and El Peñoncillo that are easily accessible and equipped with everything people need to enjoy a beach holiday.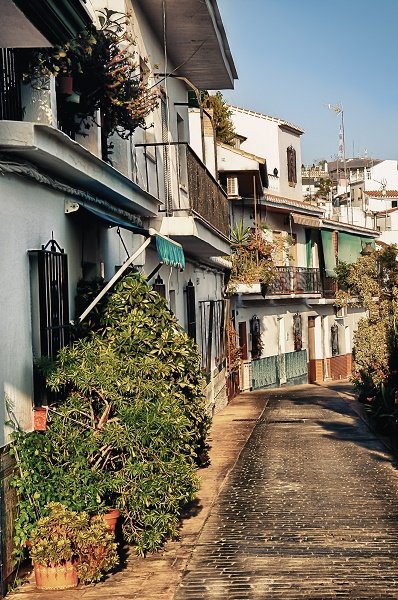 The town is divided into three parts: Torrox Costa (by the sea), Torrox Pueblo and its white Mauritanian houses (4 km from the sea) and Torrox Park between the two.
The town is most popular among British and Germans. Buyers usually head to Torrox Costa where there are the most hotels and entertainment options as well as good beaches. House and flat prices in Torrox Costa start from €120,000.
Nerja
Nature lovers would like Nerja with its spectacular 16-km coastline, small rocky coves and crystal clear waters. The most popular beaches are Burriana, Playazo, Calahonda and Torrecilla. Nerja is also a popular diving destination.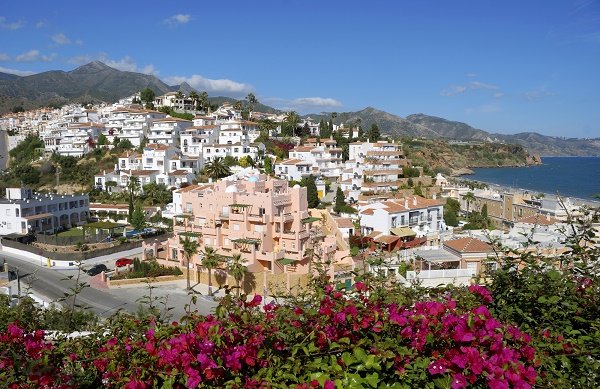 The main landmark of Nerja is "the balcony of Europe" viewing point that overlooks the Mediterranean, but there is also a church, Iglesia de El Salvador, and the Caves of Nerja at the foot of Almijara mountain. The town has 400 restaurants, bars and cafes and five supermarkets. About one third of the residents are foreign citizens, which are mostly British. Townhouses of 90–100 sq m with two-three bedrooms cost about €220,000–230,000.
— Families with children: Manilva, Fuengirola, Estepona — Sports lovers: Mijas, Sotogrande — Best holidays: Marbella, Fuengirola, Estepona — Nightlife andentertainment: Benalmádena, Malaga, Puerto Banús, Torremolinos — Luxury resorts: Benahavis, Marbella, Puerto Banús, Sotogrande — Affordable property: Manilva, Mijas
Yulia Kozhevnikova, Tranio
Subscribe not to miss new articles
We will send you a content digest not more than once a week
Subscribe
Done!