Foreign investors break commercial real estate records in Germany
In 2015, foreign buyers were responsible for over 50% of all commercial property investments and made history by injecting €78.4 billion into the market, beating the record set in 2007.
Foreign buyers dominate most segments
Last year, foreign investors spent €28.1 billion on commercial property in Europe's leading economy, representing 51% of the total investment amount in the market according to JLL, a global real estate services company. This marks a five-year high for inbound investments, which hadn't occupied more than 30–40% of the market share in recent years.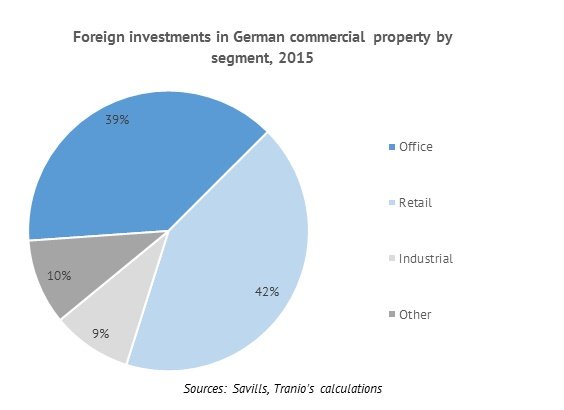 Foreign funds continued to satiate their appetite for office property (39% of all foreign investments) and retail space (42%). These popular segments are particularly attractive thanks to growing wages, a strong German economy and low vacancy rates.
The pull of retail property was even stronger in terms of overall investments into the segment: 61% of all retail property investments came from abroad according to Savills, another international property giant.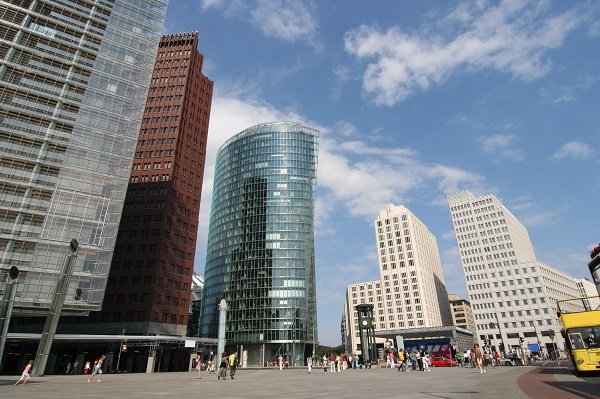 International buyers were just as active as locals on the German office market, with both parties putting up 50% of the total investment volume. However, a closer look shows that Europeans made up 28% of this sum, U.S. buyers 15% and 4% from Asia-Pacific.
Foreign capital also dominated industrial property with 63% of investments, even though the segment only attracted only 9% (€4 billion) of the total commercial property volume.
-> Commercial property investments soar in Germany's "Big Seven"
In 2015, Berlin became Germany's most popular location for foreign investments into commercial property, making up 58% of the total volume. Germany's capital is now ahead of the country's other "Big Seven" cities, which are the most popular markets nationwide. The other members of this "Big Seven" club are Hamburg, Dusseldorf, Munich, Stuttgart, Frankfurt and Cologne.
Record foreign investment volume
The industry concurs that 2015 was indeed a record-breaking year in terms of investment volumes, however global real estate giants have diverging estimates regarding the total injected capital.
According to CBRE, €78.4 billion was invested into German commercial property last year, a 48% increase on 2014. But figures by JLL, a competitor, report that it only accumulated €55.1 billion, an increase of 40% year-on-year.
These record investments reflect international trust in the German economy. In 2015, the country's GDP grew by 1.7% compared to 2014 and consumer spending increased by 1.9%. The latter is a key factor in why retail property is so popular with foreign buyers.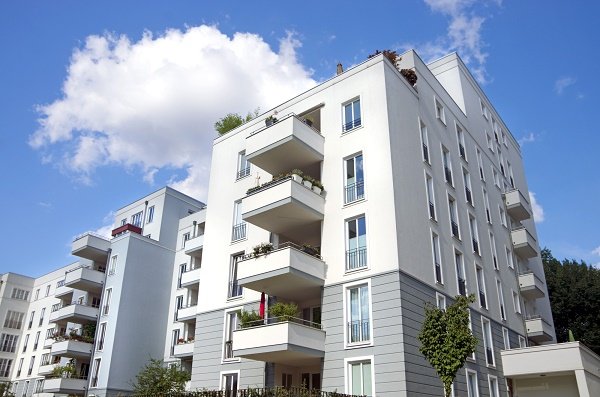 The volume of investment into Germany's buy-to-let residential property also increased last year, hitting €23.3 billion. However, this segment is dominated by locals with foreign investments making up just 15% of the total volume.
What to expect in 2016
Two elements distinguished Germany's commercial property market in 2015. While the country's "Big Seven" cities were leaders, investors started going for lower-budget property outside the overheated central districts. Secondly, buy-to-let residential investors were looking for higher yield property from property such as new-builds, studios and student accommodation. This trend is most likely going to continue in 2016.
Experts also expect the commercial investment volume to exceed €50 billion once again this year, but buyers will no doubt struggle to find real estate in their favourite segments. Vacancy rates should continue to fall but rental rates in core markets should grow. At the same time, as online retail gains in popularity, demand in the industrial and logistics segment, particularly for well-located warehouses, is expected to grow.
The future of Germany's commercial property market is indeed bright for owners, however local and foreign investors will have to contend with the scant supply in areas with the highest demand.
Ivan Chepizhko, Tranio
Subscribe not to miss new articles
We will send you a content digest not more than once a week
Subscribe
Done!