Resorts of southwestern Mallorca: places to buy holiday homes and residential properties
Mallorca is the largest of the Balearic Islands and one of the most popular destinations for tourists and property buyers from Germany, Austria, the UK and Scandinavian countries. Almost 23% of the island's population are foreign citizens, the biggest segment of non-nationals in the country.
The island has good infrastructure that attracts foreign property buyers: 10 international schools, 89 beaches, 7 Michelin star restaurants, more than 300 km of cycling lanes, 24 golf courses, 44 yacht marinas, diving schools, etc. Only 60% of the landmass can be used for construction purposes, the rest belongs to protected areas including ten national parks and sanctuaries as well as territories with various building restrictions.
As the popularity of its local resorts grew abroad, restrictions on land development pushed property prices up by 10% during 2014 and 2015 in comparison with 2013 and they are still rising. In 2014 the sales volume on the island increased by 28% and the average property price went up from €750,000 to €1.2M according to the Spanish branch of Engel & Völkers, a real estate agency. Property on Mallorca caters to every taste from midrange flats for €80,000 and luxurious villas worth tens of millions. Foreign buyers often choose the property on the southwest coast where the infrastructure is best. Car transfer from the Palma de Mallorca airport takes 10–15 minutes. The top resorts are located in and around these towns:
Andratx
Puerto de Andratx and Andratx
Puerto de Andratx is an exclusive address with many luxury properties. The town itself is not the ideal beach destination, but magnificent sandy stretches are only five minutes away by car. Dragonera island is also located nearby and is known for its resemblance to a sleeping dragon. On the island there is a national park with many rare birds, woods and mountain trails. The newly renovated Puerto de Andratx marina can moor over 450 vessels and is considered one of the best on the island.
Flats in Puerto de Andratx cost €6,000–6,500 per square metre and houses from €9,000 to €11,500. A two-bedroom flat costs €300,000 on average while prices for villas start at €1M. The four main villa and apartment residential complexes are Mon Port, Cala Marmacem, Cala Moragues and Cala Llamp.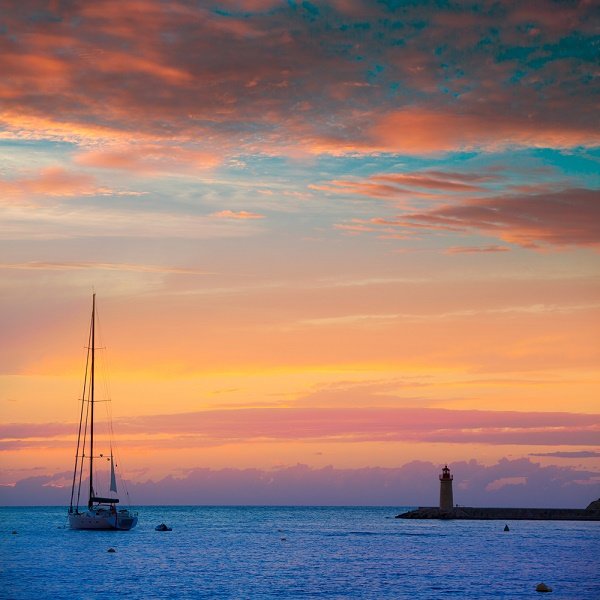 The town of Andratx is 15 minutes from the coast. The resort has gained popularity with the world's celebrities who are attracted by the upmarket restaurants, designer boutiques and premium Golf de Andratx golf club. The town also has a modern art gallery (Andratx Art Centre) and the Sa Taronja cultural centre hosting concerts, exhibitions and workshops.
Flat prices start from €200,000–300,000 and prime villas from €1M while prices for mansions with sea views can reach €10–15M. Foreign buyers (mostly German) choose villas with large land plots and outstanding views over the harbour. In 2014 a villa was sold in Andratx for the record price of €27,000 per square metre. This town has a luxurious property market where homes come equipped with a private cinema, spa, underground parking and wine cellar for €15–20M.
Camp de Mar

Camp de Mar is a quiet and secluded resort area just a five-minute drive away from Andratx. Vast sandy beaches, tennis courts and golf courses attract property buyers. Prices for villas in Camp de Mar start at €270,000, terraced houses from €350,000 and villas from €800,000.
Calvià
Peguera
Peguera was a small fishing village until the 1970s, but today it's a fully-fledged resort located 20 km west of Palma. In peak season its three beaches are relatively crowded but there are hidden lagoons and rocky bays at Cala Fornells, half an hour by foot. Many German, Austrian and Swiss families live and spend their holidays in Peguera, so it has more German pubs and restaurants than elsewhere nearby. This town is cosy getaway that's perfect for families.

Peguera is also popular with sports aficionados. The town is situated at the foot of the Sierra de Tramontana mountain range where there are abundant hiking trails and rock-climbing routes. There is also a tennis school (Tennis Academy Mallorca) that offers lessons for children and adults. Flats in the town are often cheaper than €200,000, but sea view apartments sell for about €500,000. Prices for villas by the sea start at €1M.
Santa Ponsa
The Santa Ponsa resort is located 19 km from Palma along a bay with wide sandy beaches. It has all the essentials for an exciting holiday: yachting, golf courses, horse riding and restaurants; as well as all the necessities for daily life: supermarkets, schools, hospitals and banks. Property is popular with pensioners, families, golf and sailing amateurs. The majority of foreign buyers are Scottish, English and Russian.
Santa Ponsa has three golf courses (one is communal, the two others members-only) and a diving school. The local Country Club leisure centre has spas, tennis courts, gyms and sports clubs for children. Extreme sports fans of all ages will enjoy the Jungle Parc: nine hectares of fixed rope routes in the forest canopy at a height of up to 10 metres. The luxury port of Port Adriano and the resort of Magaluf have many entertainment options close to Santa Ponsa. The island's capital Palma is just 15 minutes away by car.

Average prices in Santa Ponsa range from €4,000/sq m for flats and €5,000–5,500/sq m for villas. The most expensive properties are in Nova Santa Ponsa, within walking distance of the port, golf courses and the El Toro beach. The majority of houses and apartments are inside gated residential complexes where two-bedroom flats cost €350,000–700,000 and villas from €1M.
Magaluf
Magaluf is Mallorca's entertainment capital. The famous BCM Planet Dance nightclub is located there as well as a lot of Irish and British pubs where young people from all over the Europe, mainly from the UK, live it up until dawn.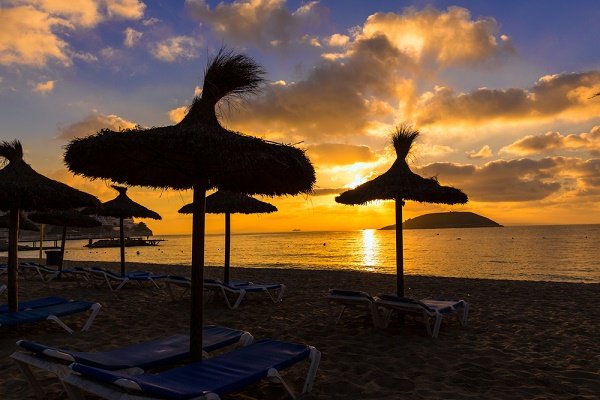 The resort also has entertainment for children: the Marineland dolphinarium and aquarium, Aqualand and Western Water Park, Pirates Adventure Show, Katmandu Park and a karting track. Property is modestly priced in Magaluf: one or two-bedroom apartments sell for €80,000–100,000 and four-bedroom flats for €250,000. However, families may prefer to live in nearby Palma Nova, just ten minutes away, where it is a lot quieter and relaxed.
Palma Nova
Palma Nova is a place where many British people live or spend their holidays, but it is also very popular with the Russian citizens. Son Caliu is the quietest district and the town gets busier closer to Magaluf. Families with children choose Palma Nova as their place of residence so as to have easy access to Magaluf entertainment spots without the hassle. Property here is more affordable than in the resorts near Palma. A two-bedroom sea view apartment can be found at €100,000–150,000 while villas range from €300,000 to €2M.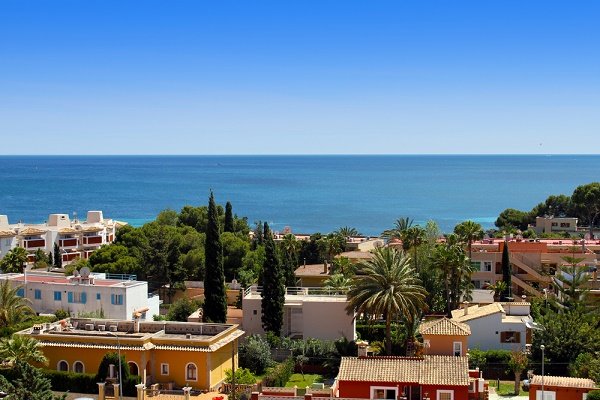 The Puerto Portals yacht marina as well as the Bendinat and Santa Ponsa golf clubs can be easily reached from Palma Nova. The town itself has plenty of restaurants and shops. Palma Nova is just 14 km away from Palma de Mallorca.
Bendinat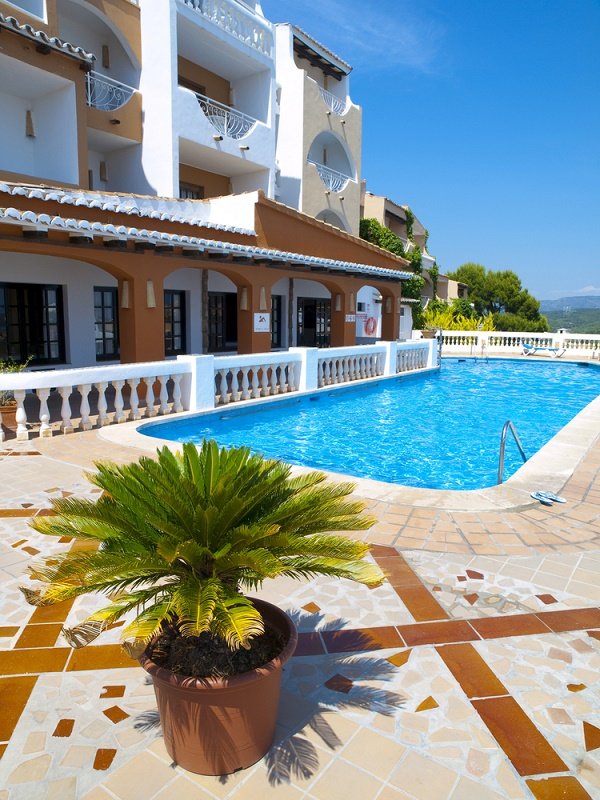 Bendinat is a prestigious and expensive resort where affluent Spanish and British people live. The resident population of Bendinat is just 500–600 people. New mansions are situated around the first-rate international Real Golf de Bendinat golf club whose honorary president is no other than the former King of Spain Juan Carlos I. There are also several international schools, private clinics and the Puerto Portals yacht marina near the resort. Bendinat is a perfect choice for those who value privacy and comfort. There are many villas with prices ranging from €1.5M to €10M and apartments from €350,000 to €1,5M.
Palma
Cala Mayor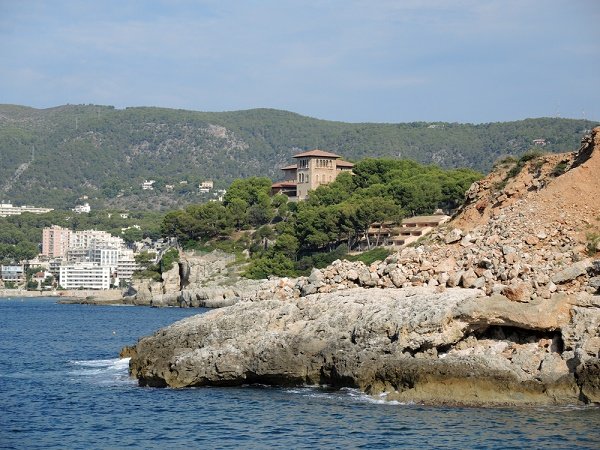 Cala Mayor is a resort located just 4 km away from Palma. In fact it's not a town but one of the capital's suburbs that is perfect for beach holidays and many Palma residents buy second homes there. However, many tourists and residents flood the beaches during the high season making it quite crowded. In the height of the season it's not uncommon to catch a glimpse of the King of Spain in the streets of Cala Mayor as this is home to the Marivent Palace (Palacio de Marivent), summer residence of the royal family. Flats in Cala Mayor start at €250,000 and houses from €500,000–700,000.
Son Vida
The Son Vida district is a five-minute drive from the historic centre of Palma de Mallorca and ten minutes from the island's international airport. The settlement is on a hill guaranteeing homeowners a beautiful sea view. Son Vida has three golf courses (Son Vida, Son Quint and Son Muntane) and two five-star hotels (Arabella Son Vida and Castillo Hotel Son Vida). The main international schools of Mallorca are nearby.
Son Vida is known as the local Beverly Hills: most inhabitants are affluent foreign citizens who value comfort, security and privacy. More than a half the buyers are German and Swiss citizens, the rest are from the UK, Spain and Scandinavia. There are over 350 villas, each of them with a land plot and a private garden and only two apartment complexes in the district. The most modest houses are 350 sq m and the most luxurious ones over 3,000 sq m. Property prices there are among the highest on the island, up to €20,000 per square metre. Houses in Son Vida have private spas, cinemas, gyms, wine cellars and are come equipped with the finest technology on the market.
Palma de Mallorca
Palma de Mallorca, or Palma, is the capital of the entire autonomous community of the Balearic islands. The population of the city is about 400,000, or 60% of the total island population. Nearly one quarter of Palma inhabitants are foreign nationals, half of which are from other EU countries. The Sunday Times named Palma the "World's Best City to Live" in 2015. Major landmarks include the 14th century gothic cathedral (Catedral de Santa María de Palma de Mallorca), the 13th century Royal Palace of La Almudaina, Bellver Castle and over 40 art galleries and museums. The opera and concert season opens in winter.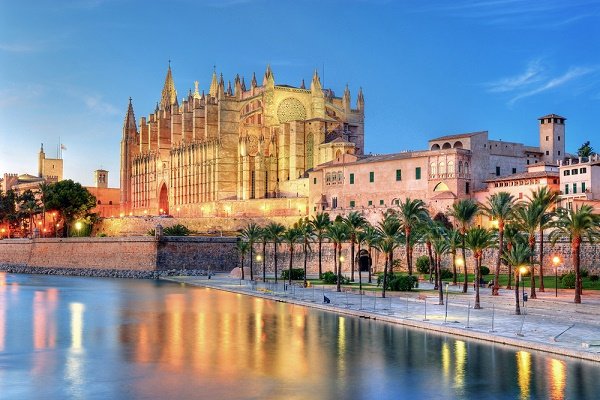 Palma is the island's most popular city with property buyers looking for full-time residence. The city has lots to do all year round and good necessary infrastructure. Palma and its suburbs have prestigious international schools with teaching in English, German and French. In 2013 the capital's port was recognised the largest in the Mediterranean and the city's airport receives flights from all major EU destinations. There are seven yacht clubs in the capital and the most luxurious vessels from all over the world are moored at Club de Mar marina. Palma also hosts yacht races and other competitions several times a year including the King's Sailing Cup in summer and one stage of the Sailing World Cup.
The most popular city districts for buying property are the old quarter (Casco Antiguo) Calatrava, Santa Catalina and La Lonja. El Terreno is the most popular with the Swedish citizens who even have their own school and church there. Modern flats in renovated buildings vary from €3,000 to €6,000/sq m while property near the sea is about 30% more expensive. Villas with sea views can cost up to €10–12M and one-bedroom flats start from €300,000. A two-bedroom flat in Santa Catalina costs about €380,000 while the sea view apartments with a parking space sell for €700,000. Near Paseo Marítimo where hotels, residential complexes, nightclubs and restaurants mix, property prices vary from €350,000 to several million euros.
El Portixol and El Molinar are Palma's sea districts within walking distance from the centre. These areas have enough land and many new properties are being built including high-end residential complexes. Modern apartments along the first line cost €1–3M and houses cost from €3M. Former fishermen's houses selling from €600,000 are also in great demand. Property in the centre with no sea views is much cheaper, starting from €200,000–300,000.
Can Pastilla and Playa de Palma
Can Pastilla is a large, green city with a lot of parks and perfect for holidays: local beaches are wide and sandy and the sea is shallow and clear. In summer it's bustling with tourists who enjoy its many shopping centres, bars and clubs. Bike, car and motorbike rentals are everywhere. Each beach has its diving centres and surf schools. In recent years property prices in Can Pastilla have risen but they still remain low in comparison to El Portixol and El Molinar, for example. The price range for houses in Can Pastilla starts from €300,000.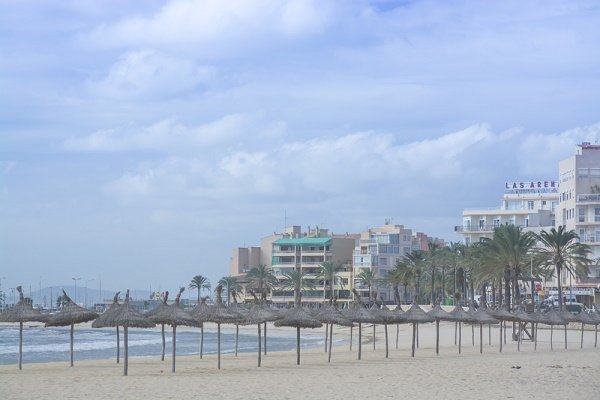 The Playa de Palma resort zone in the southeast is one of the most crowded areas on the island with many hotels and apartment complexes. There is a pedestrian promenade with lots of bars and nightclubs. However, this resort is not as noisy as Magaluf and attracts many families with children. Two-bedroom sea view flats cost from €200,000.
recommends:
— Families with children: Cala Mayor, Palma Nova, Santa Ponsa, Playa de Palma, Paguera, Can Pastilla
— Permanent residence: Palma de Mallorca
— Yacht owners: Puerto de Andratx, Palma
— Young people: Magaluf
— Prime property: Son Vida, Bendinat, Andratx
Julia Kuznetsova,
Read more:
Subscribe not to miss new articles
We will send you a content digest not more than once a week
Subscribe
Done!
Top 5 Articles of the Month