Tourism, terrorism and British buyers: Spain's property market in 2016

More and more Brits are interested in property for sale in Spain. In fact, their numbers have been rising steadily over the last three years. It indeed seems like both nations have put 2008 behind them and Britons are once again ready to ride off into a tapas-filled sunset of cheaper property on the Costa Blanca — especially since deadly attacks against foreigners are on the rise in other Mediterranean holiday hotspots.
Britons are Spain's top buyers
Case in point, twenty million Brits escaped to Spain from the soggy weather back home between January and October last year — making them the biggest tourist nation to visit the country. Incidentally, they are also the biggest buyer nation. In 2015, British bought twice as many homes as they did in Turkey last year.
-> Strong growth predicted for Turkey's foreign housing market in 2016
They accounted for nearly one-quarter (23.95%) of all foreign purchases in Q4 2015, compared to 18.62% during the same period in 2014 according Spain's Colegio de Registradores (Association of Registrars). In total, the British bought over one in five homes sold to foreign nationals, who accounted for 46,728 transactions (13% of all sales) last year.
Rank
Top foreign
buyer countries
Share of foreign
transactions, %
Foreign purchase
dynamics
1
United Kingdom
21.34
▲
2
France
08.72
▼
3
Germany
07.33
▲
4
Belgium
06.26
▼
5
Sweden
05.89
▲
Brits have been buying more and more houses in Spain since 2013 but also increasing their market share. They are currently more than twice as active as the French, and three times more than the Germans, who rank second and third respectively.
Most attractive markets
The most popular destinations for Britons buying homes in Spain were the Canary Islands (13% of sales), Valencia (28%) and Andalusia (32%) in 2015 according to previous research by Tranio.
Ranking
Autonomous
community
Share of sales
in total British
transactions,
%
Share of foreign
buyers, %
Price
variation,
%
1
Andalusia
32
20
+ 4.36
2
Valencia
28
37
+ 2.06
3
Canary Islands
13
30
+ 4.36
While this is good for Spain's property market, it is also contributing to disproportionate and ill-distributed price growth: the Brits and foreign buyers are particularly active in markets along the Mediterranean, the Balearic and Canary Islands.
-> Spain's real estate recovery hinges on 5 markets
As you may know, Spain is divided into large "autonomous communities", which preside over smaller regions. Data by the Colegio de Registradores shows that only five of these autonomous communities attracted 70% of all transactions in 2015, and there are stark differences between regions inside them. Prices are growing in only five of Spain's autonomous communities, all of which are popular with foreign buyers. The less fortunate regions are almost exclusively landlocked and do not benefit from tourist spending.
Top regions
for foreign buyers
Sales
to foreign buyers,
%
Foreign buyer
dynamics
Average price per sq m,
EUR
Alicante
53.78
▲
1,284
Balearic Islands
45.19
▲
1,853
Malaga
41.96
▲
1,663
Santa Cruz de Tenerife
35.37
▼
1,301
Girona
34.77
▼
1,663
What's driving British demand in Spain
Heightened demand from the UK is linked to both local and external factors. First and foremost, the British economy has bounced back from the 2008 crisis while many other countries, especially in the Eurozone, are still struggling to find their footing. At the same time, UK wages hit a six-year high back in September 2015 and demonstrated positive overall growth last year, even if it did scale back a bit in January 2016.
On top of this, some macroeconomic factors have weighed in favourably for the Brits. Living costs have fallen thanks to low oil prices, the pound is going strong against the Euro and interest on Eurozone mortgages are at all-time lows. Not to mention that price growth in Britain has made property unaffordable for many. Put all of this together with fantastic weather and a population which is familiar with the local market, like the Brits in Spain, and you have a great set of conditions for buyer stimulus.
-> Read more about the typical British buyer profile here
At the same time, Spain has also been upholding its side of the bargain after the many horror stories that made it back to Britain after the last boom. Increased transparency and stronger regulations are reassuring to these buyers who, just a few years ago, could read dozens of stories a month on fellow Brits swindled out of their pensions by fraudulent developers and others watching their homes being razed to the ground for lack of legal rights to the land. The extent of the damage even prompted Gov.uk to publish their own guide "How to buy property in Spain" with legal advice, information about off-plan purchases, complaint procedures, tax and visa compliance.
The Typical British Buyer
man or woman
45–64 years old
property for personal use, not investment
located in Andalusia, Valencia or the Canary Islands
by the sea, often in a resort
average budget: €200,000
new or existing property
flat or house
average property size: over 100 sq m
Cheap flights and tourism feed the property market
Tourism serves as a window into the Spanish real estate market, especially for a nation of Britons dreaming of a better climate and affordable house prices. The most recent figures published by Spain's Instituto Nacional de Estadística (National Institute of Statistics) show that 1.6 million UK nationals travelled there in October 2015 alone, making up one quarter of all tourists that month.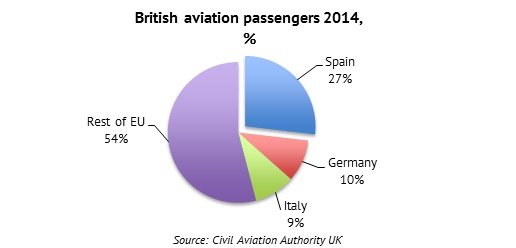 So it's no coincidence that, out of Spain's top 20 airports, seventeen are located in the hottest property markets: Madrid, Catalonia, Andalusia, Valencia, Canary Islands and the Balearics. In total, these airports received nearly 200 million passengers in 2015, many of them ferried by Britain's favourite low-cost carriers like Ryanair and Easyjet. Furthermore, variations in passenger arrivals also coincide with growing and falling foreign property purchases.
Airports and property transactions
Girona Airport on the Costa Brava reported a 4.5% drop in foreign buyers in Q3 2015 year-on-year, which coincides with 17.8% drop in passenger travel as well as lower French buyer activity, which is located just across the border from this region. Alicante and Malaga, on the other hand, have seen property sales to foreigners rise and passenger numbers grow 4.8% and 5.1% respectively. These airports alone processed 25 million travellers in 2015.
Terrorism sending tourists and buyers back to Spain?
However, there is a darker side to Britain's love affair with Spanish property. In 2015, over 30 UK citizens were killed in ISIS-linked attacks in Tunisia and terrorism was responsible for over 530 deaths in Paris, Turkey and Egypt's Russian Metrojet bombing. The New Year gave Europeans little respite after a suicide bomber killed another 10 German tourists in Istanbul on January 12.
So it comes as no surprise that, as the bloody death toll rises, the Brits returning to sunny shores of Spain, which has been so far preserved from merciless violence since the deadly Madrid train bombing of 2004.
Over the least year or so, Tunisia, Turkey and Egypt have all become prime targets for Islamic terrorism. Turkey, which emerged recently as a new destination for holiday buyers, experienced its first drop in tourism for over three decades while Spain is expected to break last year's record of 65 million tourists in 2015.
British activity on the Turkish residential market was twice as high during the first nine months of 2015 with 4,251 homes sold to UK individuals. But if the Q3 2015 plunge in European and American investment activity is any indication of larger trends to come, Turkey's holiday home market will no doubt suffer the fall-out of heightened political tension and violence both from within and outside its border.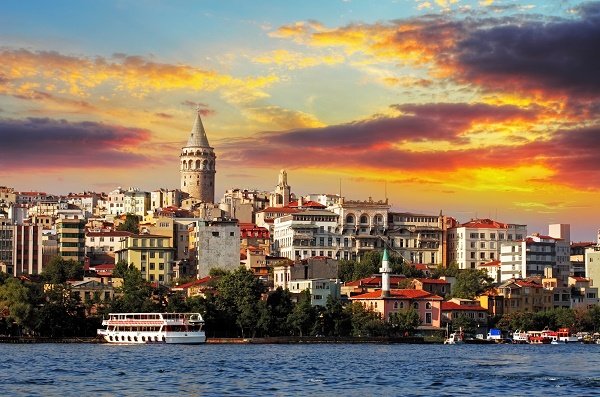 75% of British travellers are now actively avoiding holidays in Islamic countries and over half (54%) said the Sousse attack on British tourists in Tunisia put them off booking a holiday according to a survey by Travelzoo, a global media commerce group. A report on European real estate trends in 2016 by PwC, a financial services giant, confirms this belief with 41% of respondents expecting political uncertainty to worsen in 2016. Experts now widely expect Spain to benefit from declining interest in these newer tourist markets like Tunisia, Egypt and Turkey thanks to the lack of violence, easy access, affordable property and year-round good weather.
What next?
There's no end insight so far for Spain's powers of attraction over British buyers, or tourists for that matter. As long as the Eurozone's economy continues to run in first gear, pound sterling buyers will benefit from the weak euro, potentially saving up to tens of thousands on a home in the sun.
Nevertheless, market stakeholders should be wary after the UK government and institutions downgraded their economic expectations for 2016. GDP growth will be weaker than originally predicted according the Bank of England and wage growth has proved lethargic so far this year. These elements may limit the positive influence of British buyers on Spain's residential market prices as long as sluggish world markets continue to disappoint.
Leigh Stewart, Tranio
Subscribe not to miss new articles
We will send you a content digest not more than once a week
Subscribe
Done!
Top 5 Articles of the Month