For sale a castle in a picturesque place of France Oloron-Sainte-Marie 64400 is put up for sale. This substantial property with elegant architecture is listed as a Historic...
518 m²
17
A high-profile commercial space with a favorable location in Oloron-Sainte-Marie 64400 with a separate entrance, a terrace, equipped basement, where you can go down...
300 m²

216,000 €
Total area: 102 m² 2 bedrooms 2 bathrooms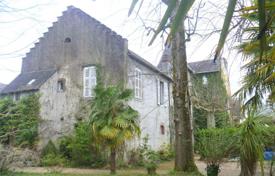 Apartment building at Oloron-Sainte-Marie 64400 with private patio and terrace. An interesting offer for an investor. Building area is 400 sq. m., additionally land...
400 m²
12
Turkish passport for buyers of apartments from $250,000
Send a request, we will offer you properties and help you to prepare the documents
Send a request

Ekaterina Maslova
Senior Residence and Citizenship Advisor
Investment recovery in 3 years

You can rent the apartment out.

No need to reside in Turkey
Receive a weekly selection of new properties
Similar properties in Oloron-Sainte-Marie and surrounding areas