Dubai is catching up with Europe's culinary capitals
In the late 2022, there were more than 7,500 catering establishments in Dubai, from eet cafes to enormous food halls with an area of 6,000 square metres. The city averages 226 establishments per 100,000 inhabitants, which is two times more than in Moscow and one and a half times more than in St. Petersburg. In terms of population, Dubai has overtaken most of the largest European cities, and in terms of catering establishments it is catching up with London (232 per 100,000 inhabitants), Rome (248), Barcelona (252) and even Paris (274), the culinary capital of Europe.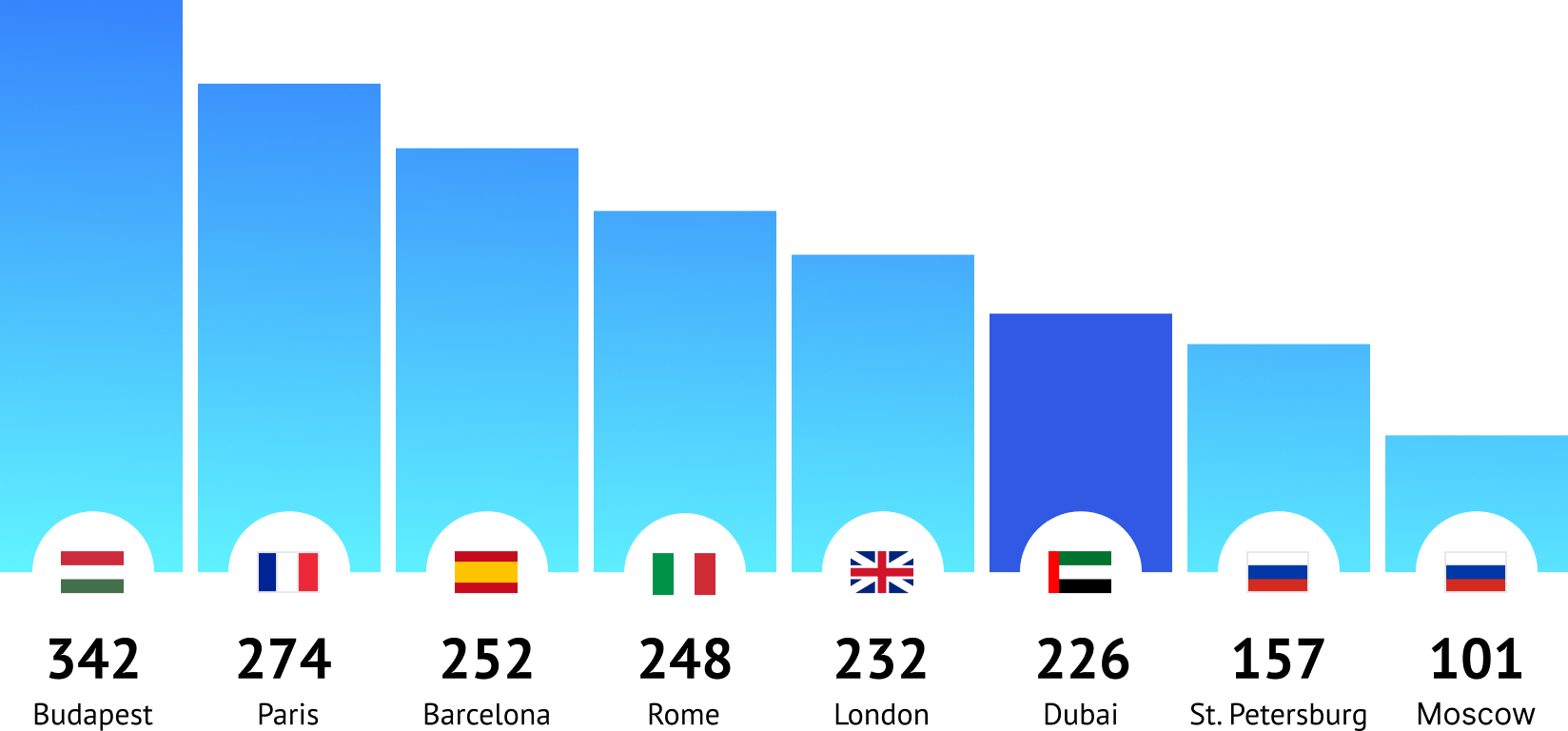 Restaurants

Restaurants turn out to be the main catering format here. There are more than 3,700 restaurants in Dubai, which is more than in Rome, Moscow and Prague. In the Middle Eastern metropolis, you can find restaurants with 60 types of national cuisine, among which it is worth noting a large number of diners and barbecue restaurants. Classic American diners with seating for large groups and cooking on the grill seem to fit well into the local family dining tradition.

Сafeterias

The second place in terms of the number of establishments hold cafeterias: there are more than 1,600 cafeterias in Dubai, and a significant part of them are located in malls. Large-scale food halls in shopping centres, sometimes stretching for a whole block, have become a kind of hallmark of the Emirates, where they like to build on a grand scale. However, in some areas of Dubai one can still encounter a traditional street retail format with small shops, cafes and bars.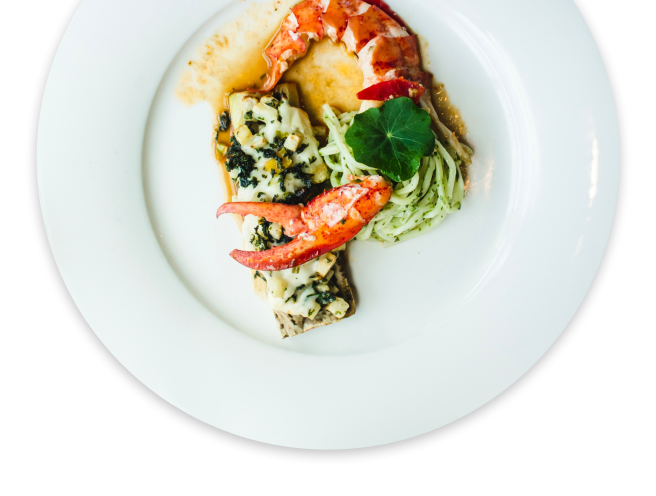 restaurants

52%

cafeterias

21%

coffee shops and bakeries

13%

fast food

11%

bars

3%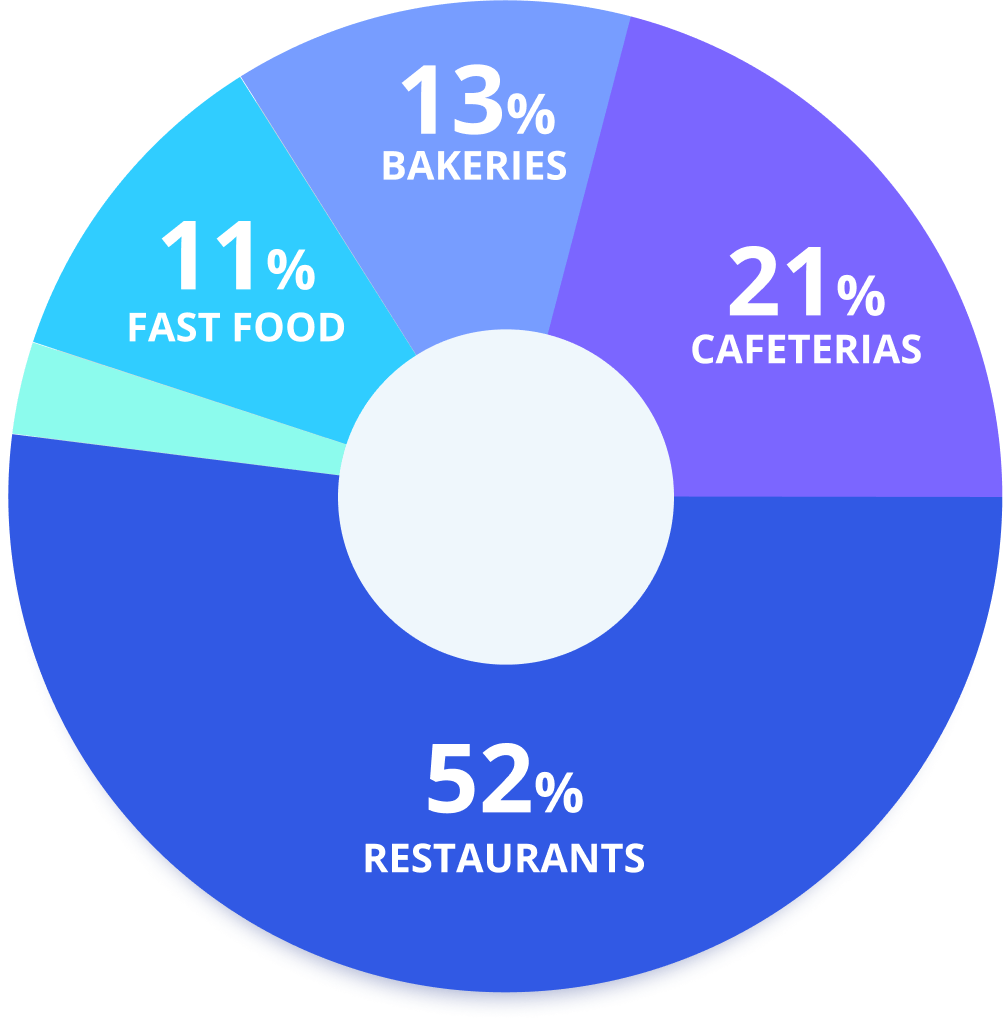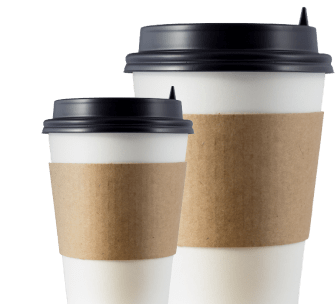 Coffee shops and bakeries

In the third category of popular establishments, we have combined coffee shops, tea houses, bakeries and patisserie cafes — all the places where you can order hot drinks and desserts. The love for aromatic coffee, tea and sweets is a feature of the local culture, thanks to which there are more than 1000 such establishments in Dubai with a selection of traditional Arabic coffee and desserts, as well as specialties from around the world. For example, the Arabica coffee shop chain in Dubai, which competes with Starbucks in the local market, offers Japanese green coffee lattes.

Fast food

In the fourth place in Dubai are fast food establishments. Among more than 800 fast food outlets in the city, there are major international franchises (McDonalds, KFC, Burger King, Subway, etc.), Indian chain restaurants with a large selection of spicy chicken dishes, Middle Eastern kebab houses with shawarmas, falafel and burgers on pita bread. Numerous stalls with street food from different cultures also fall into this category, from fluffy Belgian waffles to Thai roti pancakes.

Bars

The last in the top five common catering formats are bars, there are about 250 bars in Dubai. This is not much compared to European cities, but it is quite enough to serve tourists and expats from Western countries. There are few locally oriented bars in Dubai because about a quarter of the residents are Muslims, and the bulk of the population — immigrants from India — prefer establishments where you can both drink and eat, instead of purely drinking places. Alcoholic drinks are on the menu of most local restaurants, and hookahs can be ordered almost everywhere — often even in coffee shops and tea houses that do not serve alcohol.