Who is Tranio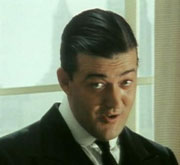 Stephen Fry as Jeeves in the TV series "Jeeves and Wooster"© Carnival Film & Television Ltd.
Tranio is a fictional character, a composite of the "gifted servant" found throughout classical literature and theatre. With his faithfulness and sharp intelligence, this man of service is forever striving to help his master achieve his aims.
The role of the "smart servant" has been one of the cornerstones of the theatre for many centuries, dating back to the Greek comedy of Aristophanes. Despite this long history, the role has never become stagnant, and in each new work the servant is reimagined that little bit differently.
Always dedicated to those who command him, Tranio is typically a well-read and erudite man, a connoisseur of poetry and philosophy, and has an intuitive understanding of man's psychology. Tranio can be found under the same name in Shakespeare's "The Taming of the Shrew". He appears as Jeeves in P.G. Wodehouse's Bertie Wooster novels, as Sam from the Tolkien's trilogy "The Lord of the Rings" and even as the enterprising cat from Charles Perrault's fairytale, "Puss in Boots".
Tranion by Plautus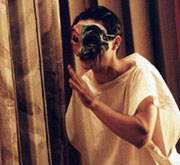 Tranion warns of the return of Theopropides
Titus Maccius Plautus (250–184 BC), the epoch-making Roman comedy dramatist, wrote a comedy, named "Mostellaria" ("The Haunted House"), in which a resourceful servant Tranion tries to hide the truth about the wasteful spending of his master Philolaches from his miserly father Theopropides. Not allowing the old man to enter the house and see the drunken company of his son, Tranion reports that the house has long been sold and abandoned because of a ghost, and straight away tells a terrible story of the ghost's appearance.
As his deception threatens to snowball out of control, Tranion shows all his ingenuity, inventing a series of hilarious and inspired stories to keep Theopropides from finding out the truth about his son.
They say Kings Alexander and Agathocles

Were two who did big things. Now would you say I'm third­
Who solo does so many memorable things?
I've saddled up both oldsters like a pair of mules.
Tranio by Shakespeare
A servant named Tranio appears in the play "The Taming of the Shrew," written by William Shakespeare (1564-1616).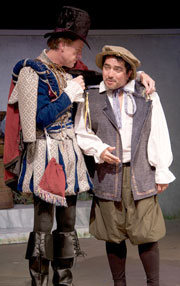 Lucentio heeds the advice of Tranio
Tranio is a trusted servant of Lucentio, a young nobleman from Pisa. Unlike other servants, Tranio is intelligent, loyal and serves not only as a servant, but as Lucentio's mentor as well. Here, he gives his master some wise advice:
Glad that you thus continue your resolve
To suck the sweets of sweet philosophy.
Only, good master, while we do admire
This virtue and this moral discipline,
Let's be no stoics nor no stocks, I pray;
Or so devote to Aristotle's cheques
As Ovid be an outcast quite abjured:
Balk logic with acquaintance that you have
And practise rhetoric in your common talk;
Music and poesy use to quicken you;
The mathematics and the metaphysics,
Fall to them as you find your stomach serves you;
No profit grows where is no pleasure ta'en:
In brief, sir, study what you most affect.
It is Tranio who devises the plan to help Lucentio win the hand of Bianca, the woman he loves, and by the play's end the two lovers are married.
Tranio Today
This classic image of the hero-servant is embodied in this new project, Tranio. We are ready to be this faithful servant, a friend and a mentor to all those who are interested in real estate around the globe. Tranio is as erudite, quick-witted, efficient and reliable as its predecessors and is always at your service!