Tranio survey: Russian-speaking investors expect too much from the German real estate market
If investors want higher yields in cities like Munich, bigger risks are required.
Germany is a huge draw for both foreign and domestic real estate investors who want to safeguard their capital. A total of $67B was invested in German real estate from Q4 2018 to Q3 2019, while property prices in the country have been rising steadily for the last five years at an average rate of 5% per year, according to OECD.
The country's economy is stable and grew at an average of 1.2% per year from 2009 to 2018 (CBRE, Germany Real Estate Market Outlook, 2019). Germany's GDP was $955,747 million in Q3 2019, which is the highest in Europe and the fourth highest in the world.
Tranio surveyed a total of 140 participants between October 2018 and May 2019 to see if their expectations of the German property market have changed over the last two years. Respondents include both new and old prospective clients interested in investing in the country's real estate.
In 2018 alone, Tranio received 1,922 enquiries about German property, marking a 20% increase on the previous year. Enquiries about the topic have been on the rise since 2015. However, from January 2019 to December 2019, Tranio received 1,589, enquiries, reversing the trend.
Unrealistic yield expectations
As it stands, the average yield rate for buy-to-let apartments in Germany is 3% per annum, which is fairly low, however, it is offset by the high liquidity of real estate. Low yields exist because the German government limits any sharp increases in rent (as it has done recently in Berlin by passing a five-year rent freeze), and high demand from investors (both local and foreign) has been pushing up property prices. In short, low rent and high prices lead to low profits.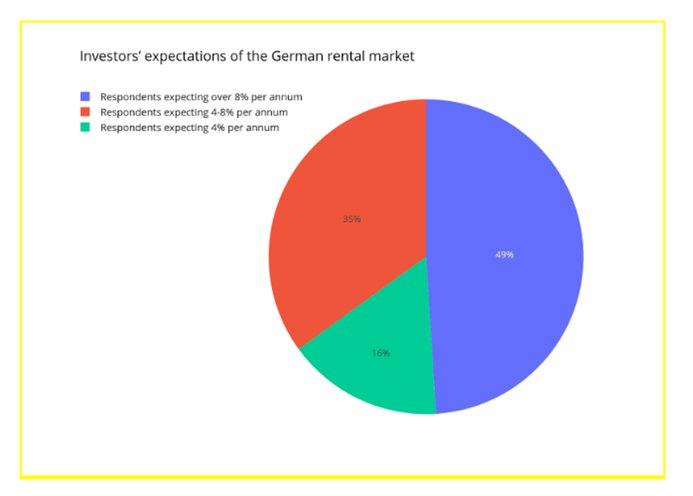 More than 49% of respondents in the 2019 survey expected yields over 8% from every type of property – which is unrealistic.
Coworking spaces, for example, can produce good yields but only 31% in Germany are profitable, according to Deskmag (2018 Global Coworking Survey: Deutschland). The global average yield of profitable coworking spaces is 12.7% after tax. Investing in buy-to-let apartments, student accommodation, or office space generally brings in a stable income long-term, with average yields of around 4% per annum. According to the C&M Germany Office Market Snapshot, the average office space yield rate in Germany was 3.5% in 2019.
The yield rate for rental apartments is also relatively low in Germany. According to Catella Investment's Investment locations Germany 2019 report, in 2019 it averaged 3% in Germany's seven largest cities – Berlin, Munich, Frankfurt, Hamburg, Cologne, Stuttgart, and Düsseldorf. By contrast, student property offered an average yield rate of 3.7% in 2019. However, when it comes to student property, the choice of location is particularly important because the rent needs to be relatively low.
Shopping centres, supermarkets, and warehouses have the potential to yield between 4-6% in Germany. At the beginning of 2019 the rental yield of warehouse property ran at 4.3% in Germany's seven largest cities, according to Knight Frank's The Germany Report - 2019.  A joint survey by investment company Savills and Habona shows that in 2018, the yield rate of supermarkets ran at 5%, while shopping centres hit 4.2%.
Good yields can be achieved with investments in value-added projects, which include buying real estate at a low price before renovating and reselling/renting. On average, Tranio's renovation projects generate a yield of up to 12-15%.
Russian-speaking investors prefer Munich over Berlin
According to Tranio's 2017 survey, the top three cities for property investment favoured by Russian-speaking buyers are Berlin, Munich, and Frankfurt.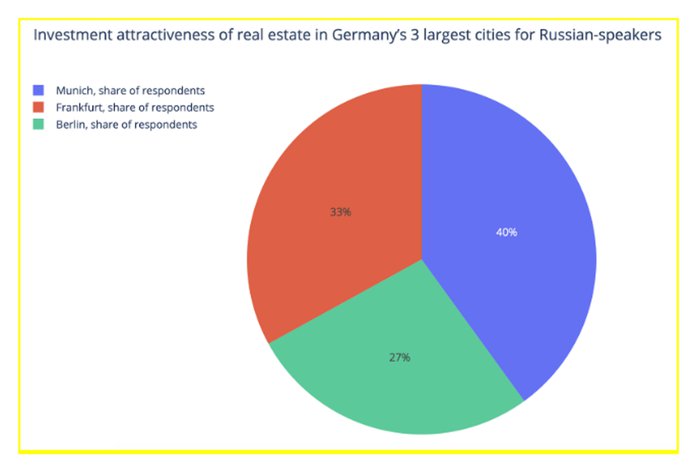 In the 2017 survey, investors opted for Berlin as the number one spot but our 2019 survey shows that Munich has now taken the crown as the most desirable investment destination in Germany for Russian buyers. One reason is the rapidly rising rental rate in Munich compared to Berlin and Frankfurt. In 2018, the rental rate per square metre in Munich jumped 14% against 2016, and by 8% in Frankfurt and Berlin (based on data from DZ HYP, Real Estate Market Germany 2018–2019).
In 2019, the rental rate jumped again in the three cities: Munich – €19.50/m² (8% increase), Berlin – €12/m² (14% increase), and Frankfurt – €15 (7% increase). In 2019, the average rent per month for a one-bedroom apartment in the city centre in Munich was €1,200, Berlin – €900, and Frankfurt – €998 (data from Numbeo).
While Munich is the most popular city among Tranio's 2019 survey respondents, its real estate market is heating up significantly as it witnesses price hikes linked to low interest rates. Tranio sales experts for Germany believe that the increase in Munich's residential property prices will continue – the relatively low number of building sites and the city's reasonably compact size are factors that can fuel price hikes.
Berlin's residential property is now more affordable compared to Munich or Frankfurt. In 2019, on average Munich boasted the most expensive residential property outside the city centre  — €6,800/m², in Frankfurt it was €4,200/m², and in Berlin €3,700/m², according to Deutsche Bank (German Property and Metropolis Market Outlook, 2019).
Frankfurt is a good investment destination as the unofficial financial capital of Europe. Its office space – €3,000-7,000 /m² – is especially attractive thanks to the possibility of major corporations relocating their headquarters to the city from London due to Brexit. Residential property also has a lot of potential in Frankfurt and according to Tranio's estimates, one of the most promising locations is the Europa-Allee housing/business quarter development in the Gallus district.
Russian investors prefer apartment buildings in Germany
German apartment buildings proved the most popular type of buildings to invest in among respondents in Tranio's 2019 survey.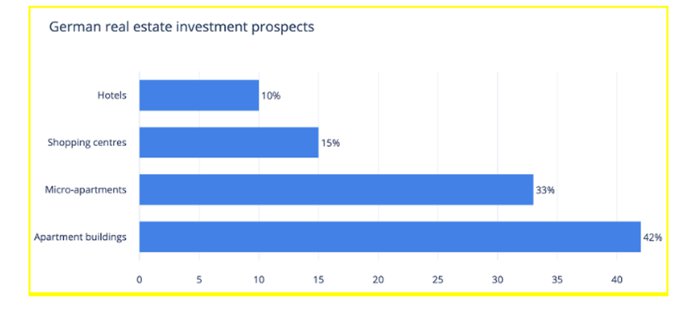 This investment option is attractive primarily because it generates a steady income and the demand for residential property is high, as German cities struggle to curb housing shortages. However, investors need to consider that this property type generally generates a low yield and that managing several tenants at once is more time-consuming.
Tranio's 2019 respondents value the potential of micro-apartments almost as highly as apartment buildings – when prepared and marketed as student property, they can yield almost double compared to conventional apartments.
Shopping centres tend to be riskier to invest in compared to residential property but they can be more profitable. Previous surveys by Tranio demonstrated that investors were more interested in retail property, especially when investing over €1M, but the growing popularity of online shopping has curbed interest in shopping centres. In just two years from 2017 to 2019, Tranio discovered that investors' interest in shopping centres shrank from 40% to just 15%. This decline has been fuelled by the shift in demand from brick and mortar stores to online shopping.
The average yields of supermarkets (5%) now outstrips large shopping centres and residential real estate – new technologies, like retailtech, are helping to boost profits.
In brief
1. Tranio's 2019 survey shows that investors' expectations have changed from 2017 to 2019. In 2017, they were willing to accept a yield of 4-8% – now 49% of respondents expect a yield of at least 8% per annum for all types of property. These expectations are exaggerated when compared with the reality of German's real estate market.
A good yield (up to 15%) in Germany can be obtained from value-added projects – renovating residential property and reselling it.
2. While Berlin was the most attractive city for real estate investment in 2017, Munich is now the city of choice. However, the reality is that investing in Berlin property can be just as promising and more affordable. In Munich, the market is overheated so careful consideration is required, while Frankfurt's popularity has been boosted because of Brexit.
3. The respondents consider apartment buildings and micro-apartments to be the most promising types of property. This attitude largely corresponds to the new market reality.
Subscribe not to miss new articles
We will send you a content digest not more than once a week
Subscribe
Top 5 Articles of the Month