Top 5 countries to buy a holiday home under £55,000 in Europe
Europe is definitely not the cheapest continent for property, but it doesn't mean there aren't good deals out there — it's just a matter of finding them. Granted, with a budget of £55,000, you won't find anything in major metropolitan city like Paris or London, but it can get you a small studio or a decent sized one-bedroom flat depending on where you look and how much you like DIY. This guide by Tranio.com shows you what £55,000 can buy you in Spain, Bulgaria, Montenegro, Greece and the Czech Republic.
1. Spain — Costa Blanca
One-bedroom flat: £47,800
Size: 700 sq ft
Estimated total bill (incl. taxes & fees): £54,970

Property for sale in Spain can be relatively cheap depending on the "Costa" (coast) and how close it is to the sea. The Costa Blanca, developed in the heyday of Spanish tourism and British property buying, has resale studios and one-bedroom apartments going for £45,000–50,000 in high-rise residential buildings by the sea. They usually come with a shared pool and a balcony. At this price though, you will be about half a mile from the beach but at least there's usually a supermarket nearby.
The Costa Blanca spans 150 miles so it's worthwhile getting to know the region, especially since there is a strong distinction between the North and South. For example, the northern half has smaller villages and richer buyers, so prices are higher. In the South, however, they are actively building, nightlife is booming and prices are lower.
The seaside town of Torrevieja is a great place to start the hunt. It's just 30 miles from Alicante and its international airport, which is served by major low-cost carriers. It has the triple bonus of affordable homes, lots of bars and restaurants as well as fantastic beaches and stunning landscapes like the local salt lakes.
When buying a home in Spain, you should factor in 12–15% additional costs and taxes. For example, if you buy a 700 sq ft flat worth £47,800 and add on the 15% extra transaction costs, the total spending is £54,970.
You can buy property for under £55,000, even £31,000 if you look for it. What you find will depend on the area. Take the Costa Blanca for example, you may find a decent property there for this price, but in Barcelona, it is quite impossible to find anything under £70,000. Even then, it would be in a dodgy area with high crime rates or something that needs complete renovation. Last but not least, if you do plan on buying cheap property in Spain, always check that any mortgage and debts linked to the house have been paid off.
2. Bulgaria — Bansko
One-bedroom flat: £46,500
Size: 800 sq ft
Estimated total bill (incl. taxes & fees): £49,244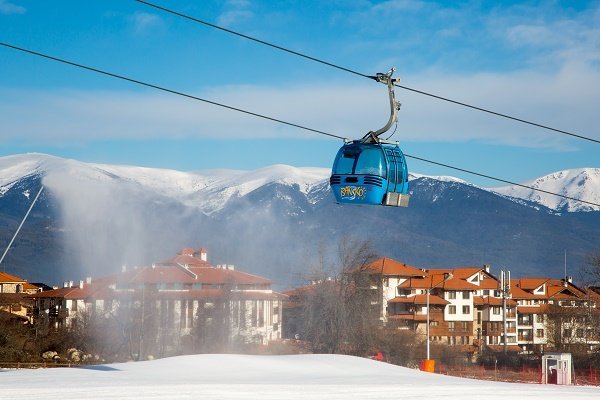 Bulgaria is yet another Eastern European country that is not particularly famous on the holiday or property circuit. This big country has a Black Sea coast with resort towns like Varna that have a distinct local feel. This little-known country with a big landmass also has a wealth of traditional food and wine, made with locally sourced fruit and vegetables. The shopska salat, made from tomatoes, cucumber, feta and herbs is particularly delicious.
At the moment, few people are aware of Bulgaria's ski slopes, some of the cheapest in Europe, but they are slowly gaining in popularity. Bansko, a ski resort in the Pirin Mountains, is one of these. In fact, it is the country's best destination for winter sports if you ask the locals. With many bars and ancient castles to entertain visitors and residents, it is both a ski resort and relaxing place to spend the summer.
Bansko has mix of modern new-builds and old blocks of flats with prices half the national average. The downside is the distance from Sofia (93 miles), where there is a big airport. However, flats are so cheap that it's even hard to spend £55,000 on property.
A modern 800 sq ft one-bedroom apartment with a balcony and very beige interior in the Bansko ski resort, costs about £46,400. In Bulgaria, there is a one-off property sale tax of 3%, notary fees (0.4% of property value), legal fees (1%) and stamp duty (0.1–1.5%), putting total spending including fees (approximately £2,744) at about £49,244.
3. Montengro — Budva
One-bedroom flat: £51,000
Size: 430 sq ft
Estimated total bill (incl. taxes & fees): £53,960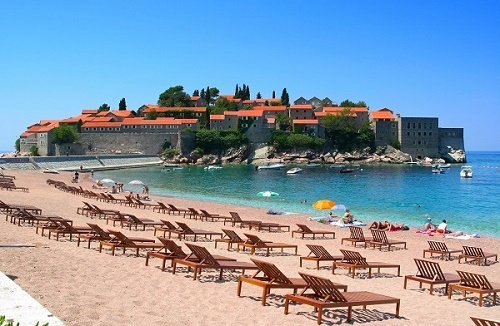 Montenegro is little explored land, overshadowed by holiday hotspot Croatia to the North. And unjustly so! This country has many spectacular landscapes that combine crystalline Adriatic shores with beautiful, untouched mountain slopes. Flats in Montenegro are cheap because it's not famous.
The price of a one-bedroom flat can vary wildly from town to town. This is because Montenegro is also home to some ultra-chic luxury destinations like Sveti Stefan, an exclusive island resort located in a 14th century sandstone castle. The country has an amazing wealth of tradition and culinary culture as well as vineyards. Montenegro is ideal for those who want to get away from people who speak English.
Budva is a good target zone for a small budget buyer. It's close to the Tivat International Airport (15 miles) and there are lots of nice beaches in the area. Not to mention that Sveti Stefan is just 2.5 miles down the road.
In Montenegro, there is a real estate transfer tax of 3%, notary fees (about £230) and you'll need a lawyer to do the due diligence (£770–1,200). For example, a 430 sq ft one-bedroom apartment with a balcony (with average views) and acceptable interior in Budva, just a 15-min walk from the sea, costs about £51,000. Total spending including fees (approximately £2,960) is about £53,960.
Budva is definitely the most popular destination for our clients. The city is always busy, making it a great place to rent out the property for holidaymakers or long-term tenants if needs be. I personally advise buyers to check out Becici, a suburb of Budva, where most of the hotels are located. It has a great sandy beach with sunbeds and parasols. Mainly, it's just a 5-min drive to the Old Town with a peaceful and relaxing atmosphere and a lot of new homes for sale at reasonable prices.
4. Greece — Halkidiki
Two-bedroom flat: £50,600
Size: 700 sq ft
Estimated total bill (incl. taxes & fees): £54,737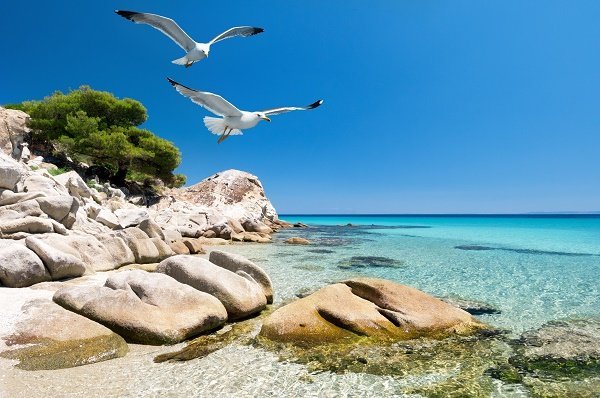 Greece is arguably Europe's most beautiful country, as well as the homeland of science, philosophy, medicine and democracy. Flying over the snow-capped mountains bathed in sun is a truly unique and spectacular experience, while the shores of the Aegean are as enchanting as they are clean.
There are many famous locations for holidaymakers and homebuyers that cater to all tastes and experiences from partying hard to relaxing in the sun whilst sipping on the local wine. Thessaloniki, for example, is the second largest city in Greece after Athens and it was named one of the top global destinations worldwide by the National Geographic in 2013.
Many low-cost airlines have regular connections from Europe to Thessaloniki airport, which is a great way to get to Halkidiki, the Algarve of Greece. This peninsula is famous for its soft white sands, lush beaches and as the birthplace of Aristotle, one of ancient world's most famous philosophers. It is often bypassed by the droves of tourists, which has the added benefit of making property affordable.
A 700 sq ft two-bedroom apartment with a balcony just a 5-min walk from the sea that needs a bit of TLC costs about £50,600. In Greece, there are quite a few charges like a property transfer (3%) and municipal tax (3%), registration fees (0.475% + £12), notary fees (1.2%) and legal fees (0.25–0.50%). The total spending on such a property, including expenses (£4,137) is about £54,737.
5. Czech Republic — Karlovy Vary
One-bedroom flat: £42,200
Size: 750 sq ft
Estimated total bill (incl. taxes & fees): £42,638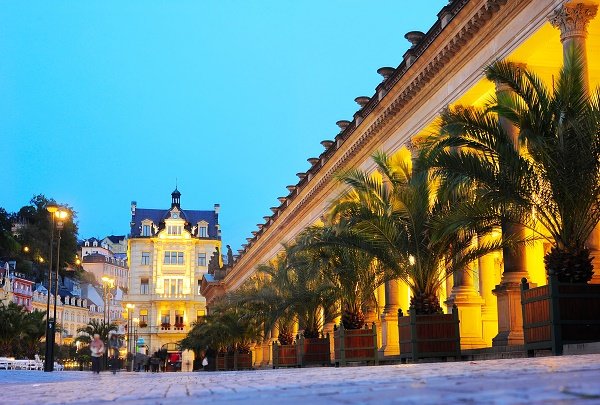 The Czech Republic is magnificent landlocked country that bubbles with beer, mountains and healing springs. The country's capital, Prague, is by far the most popular tourist destination. It is known as the city of 1,000 spires and, despite the passing of time and civilisations through its walls, it has maintained a resolutely historic atmosphere.
During the summer, crowds flock to the many musical and cultural events and, during the winter, there are plenty of ski resorts to keep occupied. Until recently, the beautiful spa town of Karlovy Vary (Karlsbad) was mostly famous among Russian tourists who, in light of the economic crisis at home, have started selling off their property.
It is through this town that runs the Tepla River, which has naturally warm waters, fed by 300 local springs that flow beneath Karlovy Vary. There is easy access by train from Prague, where the low-cost airlines land. There are many cheap flats coming on the market (£40,000–45,000) that are a bit musty, but well within budget, leaving plenty to spend on better curtains and a coat of paint.
A 750 sq ft one-bedroom apartment with a balcony that was last refurbished in the 70s costs about £42,000. In the Czech Republic, the 4% property transfer tax is usually included in the price*. Add to that registration fees (0.01–0.02% of property value), legal fees (1%) as well as £8 to open a bank account and the total comes in at about £42,638.
| | |
| --- | --- |
| Anastasia Keiko, Tranio sales manager for the Czech Republic | The market in Karlovy Vary is very volatile at the moment. Not so long ago, it was very popular among CIS buyers, who practically formed the demand for homes here, but the crisis there has changed that. Prices have fallen since then and now there are a lot of buyers from European countries, China and Czech Republic itself because property prices are attractive and it's a good time to buy. |
*The transfer tax is technically paid the seller (who increases the property price accordingly) but may be moved to the seller very soon (draft law in parliament).
Subscribe not to miss new articles
We will send you a content digest not more than once a week
Subscribe