Athens yield calculator: comparing short-term and long-term rentals by example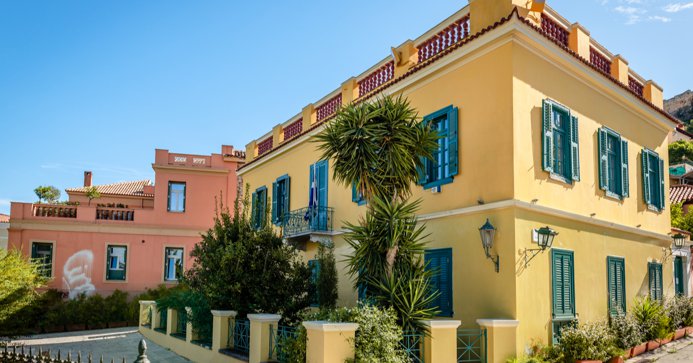 There is an unusual situation in the Athens property market where investment flats are more profitable for long-term rentals than short-term ones. Here is why.
During the crisis in Greece until 2020, many Greeks began to rent out their homes for short-term rentals trying to benefit of tourism. There was a shortage of properties for long-term rentals. Demand is boosting the Greek economic recovery: more foreign students and expats relocate to Athens, residents' incomes are rising, and local young families are looking for rent. 
The real income of Greek households grew by almost 5% in 2021. This indicator is six times higher than the European average. According to ELSTAT, the unemployment rate at the end of 2021 has lowered to 13.3%, although back in 2015 it was as high as 27%.
It is possible to compare rental yield on the same property with a short-term or a long-term contract. Three flats from our renovation project will be used as an example. We rent out these flats on a long-term basis and know their profitability. A foreign investor has bought the flats in order to earn a rental income and obtain a Greek residence permit under the "Golden Visa" programme. All flats are newly renovated, one-bedrooms measuring 40–45 sq.m, each having a spacious bathroom and balcony. The total purchase sum was €280,000.
Comparing short-term and long-term rental income
AirDNA statistics can be used for estimating rental rates and occupancy rates for short-term rentals in Athens. This service allows for selecting an area, finding similar flats, and estimating real data from the actual  short-term rental contracts signed via Airbnb platform.
Rental rates
Our flats are rented out on a long-term basis at a rate of €400–450 per month. In the calculations, we will use an average rate of €420 per month. The area where the flats are located is not touristy, yet it is a convenient location for permanent residents because of the walking distance to two metro stations and proximity to the city centre. 
It turns out that the demand for long-term rentals here is higher than the demand for short-term ones. A very few offers for short-term rentals were posted at Airbnb for this area. Therefore, we have to look further and compare an average daily rate here with other areas of Athens. An average annual rate for a similar flat in a more touristy area is €54 per day.
Rental rates
| | Short-term | Long-term |
| --- | --- | --- |
| 1 flat | €54 per day | €420 per month |
| 3 flats | €162 per day | €1,260 per month |
Occupancy
Usually long-term tenants are found within a month after the property listing, although tenants may move in even on the opening day. Three of our flats in Athens were soon rented by IT professionals working for international companies. 
The tenants are employed by Google, Netflix and Teleperformance, Europe's largest outsourcing company. Teleperformance has more than 11,000 employees in Athens, most of them foreigners working remotely and living in rented accommodation. These digital nomads support the demand for long-term rentals of small flats in Athens.
We usually sign a one-year rental agreement with all the tenants. If no problems occur during the first rental period, the agreement can be extended for 2 years or more based on the duration of tenants' working contract. Most remote workers stay in Athens for several years, so the occupancy rate for long-term rentals tends to 100%.
Again, the AirDNA statistics can be used for calculating the occupancy rate of short-term rentals. Similar flats in neighboring touristy areas are occupied for 20 days in an average month, so the occupancy rate equals 63%. The demand for short-term rentals is unevenly distributed within a year with the 83% peak in July and the bottomline of 35% in March. 
It is possible to reduce rental rates in order to boost the off-season occupancy. Seasonal discounts may not notably improve an overall profitability as the maintenance expenses increase together with the unit occupancy.
Income and gross yield of flats
| | Short-term | Long-term |
| --- | --- | --- |
| Occupancy | 63% | 100% |
| Yearly income on 1 flat | €12,111 = €54 * 365 days * 63% | €5,040 = €420 * 12 months * 100% |
| Yearly income on 3 flats | €36,333 = €12,111 * 3 | €15,120 = €5040 * 3 |
| Yield | 13% per year = 36,333 / 280,000 * 100% | 5.4% per year = 15,120 / 280,000 * 100% |
The gross yield on short-term rentals of 13% looks impressive, especially during an economic slowdown. However, expenses have to be calculated before a final evaluation.
Comparing costs
Depreciation
It is difficult to calculate exact depreciation costs that can vary significantly in different cases.
A 5% share of rental income is a conventional depreciation charge for a new build or renovated property.
Property value tends to depreciate faster in short-term rentals. However, it was decided to simplify calculation and take out a possible difference in depreciation between short-term and long-term contracts.
All kinds of little incidents are common for short-term rentals. Tenants may smoke indoors, bring in pets, damage furniture, etc. It is a laborious task to keep track of everything, especially in busy seasons.

Our experience has proved that long-term tenants use furniture and household equipment more carefully than short-termers. The former treat a rental property as the second home trying to keep it nice and comfy, while the latter often just need an alternative to a hotel room where no one bothers to clean up.
Booking and Airbnb
Booking services charge a 15% commission on rent. There are hardly any good alternatives for homeowners interested in short-term rent other than using the Airbnb platform. On the contrary, it is possible to find a long-term tenant without any intermediaries. Athenian landlords can post their offers on free local boards that are frequently checked by the city's residents.
Property management
Owners living outside Athens or unwilling to manage the rental properties can look for professional property managers. Property management fee in Athens is usually about 10% of rent for long-term contracts. A property manager is responsible for attracting tenants, carrying out the reliability and solvency checks, taking care of property maintenance and participating in property owners' meetings on behalf of the client. 
A service fee for property management in short-term rentals is about 25% of rent. Managers' responsibilities include tracking the stay-in schedule, handing over the keys and keeping the property safe.Cleaning and laundry service fees add another expense of €35 per cycle. An average short-term stay is 2-nights-long, so the cleaning costs can be split in half.
Utility bills
A property owner takes over all utility bills for short-term rentals including electricity, water supply, central heating, internet, maintenance, etc.
However, a property owner passes utility bills onto a tenant under the long-term rental contract. The tenant needs to sign its own contract with community service providers. A service contract term cannot exceed the property rent period.
If a tenant fails to cover utility bills before their check-out, the landlord shall not be held responsible for this payment. 
A total utility cost for a flat in Athens measuring 40–45 sq.m is about €100–120 per month as of March 2022. 
Income and profitability including direct costs
Short-term

Long-term

Depreciation

5%

5%

Booking service fee

15%

0

Management fee

25%

10%

Utility bill (1 flat)

€100 per month,

€1,200 per year

0

Yearly income on 1 flat

€5,461 = 11,727 - 45% - 1,200

€4,284 = 5,040 - 15%

Yearly income on 3 flats

€16,383

€12,852

Yield

5.9%

5%
Short-term rent seems to be more profitable than long-term rent before tax payment. In Athens, landlords pay a flat property tax (ENFIA) and progressive income tax on rent.
Tax on rental income
Rental income tax is based on a progressive scale from 15% to 45%. 
15% rate is applied to rental income under €12,000 per year.
35% rate is applied to rental income between €12,000 and €35,000 per year.
45% rate is applied to rental income above €35,000 per year.
The income tax is charged on gross income excluding expenses. Renovation costs are the only expenses that can be deducted from the taxable base.
Property tax (ENFIA)
The amount of property tax depends on a number of indexes. The Athens tax office takes into account the cadastral value, district, room area, construction or renovation date, etc. Tax indexes may be changed from year to year by local authorities. In our example, an average ENFIA is €300 per year for each flat.
| | Short-term | Long-term |
| --- | --- | --- |
| Income tax per year | €10,316 = (12,000 X 0.15) + (24,333 X 0.35) | €2,892 = (12,000 X 0.15) + (3,120 X 0.35) |
| ENFIA per 3 flats | €900 | €900 |
| Yearly income on 3 flats | €5,167 | €9,060 |
| Yield | 1.8% | 3.2% |
Finally, the gross yield on short-term rentals of 13% per annum has turned into a 1.8% per annum after expenses and tax deduction. This number excludes the costs of cleaning and laundry after each guest. 
Long-term rentals turned out to be more profitable than the short-term ones with gross yield of 5.4% per annum and net yield of 3.2% per annum.
An asset generating net yield above 3% is highly profitable by the measure of developed European markets. One may compare it with long-term rental apartments in Berlin that generate a gross yield of 4% before taxes and management costs.
The growth of property prices in Greece is followed by a rent increase. An average rent in central Athens has risen by 11.5% in 2011 in spite of the restrictions related to the Covid-19 pandemic. An investor can secure the highest profitability of long-term rentals by using an early extendable contract. This type of contract allows owners to reinstate rental rates at the end of each year and benefit from growing demand.
We recommend investment in small flats with floor area under 45 sq.m. In Athens, it is difficult to find a tenant for a spacious flat with a rental rate of €1,000 per month. There are few tenants interested in this property type in Greece.

The "Golden visa" investors intended to purchase a property worth at least €250,000 can split this amount between 2–3 rental units. A small flat with rent of €400–500 per month suits a larger group of potential tenants.

Thus, small apartments have two advantages. One is that they generate higher yields, another is stable demand protecting small flats from long downtime.
More traps of short-term rentals in Athens 
Some residential buildings in Greece are not intended for short-term rent. Possible rental options are listed in the house charter that can be changed only by the agreement between all property owners. 
Daily rentals also need to be approved by the tenants and the municipal authorities. There are special restrictions on short-term rentals in certain tourist areas where owners are allowed to rent out their flats only up to 90 days a year.
Property owners benefit of daily rentals in Athens once they live nearby and arrange check-ins and cleaning on their own. Property management and cleaning expenses easily make this rental model unprofitable.
Owners get into much trouble with short-term rentals. They spend one vacation after another renovating the flat instead of enjoying the Greek holidays to its fullest.

Long-term rentals provide owners with stable income and more opportunities to travel across the country as Greece offers many wonderful attractions all over the archipelago.
Subscribe not to miss new articles
We will send you a content digest not more than once a week
Subscribe
Top 5 Articles of the Month