Declining property yields don't deter investors in Germany
Growing property value and affordable credit has investor attention in Germany despite slowly declining yields over recent years. Its economy is both the largest and also the most stable in Europe — as demonstrated by the 2008 crisis. Steady GDP growth over the last decade (about 2%) brought down unemployment from 12% in 2006 to 4.5% in 2015. Steady growth promising secure investments and rising employment means that commercial property in Germany is popular among investors, local and international.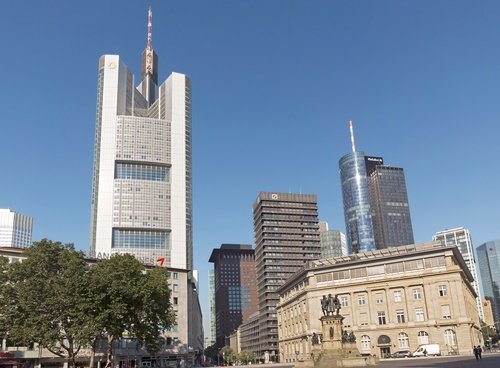 During the post-recession years, demand for commercial property remained high thanks to Europe's cheap credit policy. Locally, average interest rates fell to 2.7% in 2015 from 6.5% in 2009.
Prices and transactions grow
Since then, the value of property transactions in Germany has grown 105% — from €19.4 billion in 2010 to €39.8 billion in 2014. By Q3 2015, transactions had already reached €38.2 billion and are on course to beat last year's record according to Colliers International, a company specialised in commercial property.
Prices are also rising due to increased demand and a deficit of quality property, growing by 24% on average between 2005 to 2014. Prices for office space, which compose 45% of commercial property market in Germany, increased by 40% during the same period.
Yields fall behind
Rental rates, however, have remained relatively stable over the last decade. Rates for premium office property in Germany average on €24–27 per square metre per month while midrange offices go for €13–15.
For investors, this means that yields are decreasing as they are not following price growth trends. Since 2005, office and retail space yields (66% of commercial property) declined from 4.7% to 4.5% and from 4.8% to 4.1% respectively.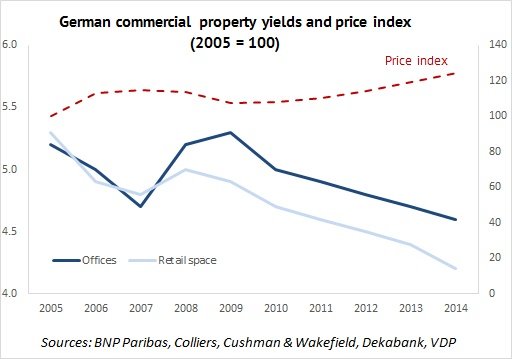 Other types of commercial property have lower yields too: hotel property yields fell from 6.3% to 5.0% and warehouses from 6.5% to 6.0%. Production facilities have returned to 2007 yields (6.0%) despite an increase during the post-recession period.
Investors not leaving yet
Germany's economy is stable and its commercial property is liquid and low-risk. High demand coupled with a property deficit are positive indicators of growth potential. While investors may not be snapping up property for its increasing yields, they are looking towards a midterm game of value growth. The country is on course to break last year's record and while interest rates in the EU remain at their lowest point, commercial property in Germany remains a profitable investment.
Investment in commercial property in Germany is still giving higher yields than those in the UK or France — with similar risks. There are two reasons for this. First, higher yields for comparable property and second, great financing terms, low interest and credit for a considerable part of property value.
Ivan Chepizhko, Tranio
Subscribe not to miss new articles
We will send you a content digest not more than once a week
Subscribe
Done!
Top 5 Articles of the Month