Dual citizenship in France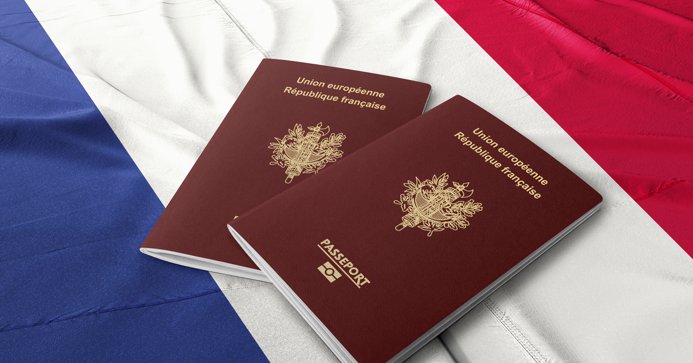 In this article, we will discuss whether it is legal to have dual citizenship in France, and what the difference between dual and second citizenship is.
Many countries do not permit dual citizenship. For example, Germany insists on giving up the citizenship of the home country upon obtaining a German passport. France, on the other hand, as well as some other EU countries, recognises dual citizenship as legal. Foreigners can hold French and their original citizenship at the same time; they do not have to renounce their other passports.
Benefits of dual citizenship
Free movement across borders. With a French passport you can travel without a visa or with a visa on arrival to 188 countries around the world.
Ability to live, work and do business in France, as well as to receive free education and quality medical care.
Getting the same rights as locals, including the right to vote and to participate in the political life of the country.
Family reunification: the spouse, parents and minor children of a French citizen can obtain a residence permit in France and then apply for citizenship.
Reducing the number of documents and red tape when buying real estate or starting a business in France.
Dual and second citizenship
A clear distinction must be made between dual citizenship and second citizenship.
By law, France allows dual citizenship. A French person remains a citizen of their own country while acquiring the nationality of another state. On obtaining a French passport, a migrant does not have to give up his country's passport, unless his homeland requires so.
In practice, dual citizenship depends on whether a relevant agreement has been signed between the countries. In any other case, it is a question of second citizenship.
If the other country does not permit dual citizenship, an immigrant will acquire second French citizenship instead of a dual citizenship. It means that a foreigner who has obtained a French passport will be considered only a citizen of their first country when they are in their home land, and only a French citizen in France. Countries do not communicate information about granting second citizenship to each other.
Ways of acquiring French citizenship
An immigrant wishing to obtain a French passport will have a long way to go, full of bureaucratic delays at every stage. First, the foreigner will need to apply for a national visa type D to enter France, which is then converted into a French residence permit. The grounds for issuing a D visa and a residence permit are usually the same. A typical immigration route is to come to France for study, work, business or family reunification. The residence permit is often valid for one year but can be renewed if the condition for granting it persists. For example, a foreigner who has lived permanently in France for five years with a residence permit may obtain a residence permit and apply for French citizenship immediately. After a waiting period of 1.5 years, the immigrant finally gets a French passport and becomes a French citizen.
Blood relation
A child acquires French citizenship if at least one of their parents is French.
A foreigner may apply for a French passport if their close relatives live in France. To do so, they must be living in the country permanently for at least five years with a residence permit on the grounds of family reunification.
Birth in the country
A child born in France to foreign parents who have been living in the country for more than a year with a residence permit can obtain French citizenship upon coming of legal age. The condition is that they have lived in France for at least 5 years from the age of 11.
Marriage
Spouses of French citizens acquire French citizenship if the family has been resident in France for at least four years. This period is increased to five years if they have been living abroad.
Naturalisation after 5 years of legal residence in France
A foreigner who has been legally resident in France for five years with a residence permit or a permanent residence permit may apply for naturalisation. For this, they must stay in France at all times. They also must have a stable job with a decent salary, buy or rent property in France, pay taxes and pass a level B1 French language proficiency test as well as take a history and culture test.
University studies
Foreign students who have studied in a French university for five years and have lived in the country for additional two years continuously after graduation may obtain a French passport. Having a job will be an important plus for the application consideration.
Work
To immigrate, a foreigner needs to enter into an employment agreement with a French company for a minimum of 12 months. They will receive a residence permit in France for the duration of the agreement. In case of the employment agreement extension, they can be naturalised after five years of residence in the country.
Financially independent persons
Financially independent foreigners may obtain a residence permit for one year with the possibility of renewal with the possibility to apply for citizenship after five years of continuous residence in France. To qualify, they must have an account in an international bank with more than €20,000 per person or have a stable income of €1,500 per family member. In addition, they must buy or rent a flat or house in France for one year. This type of residence permit does not allow you to work in the country.
Passeport Talent: business immigration and highly qualified professionals
The Passeport Talent state programme was launched in 2016 and is intended for foreign investors, highly qualified professionals and start-ups, as well as talented foreigners working in the field of science, art and technology. The French authorities grant participants of this programme a residence permit for four years, renewable. After five years of residence in the country, a foreigner may apply for a French passport.
Investors wishing to participate in the programme must invest at least €300,000 in a French company, create jobs and keep them for four years.
A simplified scheme also applies to businessmen who set up an innovative start-up in France and obtain a French Tech Visa.
Highly skilled professionals, who sign an employment agreement with a French company with a minimum salary of €37,300 per year, also receive a residence permit for four years, renewable.
Service in the French Foreign Legion
Foreigners accepted into the French Legion may apply for a national passport after only three years of service. Becoming a legionnaire is not easy: you have to pass very challenging physical and psychological tests.
A legionnaire who was wounded in action gains French nationality regardless of the length of service, as he becomes Français par le sang versé (French by spilled blood).
Subscribe not to miss new articles
We will send you a content digest not more than once a week
Subscribe
Top 5 Articles of the Month