European hospitality real estate market investment overview for 2019
For the 22nd edition of the International Hotel Investment Forum (IHIF), Tranio conducted a joint survey in collaboration with the event to better understand the level of interest for European hospitality real estate from across the world. Over 200 industry professionals were surveyed in an effort to reveal the most attractive locations for investment in Europe while taking account of their budgets and strategies.
Most of survey participants were either from or representing UK investors, followed by representatives from Germany, Spain and the USA. Topping the list as the most sought after locations for hotel real estate investment were Spain and Germany, based on the data compiled. The majority of participants indicated that they or their clients will be looking for value-added opportunities, backed by budgets in excess of €10M. A number of respondents have also indicated their willingness to continue investing in hotel real estate in 2019, rather than liquidate their positions.
Demographic analysis of survey participants
The geographical origin of investors was quite diverse, with respondents coming from 57 countries. Majority of investors came from the UK (29), Germany (19) and Spain (16), however, Russian, Saudi and Emirati presence on the European hospitality market is also evident. The top 15 countries by representation are shown in the graph below.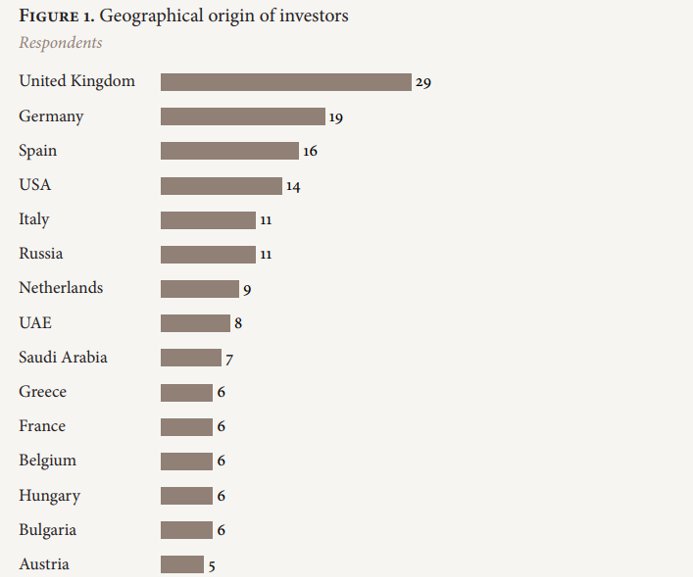 The results of a 2018 joint research conducted by Tranio and MR&H (Mediterranean Resort and Hotel Real Estate Forum) revealed that the Mediterranean region specifically is most popular with American (44%), Russian (41.5%), and Chinese (29%) investors. Russian ranked high in both surveys, suggesting their interest in hotel real estate in Europe remains to be great. Around 65.6% of survey respondents come from Europe. These figures are similar to data obtained in the CBRE "European hotels investor intentions survey 2018", where analysts have also discovered that most of the capital invested in European hospitality market comes from Europe (65%), with Asia Pacific (17%) coming in second, and America (15%) following closely.
Which European countries are most attractive for hotel real estate investment?
When it comes to market attractiveness, Spain (55%), Germany (54%) and Italy (42%) make up the top 3 most appealing investment destinations. With a relatively stable economy and developed hospitality markets, this should come as no surprise. Countries such as Greece, which are experiencing a tourism boom and a rapidly growing/recovering market are also becoming very popular with investors due to the potential to obtain high returns. Similar results were gathered as part of the Mediterranean hotel real estate market report, where participants ranked countries based on their market perspective. On average, respondents of the Tranio and MR&H joint survey indicated that they were likely to invest in a hospitality sector in Spain (54.5%), Greece (54%) and Italy (25.5%).
The quantitative data obtained in the poll was also confirmed by Tranio's sales department.
Judging by the number of enquiries from our clients, Germany, Greece, the Czech Republic, as well as Spain, Italy and France are the most popular destinations for hotel real estate investors. The Austrian Alps have also started to attract a lot of interest lately.

Ask Marina a question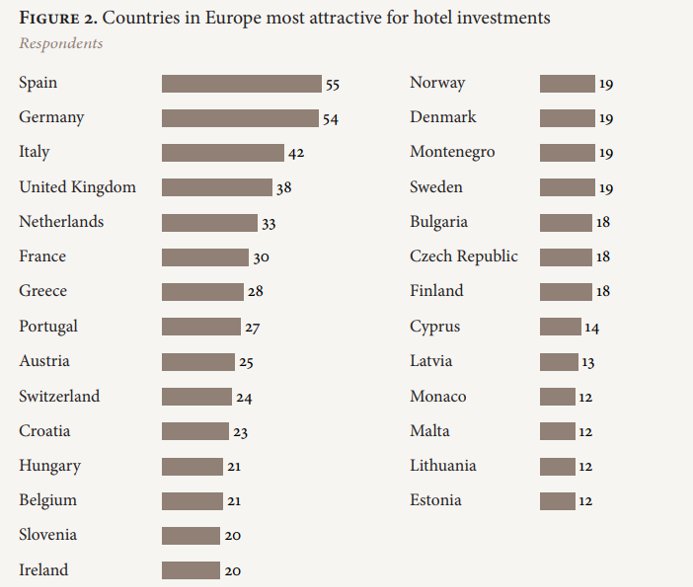 When comparing these findings to the "European cities hotel forecast for 2018 and 2019" research conducted by PWC, RevPAR (Revenue per available room per day) turned out to be the main driver and focus of real estate investors in the hospitality market. The RevPAR rankings indicate that Paris, Geneva and Zurich should be top picks for investors, followed by London, along with Lisbon and Porto.
Research investigating the same topic to this report - "European Hotel Investment Survey" by Deloitte has revealed that the most attractive city for hospitality real estate investment in 2019 will most likely be Amsterdam, closely followed by London and Paris. The simmilar  report by CBRE on investor intentions puts investment in the UK (35%) first in their list with Germany (18%) and Spain (16%) way behind, rounding up the top 3.
This survey also reveals how the investment interest is divided among the top 7 countries. Over half of the respondents point out that they are already involved or are looking into hospitality properties in Spain and Germany.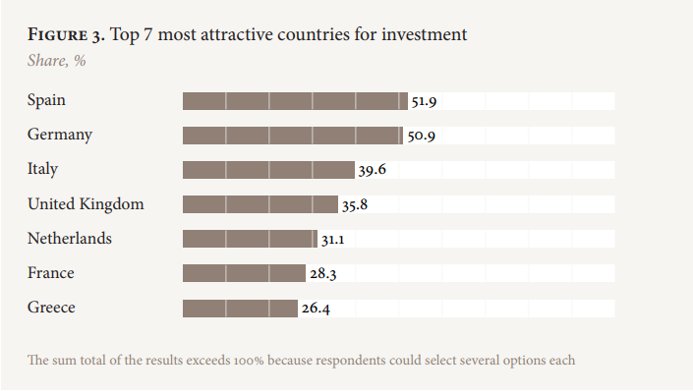 What is your primary business function?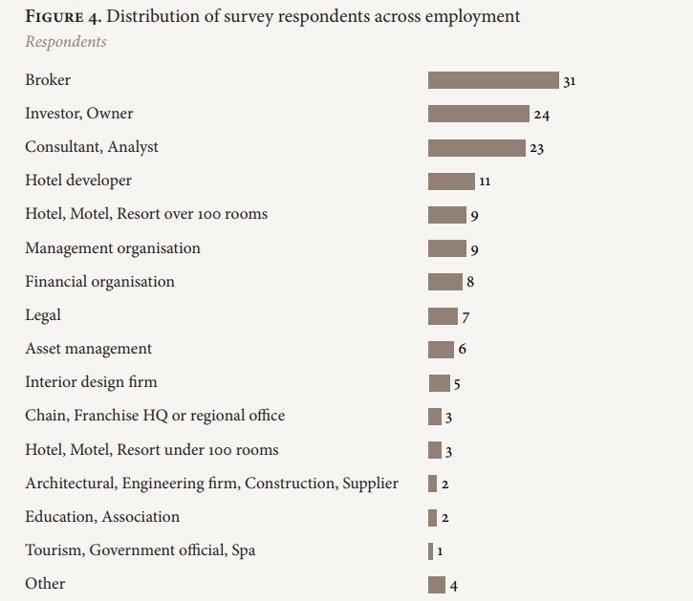 The survey asked participants to indicate their primary business function and the breakdown can be seen above. To summarise, all data collected indicates that the market outlook is favourable, but there are certain trends that separate the participants, such as their intentions to either purchase or sell hotel real estate in 2019.
Will you be a net buyer or seller in 2019?
The majority of those who participated in the survey indicated that they intend to buy hotel real estate in 2019 rather than to sell.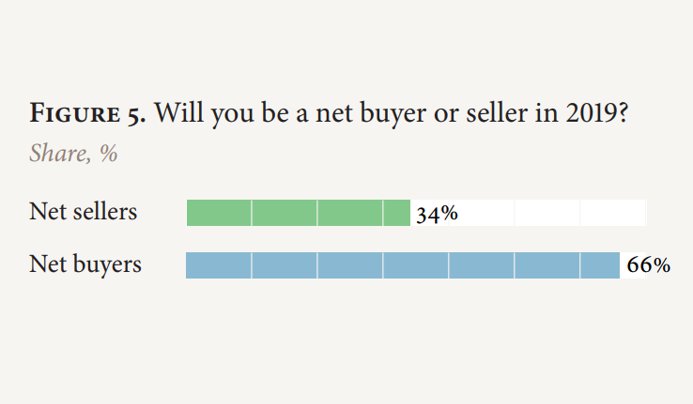 Almost all investors and management organisations revealed a positive sentiment towards the market and indicate that they will be looking to invest in European hotel real estate in 2019.
"This is what we see among our clients as well. We get several enquiries daily from investors all over the world who are searching for hotels which they plan to purchase to then later rent out, mostly in Europe", said Marina Filichkina, Head of Sales at Tranio, "But, there are not so many good offers available on the market. Hotels can give a 4-6% income and there are very few reliable alternative instruments in which people can invest."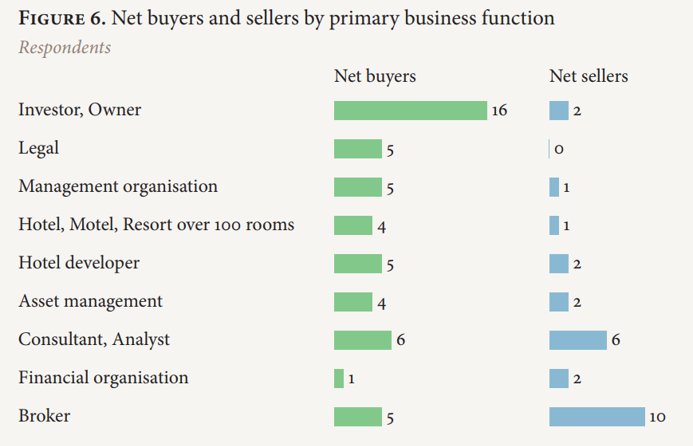 To mitigate the difference in the number of respondents for each occupation category a concept of overall 'sentiment towards buying/selling' can be introduced to clarify the analysis results. A 34% to 66% split can be observed with regards to the intentions (to buy or to sell), separating the groups by their professions. In the chart below, the calculated 'normalised sentiment' line is used to highlight the true weight behind the (buy/sell) sentiment, thus, minimising the group size effect.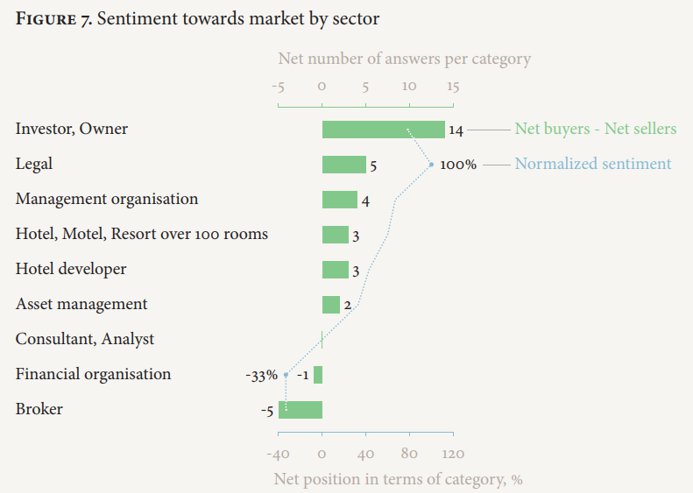 The 'Others' category makes up an important section of the surveyed sample, represented by experts from: architecture and design firms, construction companies, small hotels, education establishments, spa retreat and other industries.
When looking at this category, for example, representatives of the hotel industry have revealed their positive sentiment towards the market perspectives. However, construction, architecture, engineering professionals were mostly negative when evaluating the perspectives of the European hotel real estate market for the upcoming year.
Please indicate the average financial level per transaction: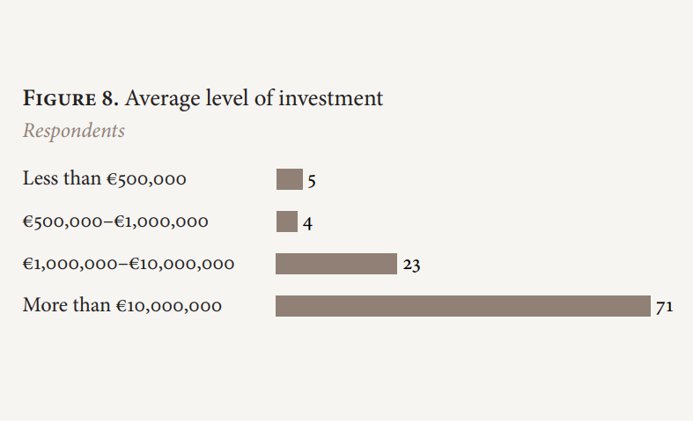 Survey participants have also revealed their average investment budgets, indicating that they were mostly interested in higher priced hospitality real estate, valued at €10 million or more.
What is your anticipated hold period?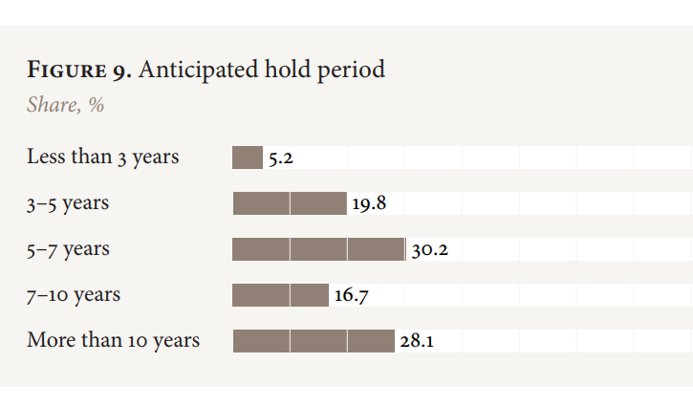 In general, respondents said that they approach each country differently when it comes to investment hold period. According to the results, investors interested in the Spanish and German hospitality markets, are most likely to hold their real estate for anywhere between 3 to 7 years or to invest long-term and hold for over 10 years. This is especially true for Germany, as well as Italy. Spain, Germany, and Italy therefore account for the majority of answers for the >10 years option.
Almost none of those interested in the French hotel market are willing to hold for less than 5 years. Those looking into the Greek and Swiss markets said they would have no intention to keep their capital tied for more than 7 years. Those interested in the Eastern European markets claim to have no interest in holding for longer than 10 years.
A Deloitte "2018 European hotel investment survey" has also revealed that investors will mostly be interested to hold their hotel real estate investments for roughly 5 years or take a long-term view and keep their investments for over 10 years or indefinitely. Of that, 30% of respondents indicated a hold period of 5-10 years and further 40% have claimed they will be looking to hold for 10+ years.
What is the most popular investment strategy when investing in the European hospitality industry?
Most of the questionnaire respondents indicated that they will be looking towards investments with higher yields followed by value-added projects. Those figures coincide with the fact that investors are mostly interested in markets with growth potential such as Spain, Greece and Portugal and to a lesser extent Germany and UK as demonstrated in the "Emerging Trends in Real Estate 2019" PWC report.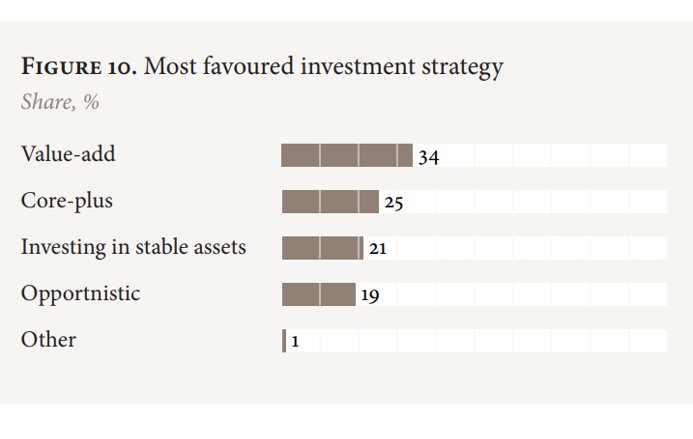 Please indicate the IRR% range
Expected IRR (internal rate of return) was also another question that clearly divided survey participants into separate groups. Most respondents suggested that they would be looking at the range of 6 to 12% return and in some cases going beyond that to 18% as their top expectation.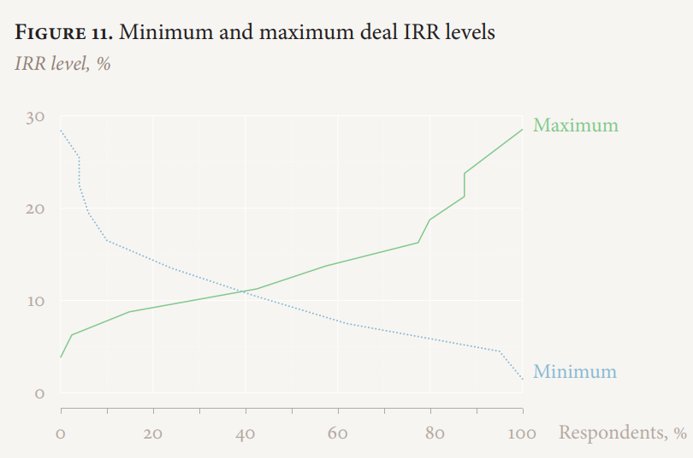 Those figures are especially telling when pitted against the tenancy agreement strategies that the respondents would like to see occupy their hospitality real estate. Mostly we interviewed those that prefer either a fixed lease or management agreement strategies.
What kind of tenure is most attractive to you?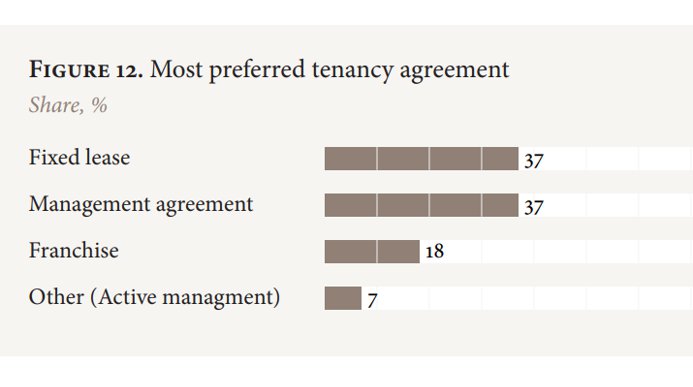 When contrasting those figures, it becomes apparent that different IRR expectations are closely associated with the types of tenancy agreements.
The survey revealed that those undertaking active management roles expect the rate of return to be in the region of 9-12% annually. Much lower expectations are associated with franchise and management agreement tenancy plans with the IRR ranging from 3 to 9%. Finally, despite being very popular among respondents, the fixed lease is only sought to generate an IRR in the range of 3-6%.
"Most of our clients buy hotels in order to rent them to a well-known hotel operator or management company and receive a 'passive' rental income." According to Head of Sales at Tranio, Marina Filichkina.
What are the main challenges when investing in the European hospitality industry?
Respondents in particular singled out two issues that they regard to be the most pressing when undertaking investment activity in Europe hospitality sector. Over half of the respondents have identified that the difference in property laws between countries is the most challenging issue. High level of competition was also mentioned by 46% of respondents, followed by foreign transaction costs.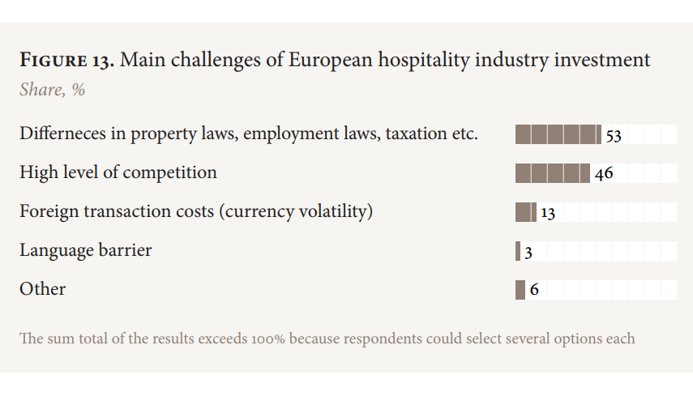 Conclusion:
Overall, the report has revealed that despite the commonly associated stances real estate market players may have towards the European hospitality sector, the outlook on investments for 2019 is generally positive. Most investors intend to hold on to their property for longer periods and are willing to accept lower returns if that ensures stability. Meanwhile, other investors are closely monitoring rapidly growing markets and are looking for value-added or risky projects that generate high yields.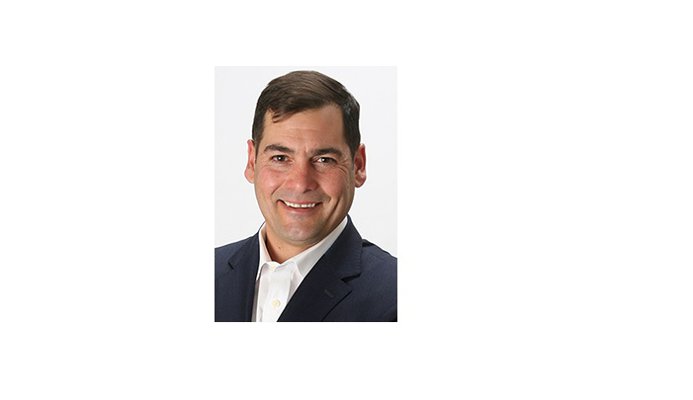 Alexi Khajavi, Managing Director of EMEA Hospitality + Travel Group, Questex
---
"As an industry it's vital we understand investor behaviour and intentions as this drives all market activity from sales, acquisitions, M&A, asset management and development. Whilst this is heavily influenced by macro-economic factors, there are nuances in different geographical areas, tenure and type of investor which are important to understand. That Value-Add comes out of the research as the most popular investment strategy links directly back to the crucial role asset management plays in the stage of the cycle we're currently in and a topic that I expect to dominate conversations at IHIF."
Subscribe not to miss new articles
We will send you a content digest not more than once a week
Subscribe
Done!