Top destinations for foreign buyers in Italy
The steep price plunge that ensnared the Italian property market since the crisis is now attracting foreign buyer attention, after prices fell 25% between 2008 and 2015. This article by Ivan Chepizhko investigates what buyers are the most active and what real estate is the most popular in Italy this year.
UK buyers are the most active
According to a recent report by gate-away, a real estate platform specialised in Italian property, British buyers made 16.2% of all foreign transactions in 2015, followed by Americans and Germans.
Rank
Country
Share of total
foreign transactions, %
1
UK
16.2
2
USA
14.0
3
Germany
09.5
4
France
08.2
5
Belgium
05.9
Tranio also conducted an analysis of search engine activity. The analysis revealed that property for sale in Italy is particularly popular among the Swiss, Swedes and UAE nationals. As with real estate in Spain, the average foreign buyer is already middle-aged and more than half (55%) were over 55 years old in 2015 according to Rightmove, a British-based property website.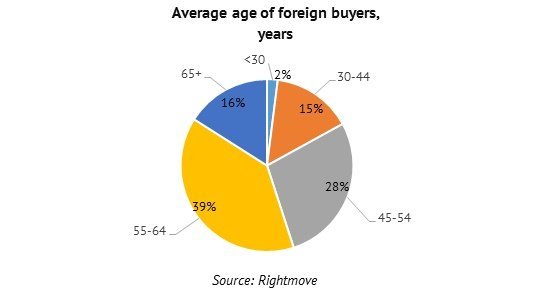 People under thirty, however, hardly give Italy a second thought when they are dreaming of a future home abroad, generating as little as 2% of all online searches.
61% of foreign buyers are looking for a holiday home.
29% intend to settle down in this country.
10% think that Italian residential property is a good investment.
Foreign buyers prefer houses
The vast majority of foreign citizens (78%) want to buy a house, compared to just 22% interested in flats according to the web search analysis by gate-away. However, how they imagine their future property is more variable:
one in five buyers want a house to renovate (18.4%)
one in ten will only consider new property (9.9%)
three in five want a home with two or three bedrooms (59.4%)
As a general rule, British, German and Dutch nationals prefer residential property in secluded provincial towns and villages where the prices are significantly lower than in cities and touristy locations. The French frequently look for penthouses on the top floors of skyscrapers while Russian clients favour sea views and don´t think much of the properties in the hills. Nor do they want any railroads nearby. They prefer guarded residential complexes in city centres or first line from the sea. On the contrary, EU nationals like hilly terrain and don't consider sea views an absolute requirement.
The median property budget of requests to Tranio for Italian property is €152,000, compared to average flat prices of about €188,000 and €141,000 for houses. Despite these low price tags, Italy is still popular with prime property buyers: almost 11% of property requests to Tranio are for homes exceeding €500,000.
The most popular region is Tuscany
The most popular destination for foreign buyers is Tuscany, the birthplace of the Italian Renaissance, followed by Apulia, Liguria and Piedmont. Interestingly, the average spending budget varies a lot from region to region. For example, buyers are prepared to spend nearly twice as much in Liguria than Sicily.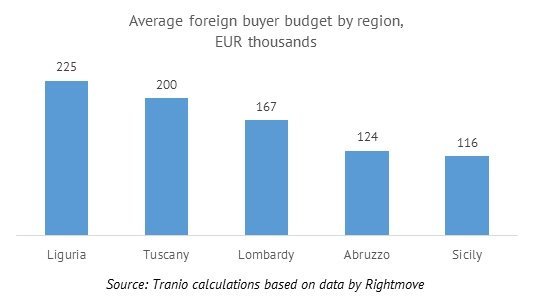 Experts have noted an important shift in buying habits. Previously, Italian regions were strongly segregated in terms of price and foreign interest, but these differences are slowly being flattened by better infrastructure and access, especially thanks to the low-cost aviation industry.
Lombardy is most popular with the Germans, French and Swiss who are 40% more active on the market and prefer rural property around Lake Garda and Lake Como. Buyers from the UAE are also very present in the region but prefer residential property in Milan.
Liguria is very popular with Scandinavian buyers, especially the Swedes and the Danes. They are three times more likely to request information on listings there than any other nationality. Swedish citizens are exceptional partial to property in Abruzzo, a picturesque region to the East of Rome on the Adriatic coast.
Prime property buyers are most active on urban markets located in the North of the country. Reasons behind the geographically disproportionate distribution of wealthy buyers are mainly linked to efficiency in transport, infrastructure, access to exceptional summer and winter resorts (proximity to the Alps and sea) and the strong economic performance compared to the country's southern half.
| City | Region |
| --- | --- |
| Genoa | Liguria |
| Florence | Tuscany |
| Savona | Liguria |
| Como | Lombardy |
| Brescia | Lombardy |
Market influencers and trends in 2016
A main contributor to Italy's power of attraction is the local currency. The country's Eurozone membership has made local property more affordable to those earning US dollars and British pounds. Excluding any prolonged tumult linked to Brexit or a massive global downturn, this trend should last throughout 2016.
-> International property buyers looking for «safe havens»
One nationality could possibly transform the market this year. Continuing capital outflow from China, whose investors are now looking further afield for profitable investments and are already rather active in the Mediterranean, could be directed to some extent towards the Italian market.
Ivan Chepizhko, Tranio
Subscribe not to miss new articles
We will send you a content digest not more than once a week
Subscribe
Done!
Top 5 Articles of the Month