Tranio Partners With ULI Europe Conference 2020 in Amsterdam
Promo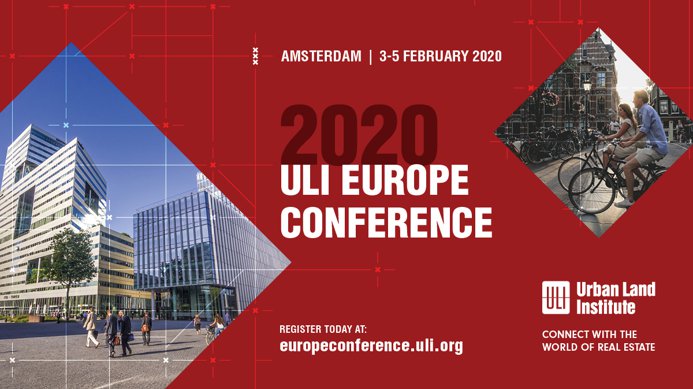 Tranio is pleased to announce that it is partnering with the ULI Europe Conference 2020, which is taking place at the Hotel Okura in Amsterdam (3–5 February) and features an array of internationally renowned speakers from the worlds of politics, economics and real estate.
The ULI (Urban Land Institute) is the oldest and largest network of cross-disciplinary real estate and land use experts in the world with over 45,000 global members. It provides leadership in the responsible use of land and in creating and sustaining thriving communities worldwide. Through its members' dedication to the mission and their shared expertise, the ULI has been able to set standards of excellence in development practice.
Founded in 1936, ULI has been active in Europe since the early 1990s and the ULI Europe Conference is the non-profit organisation's flagship event, which is in its 24th edition. It is expected to bring together more than 600 senior real estate professionals from over 25 different countries representing a unique opportunity to connect with some of the most influential people in European real estate.
With a full 3-day programme of events, there will be something for everyone, including curated site tours of the Dutch capital; Product Council meetings and European Forums focused around different themes in real estate, and a main conference day featuring expert influencers from the built environment, including:
Peter Ballon (Managing Director, Global Head of Real Estate Investments, Canada Pension Plan Investment Board)
Prof. Dr. Dirk Brounen (Professor of Real Estate, Tilburg University; Associate Dean Research and Development, TIAS)
Rolf Buch (CEO, Vonovia)
Andrea Carpenter (Author; Director, Women Talk Real Estate)
Manfredi Catella (Chairman, COIMA)
William D. Chilton FAIA, RIBA (Principal, Pickard Chilton)
Christina Gaw (Managing Principal and Head of Capital Markets, Gaw Capital)
Dr. Maarten Jennen (Senior Director Private Real Estate, PGGM)
Claudia Kruse (Managing Director Global Responsible Investment & Governance, APG)
Pascal Smet (Secretary of State, Government of the Brussels-Capital Region)
Komal Sri-Kumar (President, Sri-Kumar Global Strategies)
Marilyn Taylor (Professor of Architecture and Urban Design, University of Pennsylvannia School of Design)
Owen D. Thomas (CEO and Director, Boston Properties; Global Chairman, ULI)
Hans Timmer (Chief Economist, South Asia Region, The World Bank)
François Trausch (CEO, Allianz Real Estate)
Lisette van Doorn (CEO, ULI Europe)
Ed Walter (Global CEO, ULI)
Attendees are invited to an exclusive dinner at the iconic Beurs van Berlage on Tuesday 4 February with Daniel L. Doctoroff, the chairman and CEO of Sidewalk Labs, which is seeking to develop a new district that would serve as the global model for the 21st century city.
Tranio is proud to be a Media Partner for this event.
For more information and to register online please visit the ULI Europe Conference website: europeconference.uli.org 
Subscribe not to miss new articles
We will send you a content digest not more than once a week
Subscribe
Done!
Top 5 Articles of the Month