Why cross-border investments will grow in the next decade
According to CBRE and Real Capital Analytics, between 2007 and 2016, foreign property transactions reached $6.7 trillion. Investments in this segment have been growing by an average of 20% per annum since 2010 (Figure 1).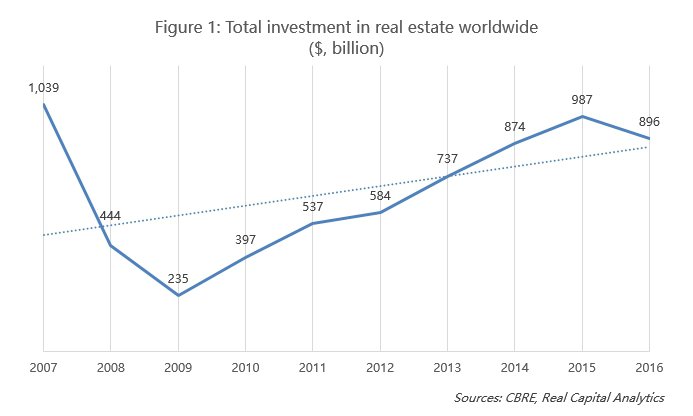 The United States (US) is the largest market in the world in terms of international investment volume (Figure 2). The number of transactions in the US involving international buyers has grown by 1.5 times in the past five years, with its share growing from 4.1% to 5%. The same trend can be observed in other markets popular with international investors such as Cyprus, where this number has grown by 2.5 times since 2013, with the share of international investors reaching almost 30%.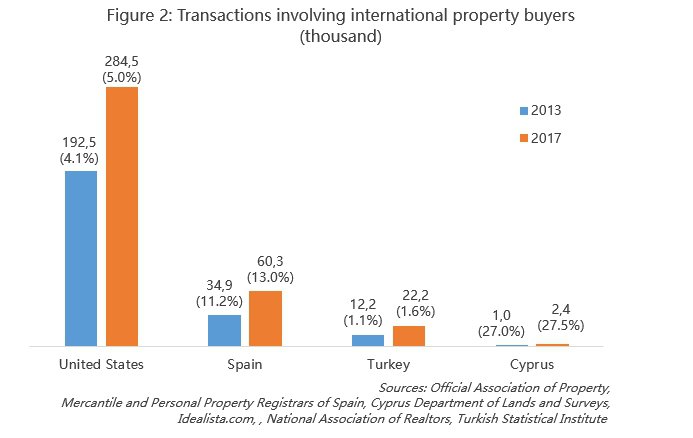 Why will the volume of cross-border property investment grow in the next decade?
More money
According to the International Monetary Fund (IMF), global GDP has shrunk only once in the past 30 years: by 0.1% in 2009. Since then, the global economy has regained momentum and is expected to continue growing at its current rate for at least another four years (Figure 3).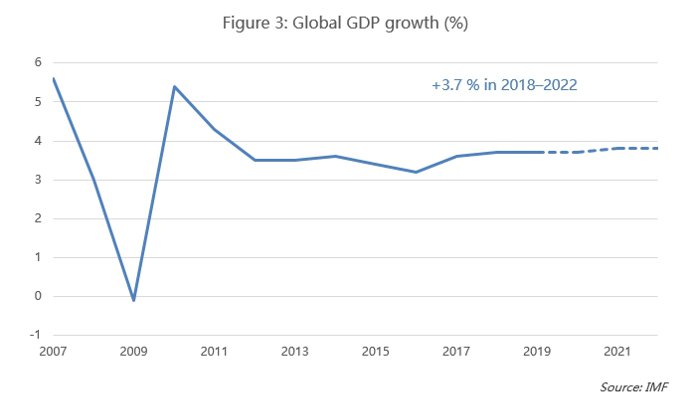 Countries with high numbers of investors who buy properties abroad are demonstrating even more impressive growth. According to Reuters, China invested a record $42.2 billion in foreign property in 2017. According to the IMF, China's GDP will grow by more than 6% per annum over the next four years.
Stable economic growth in the near future is also expected in Persian Gulf countries: Saudi Arabia (2% per annum), Iran (4%), Qatar (3%), and the UAE (3%). According to Knight Frank, the number of millionaires in China and India will more than double to 1.7 million by 2026, up from 700,000 in 2016.
Increase in tourist arrivals
The number of international tourist arrivals is also increasing. In the past decade, this number has grown from 918 million to 1.23 billion. According to Statista, more than a half of all international tourists arrive at their destinations by air. According to the World Bank, the number of air passengers grew by more than 1.5 times in the past decade, from 2.209 billion in 2007 to 3.696 billion in 2016 (Figure 4). According to Statista, this number will grow by another 4.7% over the next 20 years.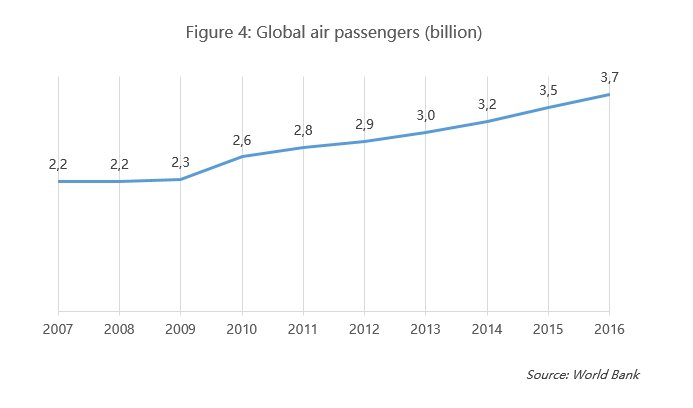 According to the International Air Transport Association (IATA), the Pacific Rim accounts for the most air travellers at 33.6% (Figure 5).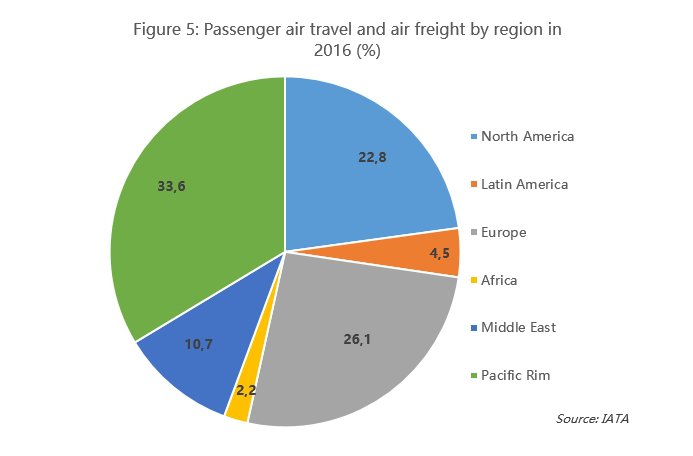 At the same time, Europe is the most popular international tourist destination. In 2016, 616 million international tourist arrivals were recorded in this region. According to Euromonitor International, between 2017 and 2025, the number of arrivals in the 10 most visited European cities will grow by 25% on average (Figure 6).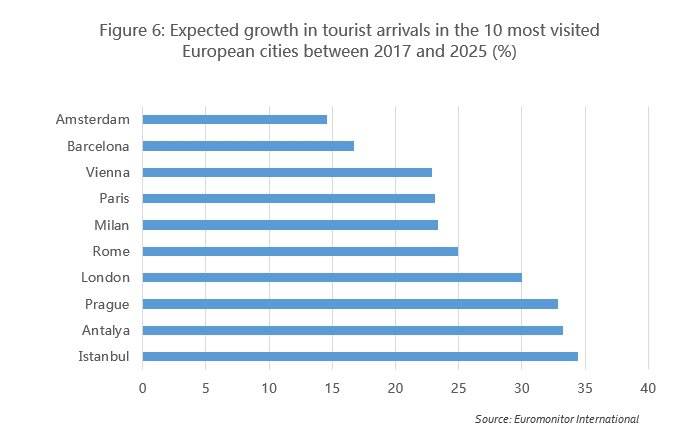 Typically, the demand for property increases with growing tourist numbers, as some of them buy holiday homes and apartments in the countries where they most often spend their vacations, while others invest in short-term rentals in cities popular with tourists. 
Growth in immigrants
The world's most popular immigration destinations are Europe and the US. According to official data, between 2008 and 2016, the number of residence permits granted in the EU and the US grew by 32% (Figure 7). In 2016, the highest proportion of European residence permit recipients were granted to Ukrainian, Syrian, the US, Indian and Chinese nationals, while the US residence permits were most frequently granted to Mexican, Dominican, Chinese, Filipino and Vietnamese nationals.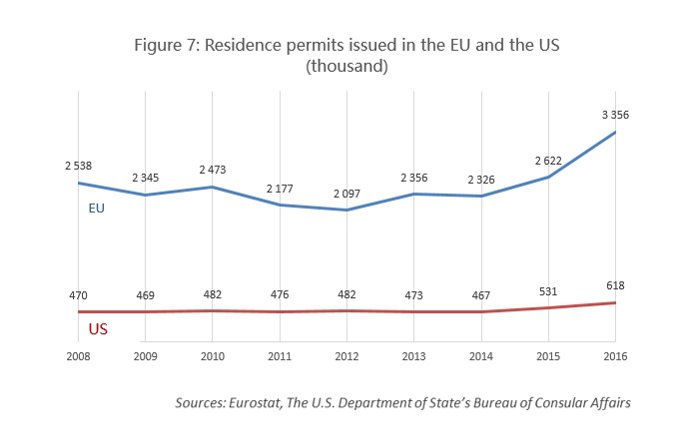 Residence-for-investment programmes are bolstering demand for property abroad. The most popular European golden visa programmes are Greece and Latvia, which grant residence to buyers of property from €250,000, as well as Spain and Portugal, which grant residence to buyers of property from €500,000. Greece's golden visa programme has issued over 2,100 visas, while Portugal has issued about 5,500.
More foreign students
According to the Organisation for Economic Co-operation and Development (OECD), the number of international students in its member countries more than doubled between 2007 and 2015.
The most popular country among students studying abroad is the US. In the 2016–2017 academic year, the country had over 1 million international students. This number has been growing by an average of 6% annually over the past decade.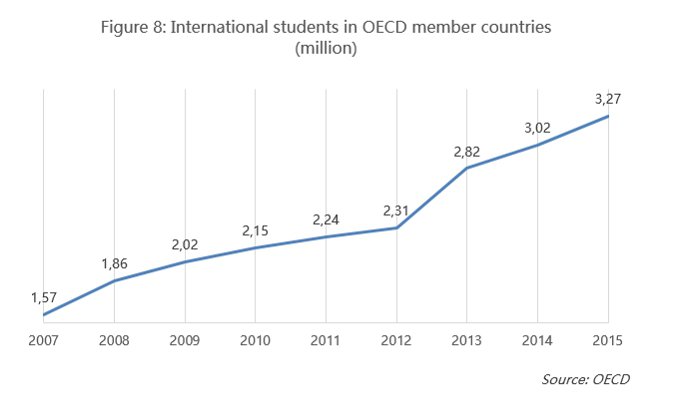 The instability of developing markets favours growth in cross-border investments. The risks in investors' home countries are prompting them to look for property abroad – particularly in Europe and the US. Conversely, investors from developed countries with a healthy risk appetite are looking for higher yields in developing markets. 
Therefore, Tranio anticipates that over the next 10 to 15 years:
The growing prosperity of the Asian countries will lead to an increase in the volume of property investment in stable markets in Europe and the US and will lead to an increase in the number of European and American investors putting their capital into Asian commercial property.
The number of purchases of resort real estate located within a 4-hour flight radius from Asian buyers will grow. The growth in the number of transactions will be bolstered by the development of technologies that will make transactions easier. For instance, crowdfunding platforms and the blockchain will simplify collective investments and make it accessible to a wider audience. 
Originally published on inman.com
Subscribe not to miss new articles
We will send you a content digest not more than once a week
Subscribe
Done!