Why is the demand for collective investments going to increase?
Framed by Rachel Botsman and Roo Rogers in 2010, the economic model of collaborative consumption is attracting a growing number of supporters. The idea is that paying for temporary access to a product can be more beneficial than owning it.
This approach has taken shape in car sharing and services similar to DriveNow and Zipcar in the transport sector, whereas in the real estate market it comes in the form of collective investments vehicles where the investors share the property, rights and obligations as a part owner.
What are collective investments?
Real estate investors can choose from two options: placing funds directly into a rental business or redevelopment; or making an indirect investment (via a fund or a crowdfunding platform).
The main principle of collective investment is that a specific company collects the investors' money, places the funds into a project, generates and then distributes any profit made. With investment funds, the investors simply give away control over their money, whilst with crowdfunding, they independently choose how and what to place their capital into.
The collective investment market of today
The collective investment market is growing rapidly. As demonstrated by an analysis of Preqin data, between 2013 and 2016, the volume of money injected into global closed-end real estate investment funds grew at 11% per annum. Furthermore, as expressed by 70.4% of respondents from an INREV survey, investors believe it is going to keep increasing over the next few years.

According to a study published by Preqin in its March 2017 Real Estate Spotlight newsletter, European companies have increased their asset volumes under management by 39% since 2012. At the same time, 72% of fund managers have seen an increase in competition for investor capital since late 2016.
The amount of finance accumulated through crowdfunding is growing exponentially: according to Massolution, it increased from $2.7 billion in 2012 to $34.4 billion by 2015 (i.e., by over 12 times).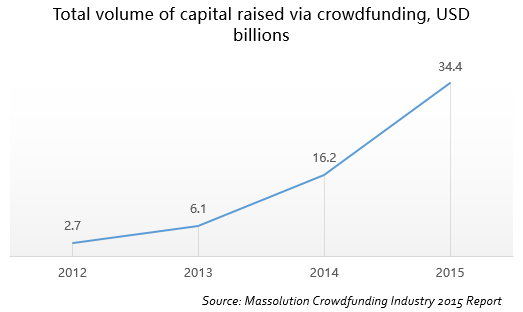 As for real estate projects, in 2014 the volume of investment in via crowdfunding rose by 154%, amounting to $1 billion. Of the $2.1 billion accumulated through crowdfunding during 2015 in the US, $900M was used in real estate projects.
Why the collective investment market will continue growing
A number of factors guarantee growth in the collective investment market over the next 10–15 years:
1) Low entry threshold
Even those with only a small amount of capital can invest in funds and crowdfunding. The minimum budget depends on the scale of the project and may start from as little as €100.
At the same time, collective investments remain attractive to buyers with larger amounts of capital, who can diversify their portfolios by making several financial contributions to different projects.
In contrast, investing in property directly sees an increase in the minimum entry level to €100,000 for rental business and €500,000 for redevelopment projects.
2) Easy access
The internet facilitates access to collective investments: online services make the market more transparent and enable investors to easily organise themselves into groups.
Blockchain technology - an enormous immutable public database with no centralized management - will catalyse the growth in crowdfunding. Investors will be able to store and update documents, personal data and information regarding fund transfers on the blockchain ledger. The technology will streamline raising money for projects, cutting out intermediaries and reducing costs.
3) Ease of investment:
Making contributions to funds and crowdfunding mean investors do not need to participate in the management of the project: professional managers administer their capital. By contrast, value-added projects require significant effort, time and knowledge of the market climate.
4) High yields
According to JP Morgan, the average annual return from REITs (Real Estate Investment Trusts) exceed that of the other asset classes: securities, cash or commodities. The 2002–2016 average yield for REITs amounted to 10.8%, whereas that of stocks from emerging markets ran at 9.8% and at 9.2% for high-yield bonds.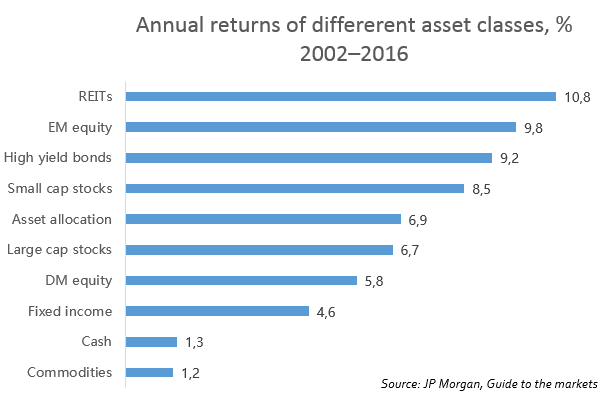 For investors planning on placing capital in a fund or a crowdfunding platform it would be realistic to expect a yield of 8–20% per annum depending on the scale of the project. It is essential to be mindful of the risks associated with collective investments: in the case of real estate investment funds - we're talking about high volatility, and in the case of crowdfunding - illiquidity. It is also important to make the right choice regarding the investment management company: opt for one with a good track record, high transparency and a clear strategy.
Yulia Kozhevnikova, Tranio.com
Originally published on everyinvestor.co.uk/2017/06/30/42554/
Subscribe not to miss new articles
We will send you a content digest not more than once a week
Subscribe
Done!