Property prices in Vietnam
After several years of decline due to the 2008−2009 crisis and the high inflation rates of 2010−2012, the market of property in Vietnam is becoming attractive for real estate investors. Internal demand for residential property is being reinforced by rapid urbanization, whilst demand from foreigners is being fostered by the liberalisation of property buying.
Main markets
The most popular real estate markets of Vietnam are the metropolitan cities of Ho Chi Minh (Thành phố Hồ Chí Minh) and Hanoi (Hà Nội) as well as the resorts of Danang (Đà Nẵng) and Nha Trang.
The largest cities in Vietnam are the eight-million Ho Chi Minh City and the capital city - Hanoi - with a population of 7.5 million. From an investor perspective, the most interesting property market is in Ho Chi Minh City, especially its 1st, 2nd and 7th districts.
The densely populated district 1 (quận 1) is the noisy city centre, including the financial district, with a lot of foreign consulates, cafes, restaurants and bars geared towards westerners. "The district is already built up, and no new projects are expected to be completed. The prices there are high (from $3,000 per m²) and have a potential for growth due to the limited capacity for construction. It is easy and profitable to lease there since the rental prices are high, and there is practically zero competition. Serviced apartments prevail in the residential property market. An 80 m² two-bedroom apartment rents out at $2,500 per month. The first multi-apartment project in district 1 is set to be completed in 2018," says Victoria Hoang, Sales and Leasing Manager at Indochina Capital.
District 2 (quận 2) is just a 10–15-minute drive away from district 1: across the tunnel under the Saigon River. It is being actively developed with residential properties. By 2020, the construction of a subway line will be completed there, meaning local property prices are to grow especially fast. "This district is one of the most popular with expats thanks to the international schools and hospitals, and a great number of restaurants, supermarkets and other institutions for foreign nationals," Victoria Hoang says.
Many foreign citizens, especially those from Japan and Korea buy and rent property in district 7 (quận 7). Similarly to the other two districts, the demand for rental apartments is high there. "Due to the heavy traffic, commuting to the centre from this district is inconvenient, and those who buy property in district 7 mainly work there. Fortunately, there are large corporations (Adidas, Unilever, KPMG) and a financial centre there," says Victoria Hoang.
Tourism and, consequently, the resort property markets are rapidly developing in Vietnam. Investors are interested in Danang and Nha Trang, where hotels and apartment buildings are actively being constructed. These cities attract tourists with their cultural landmarks, sandy beaches, bars and nightclubs.
Other popular resorts include the Phú Quốc archipelago, covered with tropical forests, the surfer town Mũi Né and Côn Đảo Island, famous for its coral reefs. The most promising of them in terms of investments is Phú Quốc, as the local tourist infrastructure is only just starting to develop.
Residential property prices
According to Savills, the Vietnamese property market has shorter cycles than that of Australia or the UK, for example, (7–10 years) lasting for about five years on average. This is due to the fact that the Vietnamese government maintains a more straightforward monetary policy than the governments of the other countries.
The Vietnamese residential property market is less transparent in comparison to that of Europe and the US. Statistics for property price are only available for large cities.
In Ho Chi Minh City, the prices for apartments skyrocketed in 2006–2008 but fell drastically with the 2010–2012 global recession. In 2013–2015, the market became stable and a period of growth began. In Q3 of 2016, the city´s apartments became 5% more expensive year-on-year. Many market experts expect the property prices in Ho Chi Minh City and Vietnam in general to grow further in the coming years.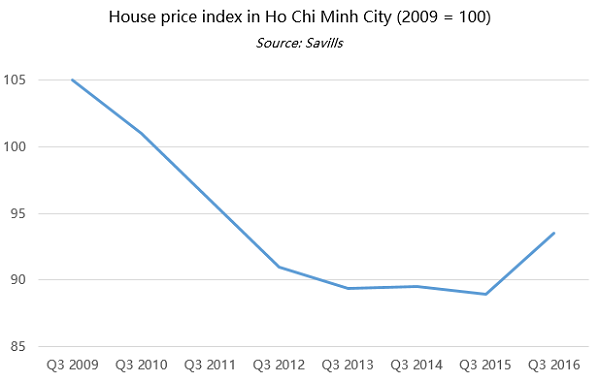 According to Numbeo, one square metre of property in a Vietnamese city costs $2,100 on average. The most expensive markets are Hanoi and Ho Chi Minh City where the prices reach (and, in the prime property segment, even exceed) $4,000 per m².
Suburbs
City centre
Danang
700
800 – 1,000
Nha Trang
400 – 2,200
1,100 – 4,400
Hanoi
900 – 1,100
1,800 – 4,400
Ho Chi Minh City
900 – 1,600
1,800 – 3,500
Subscribe not to miss new articles
We will send you a content digest not more than once a week
Subscribe
Done!
Property buying guide for Vietnam
Article 1 of 5
Top 5 Articles of the Month