Buyer profile: meet the British who purchase real estate in Spain
Spain is among the most popular states for British buying property abroad. It has returned to favour in the eyes of the Britons amid economic growth in the UK, falling interest rates, a weak euro and rising political instability further ashore.
So far this year, 30% of Google searches by British looking for property in Europe targeted Spanish real estate. However, this is not particularly surprising as Spain is a major international tourist destination. 20% of all British tourists went to Spain in 2014 according to Britain's Office for National Statistics (ONS).
During the pre-crisis decades, they were very active on the Spanish real estate market and now, 16.7% of registered property for sale in Spain belongs to UK citizens according to Colegio de Registradores, the Spanish land registry. This far exceeds any other major foreign buyer segment like the French (10.3%) and the Russians (7.5%). At the same time, the number of transactions with British is also on the rise: quarterly transactions almost doubled from 1,100 in Q1 2013 to 2,000 in Q1 2015.
The typical British buyer
Typical British buyers in Spain are men and women aged 45–64 who purchase houses and apartments exceeding 100 sq m. The average buying price is €200,000 and the property is usually located in resort towns by the sea.
Top buyer trends:
men and women reaching retirement or pre-retirement age (45–64 years old);
property for personal use, not investment;
over 75% of transactions made without a mortgage;
most popular destinations: Andalusia, Valencia and the Canary Islands;
most popular location: seaside property;
interest in new and secondary housing markets;
equal interest in houses and apartments;
average property size: over 100 sq m;
average selling price higher than that paid by any other foreign citizens.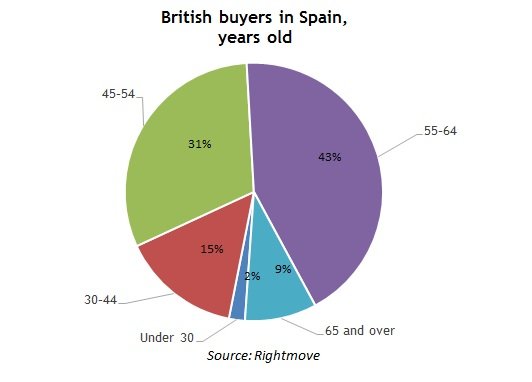 British buyers aged 55–64 are the most active (43% of the requests), followed by those aged 45–54 (31%), according to the British real estate website Rightmove. Consumer research by TM Grupo Inmobiliario in Spain also confirms these findings and highlight that they are typically men and women over 60 with annual income over £36,000 that have children and grandchildren.
Why do they choose Spain?
The vast majority of British (89%) buy property in Spain for their own use, while only 11% buy real estate as an investment. 75% of these houses will be used as holiday homes and the remaining 25% are bought by people planning on moving to Spain permanently.
According to MP Dunne, a real estate broker in Marbella, Spain is particularly popular because of the favourable euro to pound sterling exchange rate, low property prices, a pleasant climate and convenient flight connections. The older buyers are also interested in the country's good and affordable healthcare system, which is as much as 23% cheaper than in the UK according to the Ifitweremyhome.com.
Where do they get their money?
Most British don't "borrow" money to buy their property. In fact, 63% of buyers use personal assets to finance their purchase against 23% who take out a mortgage.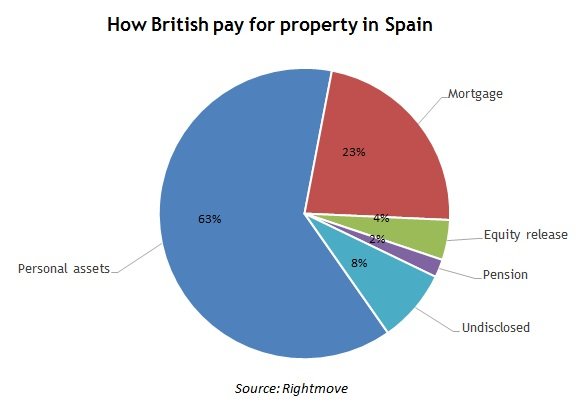 Equity release means that owners use their property to fund the purchase. Basically, the British owner retains use of their British property and receives a steady stream of income (or lump sum payment) on its value to pay for their new home in Spain. As the third party equity provider will need to be paid back, the lender's house or apartment becomes their property upon death. This payment plan is generally used by older buyers with no heirs for their estate.
The most popular destinations
Andalusia (32% of sales) followed by Valencia (28%) and the Canary Islands (13%) are the most popular destinations with the British according to the Spanish land registry office.
Andalusia
UK activity on Google search is also particularly telling. In 2014, the British searches for property in Andalusia specifically focused on the areas of Almeria, Malaga and the Costa del Sol and Marbella as a resort.
"Our clients predominantly buy property in Marbella and its suburbs like The Marbella Golden Mile, Sierra Blanca, Puerto Banus, Benahavis (La Zagaleta, La Quinta) and less often San Pedro Alcantara or Estepona," says Mary Dunne, Managing Director of MP Dunne.
Valencia
In Valencia, the Alicante area and Benidorm in particular are the most popular. The latter became such a hotspot for UK tourism that it has been the subject of a television programme about life of the British there for eight years now.
Murcia rising
The region of Murcia is also currying favour: in Q1 2015, British Google searches for property in that area were twice those of Q1 2014.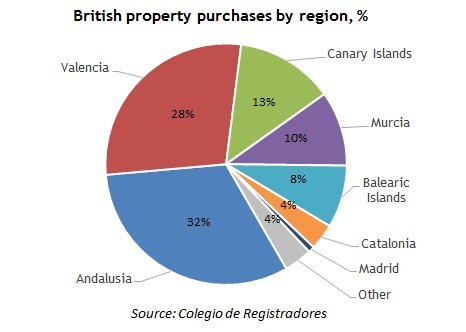 Resorts or cities?
British prefer property by the sea or on an island rather than inland or in cities. For instance, sales in Madrid accounted for just 1% of all house and apartments transactions by UK citizens in 2014. In contrast, 28% of all the Chinese purchases in Spain were made in the capital.
The British also topped the charts of the biggest foreign buyers on the Costa Brava, Costa del Maresme and in Sitges in 2014 with 33–44% of the total sales to foreigners, while in Barcelona they ranked just fifth with only 7% of transactions.
"Families buy property closer to schools, amenities and beaches. They prefer residential estates with gardens and pools. The remaining categories of British clients aren't too different either. Everybody wants to live or spend their holidays as comfortably and as close to the sea as possible. However, golf lovers are a rare exception to the rule, they prefer living close to golf greens," says Mary Dunne of MP Dunne.
The ideal British property
British buyers have an equal liking of detached houses, villas and apartments. According to Colegio de Registradores, they do not particularly discriminate between pre-owned and new which make up 58% and 42% of transactions respectively.
Nevertheless, they buy more new property (42%) than other foreign nationalities (37% on average). This owes to the fact that Britons buy more expensive property which, more often than not, is new rather than pre-owned.
According to Spain's Colegio de Registradores, they are particularly interested in property with living areas over 100 sq m, which make up 39% of their transactions.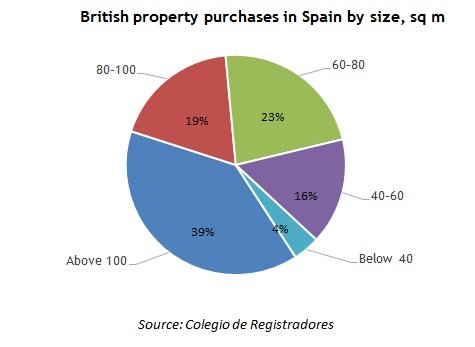 British have bigger budgets
UK citizens tend to buy property above the average price range thanks to higher incomes and a positive currency situation.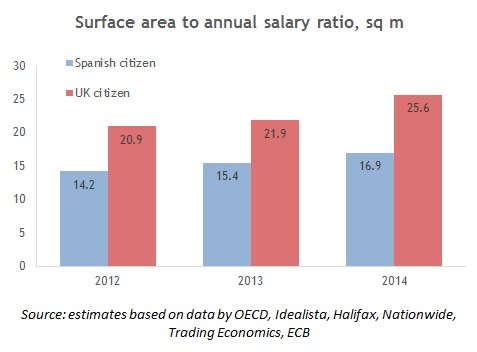 On average, property in Spain is 50% more affordable for British than Spanish based on the proportion of household income invested into the purchase. In other words, the budget of a British person is 50% larger. While the average British buying price is €200,000, the Spanish national average is just €130,000 according to the Spanish Ministry of Development (Ministerio de Fomento),
However, the British budget does vary depending on the property type: €100,000 for apartments and €300,000 for houses. MP Dunne, the real estate agency in Marbella, works with higher-budget buyers. In this segment, budgets range from €200,000 to €300,000 for a standard two-bedroom apartment while others invest in luxury flats and villas for €1M or more.
200,000–300,000
Standard apartments
e.g. two-bedroom flats in suburbs
of Marbella and further along the coast
towards Estepona and Marbella East
500,000–1,000,000
Luxury apartments
e.g. upmarket residential estates
with shared amenities or close to the beach
and the city
Over 1,000,000
Prime real estate,
e.g. houses or flats equipped with
excellent facilities, located in the most
exclusive neighbourhood
There's a market for prime property
The British are also aggressive buyers of luxury property. According to Spanish Property Insight, 90% of housing priced above €1M is purchased by foreigners, with traditionally many British citizens among them. The same holds true for Madrid: British buyers often choose real estate priced at €800,000 and above in the best neighbourhoods according to Strategic & Buy, a consultancy group.
Luxury resort properties are also in demand according to Sotheby's International Realty: Majorca's top buyer destinations include the best neighbourhoods in Palma where property may cost millions of euros, like Lonja and Santa Catalina.
What next?
The Spanish real estate market is finally regaining momentum and hopefully entering a positive cycle, which should herald another 2–3 years growth and see foreign transactions rise further.
At the same time, low interest rates are coming under fire in Britain as GDP and incomes grow. From 0.5% interest currently, the "new normal" could become 2.5% to 3.0% according to exiting Bank of England policymaker, Prof David Miles.
Nevertheless, rising interest rates are more likely to affect the younger population segments, 16–34 year olds, than Spain's top buyers, the 55–64 year olds who are reportedly five times richer than their younger counterparts according to an article by Economist published on 08 August 2015.
All the while, violence, war and terrorism are on the rise in more exotic Mediterranean destinations that had recently captured the attention of British tourists. This year alone in Tunisia, terrorist attacks left 31 UK holidaymakers dead.
Combined with a weak Eurozone, all these elements point towards increasing British activity on the Spanish property market. Buyers should pay attention to location as decent property in the right neighbourhood will always be in demand. Agencies, on the other hand, would do well to manage buyers aged 45 and over with care and develop a catalogue that reflects average property criteria and expectations.
Yulia Kozhevnikova, Tranio
Subscribe not to miss new articles
We will send you a content digest not more than once a week
Subscribe
Done!
Top 5 Articles of the Month