Cheap property more likely to tempt Russian-speaking buyers abroad
The lower the average property price in a country, the higher the chances of selling real estate to Russian and CIS buyers is the outcome of the most recent results of Tranio's Russian and CIS Buyer Activity Report 2015. This conclusion is based on the answers of 292 respondents (real estate agencies and developers) in 37 different countries for 2015.
Events in Ukraine and plunging oil prices have fettered Russian and CIS economies as well as their property buyers, once reputed as the world's most opulent investors. Overseas real estate investments have been halved as have those specifically directed towards residential property according to the Central Bank of Russia and Tranio reports.
While affluent Russian-speaking buyers direct their attention towards commercial property in the hope of securing their assets, the success of real estate agents is now also largely dependent on the average property prices in their homeland.
Size matters for Russian/CIS budgets
The top fifteen destinations for Russian and CIS buyers are mainly located in Europe, with the exception of Thailand, Turkey and the U.S. The countries with the cheapest property (average property prices compared to global average) are Bulgaria, Hungary and Turkey. Mid-range property destinations are Greece, Montenegro, Latvia, Czech Republic, Thailand and Spain.
Price category
Country
Average property price
to world average ratio1
Low
Bulgaria
0.53
Hungary
0.65
Turkey
0.66
Medium
Greece
0.89
Montenegro
0.94
Latvia
0.96
Czech Republic
1.19
Thailand
1.28
Spain
1.47
High
Germany
2.18
USA
2.22
Italy
2.30
Austria
2.40
Very high
UK
2.92
France
3.15
The most expensive countries where average prices are more than twice the global average are Germany, USA, Austria, the UK and France. When compared to conversion rates of clients to buyers, this Tranio research shows a clear correlation with property prices.
Less opulence, more value for money
The conversion rate of interested buyers to property sales in this research has been assessed according to global conversion averages and shows how Russian and CIS buyers lie in comparison: the average conversion rate for all interested buyers is weighted at 1.0. For instance, Russian-speakers in Turkey have a 1.0 conversion rate but in the UK, it is only 0.14, meaning that a real estate agent is seven times less likely to sell a property to interested parties than in Turkey.
Respondents in "cheaper countries" confirm average conversion rates (1.1) while those located where prices are over twice the global average are less likely to conclude a sale with a Russian buyer (0.8).
Buyer request conversion vs. average property price per country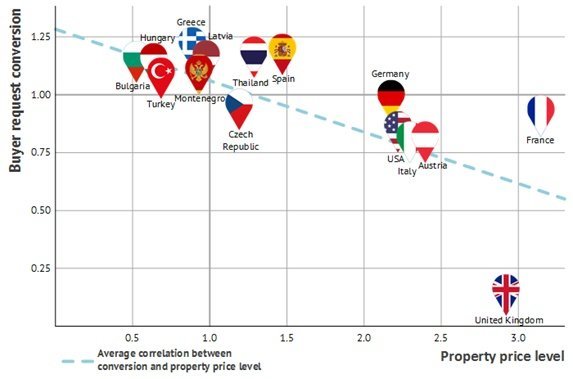 All top conversion rates are located in Eastern and Southern European countries: Greece, Latvia, Hungary, Bulgaria, Turkey and Montenegro. Mid-range property in Germany, perceived as the most stable in terms of economy and politics, is the most popular with Russian-speaking buyers with a medium budget. Although commercial yields in Europe's leading nation are falling, investments are booming and occupancy is just under 100%, guaranteeing a safe haven for Russian and CIS assets where currency value fell drastically since the end of 2014.
Elastic demand in times of crisis
When asked about factors determining client choice, survey respondents highlight the discrepancy between buyers' estimated budgets and the quality of property they can afford in the country of choice. As observed by Tranio, clients are 40% more likely to refuse to initiate the deal for this reason in "expensive" countries rather than in "cheaper" ones.
Let's say we have clients who want to buy a hotel in Austria with a budget of €1.0–1.5M, rent it out to a management company and earn passive income from their investment. In the current climate, this is simply not an option. For this price, at best they can buy a small family guesthouse, which is run by the owners themselves. Management companies won't consider small properties and because these buyers live abroad, they cannot manage the business themselves. If the clients want a hotel that a management company will take on, they need to budget €3.0–4.0M at least.
France and the UK have the highest property price averages but conversion rates are remarkably different. With a conversion rate 0.82 in France, the country is still as attractive as its less expensive peers like Italy and Austria. On the other hand, Russian-speaking buyers are least likely to buy a property in the UK.
London is the main property destination for Tranio clients in the UK. There is furious competition among sellers to find buyers but Russian-speaking clients on this market distinguish themselves by their extensive knowledge and experience of real estate. Couple this with fast rising property prices and lower purchasing power and it makes sense. Agencies are struggling to get clients to close deals and keep them from refusing or going to rival sellers.
In brief and to come
Russian and CIS investments have changed in the wake of the currency crisis and ensuing recession. Both internal and overseas property investments have suffered from the economic turmoil and Russian investments in foreign property were halved by Q2 2015. Commercial property in expensive destinations and cheaper real estate markets are now the primary target for this new generation of Russian and CIS buyers. In our upcoming article, Tranio's research shows how mortgages prolong the buying and registration process of Russian and CIS property purchases. The full analysis will be released in January 2016.
Rostislav Chebykin, Darya Berezina, Tranio
Read more:
Interested in Russian buyer activity and trends? Contact bianca@tranio.com to receive the full report direct to your inbox.
Subscribe not to miss new articles
We will send you a content digest not more than once a week
Subscribe
Done!