Continuous investment growth: top 5 countries where Chinese nationals are buying property
China has shown continuous foreign property investment growth over the past seven years. In 2017, the volume of commercial and residential property investments grew 18%, amounting to $119.7bn, a  study by Juwai, China's largest foreign property web portal, indicates. The majority of investment goes to North America, Europe and Asian countries.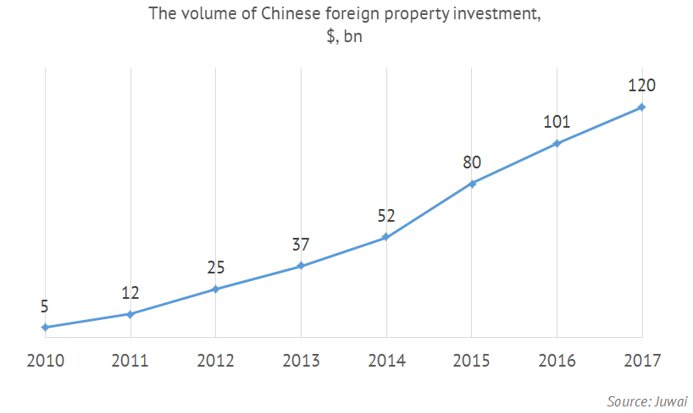 The USA
Property investment volume — $39.7bn
The USA is the traditional leader in the volume of Chinese real estate investment. In the last year alone, Chinese investors spent $30.4bn on acquiring residential assets, while the purchases of commercial property attracted $9.3bn to the U.S. economy.
Chinese investors are mainly interested in purchasing residential property, especially near schools and universities. Buying such property is a ticket into the residency-by-investment programme with the further possibility of obtaining citizenship on the table.
For instance, Chinese nationals obtained 80% of US EB-5 visas (a programme granting permanent residence for investing $500,000 in US commercial enterprises) issued between 2006 and 2017. It is interesting to note that on average the Chinese spend 3.5 times more on detached houses than US nationals themselves: about $831,000.
But commercial property investments have shrunk over the past year. Among the reasons for this are the government's battle against fund withdrawal from the country and strengthening capital control.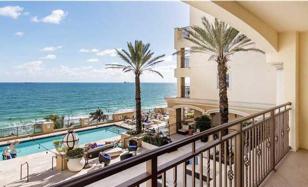 $379,000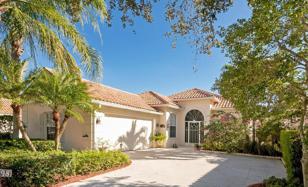 $359,000
Hong Kong
Property investment volume — $23.1bn
Hong Kong, Asia's biggest financial hub, has a special administrative status as part of China. The region has relatively recently joined the ranks of the top property investment destinations for Chinese nationals.
The breakthrough took place in 2017 when the investors from mainland China invested 2.5 times more capital into Hong Kong's real estate than in 2016. Today, the bulk of the investment volume ($16.2bn) accounts for residential property investments, with $6.9bn spent on commercial real estate during the year.
According to the Nikkei media outlet, the rapid growth can be attributed to several reasons including the growing animosity between Beijing and Washington. According to experts from Colliers International, during trade wars, Chinese mainland investors prefer buying property closer to home.
The UK 
Property investment volume — $22bn
In Europe, a major magnet for Chinese property investments is the UK. Like the US, this country attracts private investors with the opportunity to obtain residency. For instance, Chinese nationals receive about 30% of the UK's Tier 1 (Investor) visas granted for investing at least £2mn in public stocks or the capital of British companies.
In the commercial real estate segment, three-quarters of transactions involving Chinese money feature Logicor, one of Europe's biggest warehousing operators. In December 2017, China Investment Corporation ended up acquiring Logicor for $14.4bn. As a result, the Chinese investor began managing about 13.6mn m² of commercial space in Europe.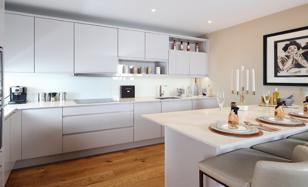 Price on request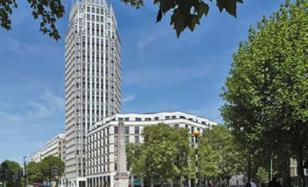 £2,500,000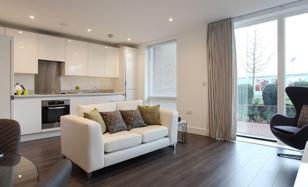 £530,000
Australia
Property investment volume — $17.4bn
Australia ranked second in real estate investments attracted from China as recently as 2016 but fell behind in late 2017 with the investment volume reduced by 27%.
Trend changes are associated both with China's efforts to reduce the excessive capital outflow and tightening certain procedures related to property purchases in Australia.
'In the second half of 2016, Chinese investors were investing in Australian real estate at an almost irrational pace … it was like money falling from heaven for vendors and developers,' Carrie Law, director of Chinese real estate website Juwai, told ABC. 'In early 2017, capital controls, financing restrictions, and foreign buyer taxes reduced Chinese investment to more reasonable levels.'
'Australian real estate remains a key destination for Chinese capital', says Michael Zhang, head of JLL's China Desk in Australia. According to Mr Zhang, 'there has been a notable shift in the scale and type of investment into Australian real estate. Investors and developers are becoming more selective in acquisitions, with mandates increasingly geared towards higher quality investment assets and well-located sites with less planning risk'.
Japan
Property investment volume — $4.9bn
Japan ranks second after Hong Kong in the volume of Chinese investments in Asian property. Recently, investor interest in Japan has been growing given the Summer Olympics to be held in Tokyo in 2020.
As stated by Chengqian Jia, director of Arcion, what attracts investors to Japanese residential properties is the high rental yield compared with some other countries. For instance, as reported by the South China Morning Post, long-term rental yields in Japan range from 4% to 5%. In Hong Kong, they average 2.6%.
'Although Japan is facing an ageing population issue, Tokyo as the largest city in Japan will still have a large influx of people, guaranteeing housing demand', the expert asserted.
Subscribe not to miss new articles
We will send you a content digest not more than once a week
Subscribe
Done!
Top 5 Articles of the Month