Golden visas: how the rich get new passports and the most popular countries among them
The basic idea behind any golden visa programme is simple: foreign nationals are granted resident or citizen status for investing a certain sum of money into the issuing country. Today, over 50 countries have some form of a residence-for-investment programme. Tranio analysts looked at what countries are popular among investors, why they want to invest in a foreign country and how their arrival affects local real estate markets.
Chinese nationals are the most active investors
The demand for investment-linked residence permits is growing with the number of affluent people. According to consulting company Capgemini, between 2010 and 2016, the number of dollar millionaires worldwide rose from 10.9 to 16.5 million. As demonstrated by Knight Frank's Wealth Report Attitudes Survey 2018, 34% of ultra high net worth individuals (UHNWIs) are double nationals, while another 29% plan to obtain a second nationality in the future.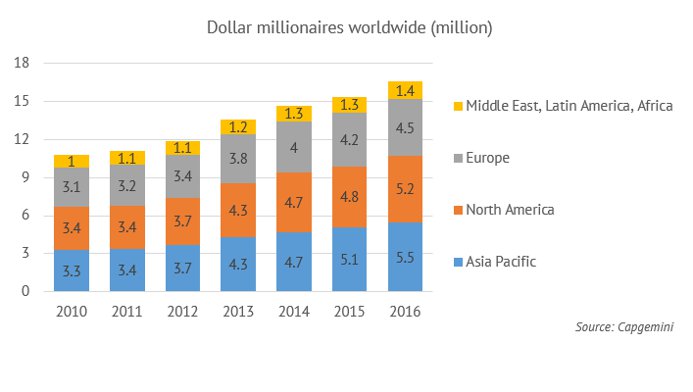 Residency and nationality for investment programmes are the most popular among Chinese and Russian citizens. For instance, Chinese nationals obtained 80% of US EB-5 visas (a programme granting permanent residence for investing $500,000 in US commercial enterprises) issued between 2006 and 2017. They also hold 64% of investment-linked residence permits in Portugal (granted when buying property from €500,000), issued between the programme's launch in 2012 and January 2018, and over 30% of the UK Tier 1 (Investor) visas (a residence permit granted to foreigners who invest at least £2 million in public stocks and bonds or in the capital of British companies). At the same time, Russian nationals hold almost 70% of such residence permits in Latvia (granted when buying property of at least €250,000 in value) issued between 2013 and 2017, and, also, by various estimates, from 40% to 50% of passports-for-investment in Cyprus (granted to foreign nationals who purchase at least €2 million in real estate).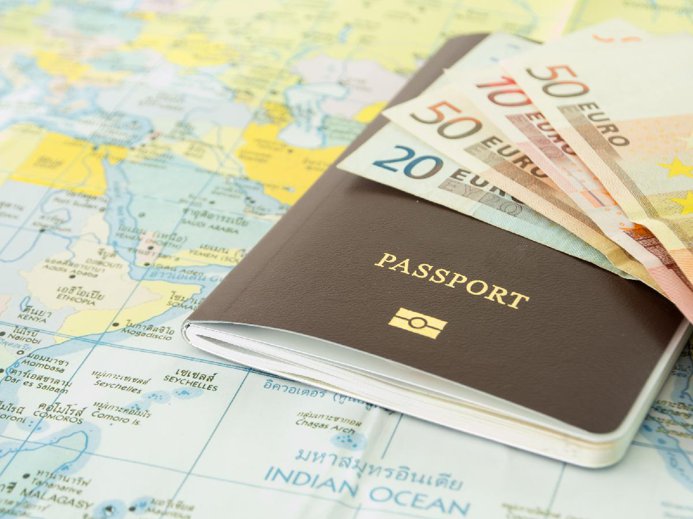 The United States' EB-5 is the most popular golden visa programme worldwide
The country that has issued the most residence permits for investment is the United States: under the EB-5 programme launched in 1990, the country has granted 60,000 visas to foreign nationals in the past decade. Under its rules, the country issues no more than 10,000 of such visas annually.
European countries trail the United States in popularity. The countries that issued the most golden visas in Europe are Latvia and Portugal, each of which granted over 5,000 residence permits to investors between 2013 and 2017. The UK Tier-1 (Investor) visa is also popular: 3,700 visas were issued between the launch of the programme in 2008 and 2017.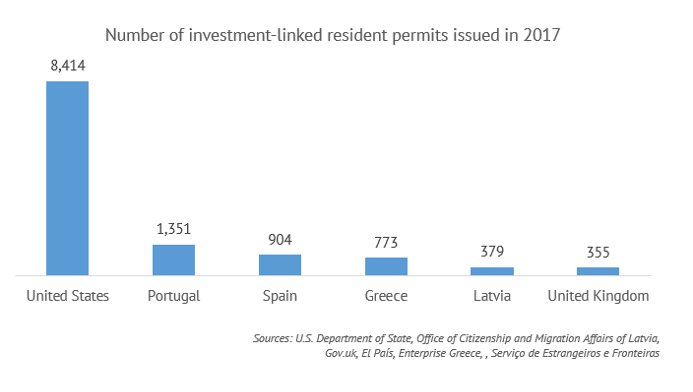 Property is the most popular investment vehicle
Investment vehicles generally include one or more of the following options: real estate, businesses, public bonds, bank deposits or funds. The most popular is real estate. In Spain and Portugal over 90% of residence permits are issued to property buyers, while for Latvia it is 80%. In countries like the United Kingdom and the United States, whose programmes do not have this option, applicants typically set up a business or invest in securities.
The investment vehicle and minimum budget are not the only criteria investors have when choosing a golden visa programme. Other factors like the time needed to receive the residence permit, the countries the permit grants access to, the period of its validity, the liquidity of the investment and residence requirements are also important.
"For instance, Greece's golden visa programme has an unobvious but important advantage: immediately upon submitting the documents, investors get a permit that entitles them to legally remain in the country and benefit from all the advantages of a European residence permit while their applications are being reviewed.
Golden visa programmes influence the local real estate market
Immigration investment programmes affect relatively small real estate markets. For example, property demand in Latvia increased rapidly in April 2010, almost immediately after the launch of the country's golden visa programme, which granted residence permits to foreign nationals buying property from €140,000. According to the country's Office of Citizenship and Migration Affairs, golden visas were granted to 1,300 property buyers and their family members in 2011; 2,200 in 2012; 3,100 in 2013; and almost 5,000 property buyers in 2014. According to Eurostat, the price per square metre grew by 40% over that period. However, in September 2014, the Latvian government raised the investment threshold to €250,000, and the demand for golden visas fell dramatically. In 2016, only 489 investors obtained Latvian residence, while property prices fell by 11%.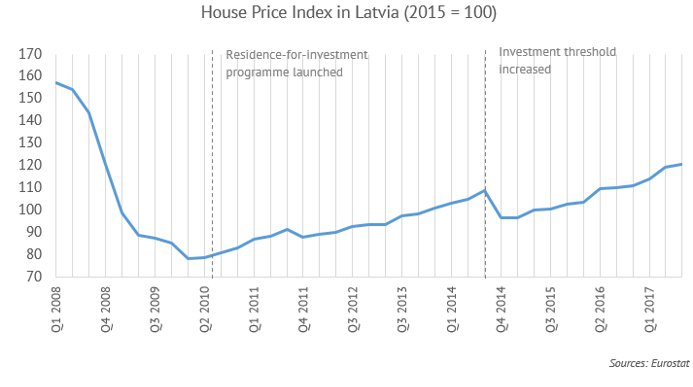 The number of transactions closed under Portugal's golden visa programme accounts for as little as 1% of all transactions. The share is the same in Greece's real estate market, where property prices are beginning to grow thanks to an increase in tourists and a recovery in the domestic economy.
In Spain, the share is even lower – only 0.1%. The main incentives for buying property there are low mortgage rates, favourable climate (for those who buy property for their own use) and the country's popularity among tourists (for those who plan on leasing their property). In Barcelona, which accounts for almost half (43%) of all residence permits issued, the programme's influence on the local property market is more significant. Taking into account that between 2013 and 2016 almost 42,000 transactions involving residential property were closed in Barcelona, and over 6,000 of them were registered to international investors, residence seekers account for about 15% of foreign buyers.
---
In the context of globalisation, wealthy entrepreneurs from emerging nations are playing an increasingly active part in the business and the cultural scenes in Europe and the Atlantic. Increasing political and economic instability worldwide, especially in China, Russia, the Persian Gulf and Middle East, will affect the popularity of residence-for-investment programmes. For those who are not considering emigration, a foreign residence permit is a convenient way to run a business abroad and ensure a safe haven for the whole family.
Subscribe not to miss new articles
We will send you a content digest not more than once a week
Subscribe
Done!
Top 5 Articles of the Month