How to move to Portugal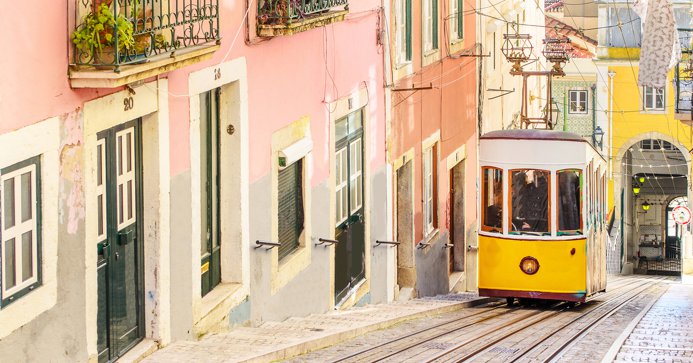 Portugal is one of the most affordable countries to move to in Europe. Portugal imposes minimum requirements for obtaining a residence permit, and the local authorities are favourably disposed to attracting expatriates.
Over ten million people live in Portugal, and 600,000 of them are foreigners that permanently and legally reside in the country. This figure is unprecedented for Portugal, and the number of immigrants is rising each year. The overwhelming majority of expatriates live in the Portuguese cities of Lisbon, Faro, Setubal, and Porto.
The steady economic growth of recent years has brought improved living standards. Unemployment in Portugal was 16.2% in 2013 and decreased to 5.9% in 2020. It is an inexpensive country to live in, but the quality of living here is high.
Why live in Portugal
Affordable housing. The average price of housing in Portugal is €1,100/m2, whereas the housing prices in neighbouring Spain level at 1,800/m2. A one-bedroom apartment in Lisbon can be rented for approximately €600–800 per month.
Moderate prices of goods and services. According to Numbeo, the cost of living in Portugal is 1.5-2 times lower than in France, Germany, Austria, and Switzerland.
Citizenship in five years. A foreigner residing for five years in Portugal may make an application to obtain Portuguese citizenship. Portugal offers one of the fastest tracks to obtaining a European passport. It takes ten years to naturalise in Spain and Italy and seven years to do the same in Greece.
Tax benefits. New tax residents are covered for the first ten years of stay by the benefits available for non-habitual residents in Portugal: the income tax rate is reduced to 20%, and the income generated outside of Portugal is not taxed.
Delicious and tasty food. Mediterranean cuisine is a key to the health and longevity of the locals. The average life expectancy in Portugal exceeds 81 years.
Low crime rate. Portugal is recognised as one of the safest countries in the world ranking third after Iceland and New Zealand in the Global Peace Index.
Mild climate. Summers in Portugal are not too hot, softened by the ocean breeze, so summer temperatures here normally do not exceed +30 °С. Portuguese winters are mild and warm, so temperatures in the coastal areas are +13–17 °С even in the cold season. Portugal is the sunniest country in Europe receiving 300 days of sunshine per year.
English language. Foreign movies and shows released in Portuguese cinemas or on TV are not dubbed and are kept in their original language with Portuguese subtitles. This practice and the teaching of English as the second language in schools contribute to the spread of English in Portugal where the majority of youth speaks English fluently. Portugal ranks seven in the 2020 EF English Proficiency Index that assesses the countries of the world by their English skills.
Friendliness to foreigners. Portugal was recognised as the most hospitable country with the friendliest attitude to foreigners in the 2020 ranking by the expatriate network InterNations.
Prices in Portugal
| | | |
| --- | --- | --- |
| A restaurant meal for two | | €30 |
| A bottle of wine | | €4 |
| Movie ticket | | €7 |
| Gym membership (for one month) | | €33 |
| Taxi fare (for one km) | | €0.5 |
| Utilities (electricity, heating, water consumption, waste disposal) per one month for an 85-m2 apartment | | €100 |
How to move to Portugal? 
Obtain a work visa, 
Marry a resident, 
Be admitted to an educational institution, 
Invest in the economy of the country,  
Buy real estate worth €350,000 or more, 
Launch or relocate a startup to Portugal, 
Move as a financially independent person,
Immigrate through family reunion,
Immigrate as a refugee.
Students, seniors, family members of Portuguese residents are the most frequent applicants for residence permits in Portugal. The Portuguese authorities also extensively issue permits to individuals starting up businesses in the country.
Golden visa
The Portuguese golden visa programme is a state residency-by-investment scheme. Under the golden visa programme, residency is acquired by purchasing a property or making a qualifying investment into the economy of the country. The programme is a fast track to Portuguese residency. An investor and family get residence permits in just two to six months.
A residence permit is issued for one year and then extended for two years and another two years. A residence permit may be extended permanently if the investment is retained. As early as in five years, an investor may obtain permanent residency and apply for Portuguese citizenship. An investor may divest its stakes in Portugal after receiving permanent residency and without losing the resident status.
Property purchase
Property purchase is one of the most popular ways to obtain a golden visa in Portugal. Over 93% of investors chose this option to obtain Portuguese residence permits in 2019.
How to get a residence permit by buying housing in Portugal?
Buy residential real estate in Portugal worth €500,000 or more.
Buy real estate for renovation in Portugal worth €350,000 or more. Such property must be over 30 years old and located in a historic district subject to the urban rehabilitation programme. An investor undertakes to renovate such property.
Important note: The minimum investment may be allocated among several real properties in Portugal rather than channelling the lump sum compulsorily into one expensive home or apartment. The purchased property may be rented out generating income in euros or may be resold after residing for five years in the country and obtaining permanent residency.
The property costs should include the costs of registration that amount to about 10–12% of the property price. Property maintenance would cost approximately €2,000 a year.
Note: Residence by real estate investment in Lisbon, Porto and other coastal areas is available only until 1 January 2022. Starting from 1 January 2022, the Portuguese government will issue golden visas for the purchase of real estate only in the landlocked areas, the Azores, or Madeira.
Other qualifying investments into the economy 
There are other types of capital injections, other than real estate investments, that entitle to a golden visa, but they are not usually of interest to foreign investors.
How to get a residence permit in Portugal by a qualifying investment, other than a real estate purchase?
Purchase shares in a Portuguese company or open a bank account with a Portuguese bank channelling for either of these €1,000,000+,
Buy units in an investment fund for €350,000+, at least 60% of which must be injected into Portuguese companies,
Start a business and create at least ten jobs for citizens of Portugal,
Donate €350,000+ to research and development in Portugal,
Donate €250,000+ to the preservation of the Portuguese cultural heritage.
Financially independent individuals
Portugal issues residence permits to wealthy foreigners who can prove sufficient funds to live here. Such residence permits are available to wealthy seniors, business people with passive income, and lessors of real estate.
The qualifying requirements for such residence permits are acquisition or lease of housing in Portugal and passive income exceeding the minimum national subsistence level of €635 per month or €7,620 per year. The income may be generated by rent, bank dividend, pension, business profits, intellectual property, securities, etc.
An expatriate may show cash in the bank for the entire amount sufficient for life in Portugal for one year:
€7,620 — for one applicant,
€3,600 — for each additional adult,
€2,160 — for each child. 
This is the minimum qualifying for residence in Portugal for financially independent individuals. The higher the amount shown by the applicant is, the higher are the chances of a favourable decision.
Employment 
An invitation from a Portuguese employer and a valid employment contract allow to work legitimately in the country and are to be filed to a Portuguese consular office by an expatriate willing to obtain a work visa and then a residence permit in Portugal. Immigrants that consent to illegal work in Portugal may be deported for violation of employment laws. Portuguese and EU citizens are given hiring preferences. Immigrants may be considered for a job only if the Portuguese have rejected such a job offer.
Job openings in Portugal may be found on employment websites, such as sapo.pt, indeed.pt, adecco.pt, and on social media websites, such as LinkedIn and Facebook. See for example digital job openings on the DDR Job Board, and design, advertising, and copywriter jobs on the website Carga de trabalhos. 
It is convenient for freelancers and remote workers to move to Portugal. Immigrants often take up HoReCa, service, construction, agriculture, and healthcare jobs. Salaries in Portugal are not high: the average salary is €1,200 per month. Highly-qualified English-speaking professionals (software developers, engineers, doctors) usually earn over €2,000 per month.
Startup visa
The Portuguese StartUP Visa is a residence permit conferred to business people willing to start up an innovative business in Portugal or to relocate a division of the existing business from their home country to Portugal.
The startup should have the potential to create five jobs for Portuguese citizens for two years. The projected asset value or turnover to be generated by the startup must be at least €325,000 per year. The project is to be of interest to at least one of the 78 certified incubators in Portugal.
Lisbon, Portugal, is one of the major startup hubs in Europe and has a well-established IT community as it is easy to start up a company here, the taxes are low, and the salaries are rather moderate. For example, a senior iOS developer earns approximately €2,000 per month.
Over the past years, high-technology startups have seen many governmental initiatives boosting their development: the establishment of incubators, accelerators, co-working facilities, and entry of new investors. Oracle, Cisco, and Microsoft are among the large companies based in Lisbon, Portugal. Lisbon has been hosting the large annual IT event WebSummit since 2016 and has recently announced plans to continue to host WebSummit until 2028.
Startup hubs in Lisbon:
Studies
The easiest way to immigrate to Portugal is to be admitted to a Portuguese university. Admission is not difficult, but one has to have sufficient funds to pay for the studies. A foreign student gets a residence permit in Portugal for the entire period of studies and may work for 20 hours a week.
It will also be easy to immigrate after enrolling in a long-term course of the Portuguese language. A foreign language course student gets a Schengen student visa if the duration of the language course is up to three months or a national visa and then a residence permit if the course is longer. A residence permit obtained this way is valid until the end of the course, so it is important to find a job and have a student permit converted into a work permit.
Family reunion
A foreigner that has relatives in Portugal may immigrate under the family reunion programme. The inviting party must have Portuguese citizenship or a residence permit. 
Who is eligible for a Portuguese residence permit for a family reunion?
A spouse of a Portuguese citizen or residence permit holder,
Underage children,
Dependent parents.
It is required to prove relation to a Portuguese citizen or resident to obtain residence permits for children or parents. Spouses are to provide a marriage certificate. Family reunion applicants must first get a long-term visit visa and then file documents in Portugal to get a residence permit. 
A foreigner willing to get married in Portugal must obtain Certificado de Matrimonio in their home country consular office in Portugal to prove that no marriage is registered in their home country. The documents for this application comprise a valid foreign passport and a birth certificate, apostilled with a certified translation into Portuguese. If the projected marriage is not the first one, the applicant must also submit a divorce certificate, apostilled with a certified translation into Portuguese. 
Refugees
Refugees may seek asylum in Portugal but must prove religious or political persecution or military action they are willing to escape.
An application and supporting documents are to be submitted after coming to Portugal. An applicant is provided with housing, meals, and medicines while the immigration authorities are processing their application.
Residence permit
A residence permit is required to reside in Portugal for the long term. The first residence permit is issued to an immigrant for one year. If the grounds for immigration stays, the permit holder may extend the permit for two years first and then for another two years. After residing legally in Portugal under a residence permit, a permit holder may obtain permanent residency in Portugal and then citizenship.
An immigrant seeking a residence permit must prove the availability of housing in Portugal with an invitation from a resident, a lease contract, or housing acquisition documents. A bank statement might be required to prove the financial solvency of an immigrant. An expatriate must prove their clean criminal record and procure a medical insurance policy with a coverage of at least €30,000.
However, it is key here to prove the grounds for immigration. A marriage or a birth certificate is to be submitted to qualify for a family reunion. Business immigrants submit their project pitch, company's documents, and a bank account statement. Investors prove their real estate or another qualifying investment. Real estate buyers often provide land register excerpts. Students must have a university admission confirmation, and employees must have a valid employment contract and a work permit. An immigrant moving to Portugal with a child must have a sponsorship letter and consent from the other parent.
Steps to obtain a residence permit in Portugal:
Obtain a D national visa in a Portuguese consulate in your home country,
Come to Portugal,
Make an application for residence status approval to the Immigration and Borders Service (SEF),
Obtain a residence permit.
It costs €450 to process a residence permit application of one applicant. Additional costs to be covered include translation and legalisation fees. It takes from 2 to 12 months to get a residence permit depending on the grounds for immigration.
Permanent residency
A foreign national is eligible to apply for permanent residency in Portugal after residing in Portugal for five years proving that such foreign citizen has never been absent from Portugal for more than 183 days a year.
A foreign applicant must prove the basic knowledge of the Portuguese language by a language test and financial solvency by a bank account statement or an employment proof specifying the salary or profit participation. An applicant must also submit tax registration and social security documents.
Employees must prove their qualification and have an invitation letter from their employer. Students must file an admission proof from the academic establishment. Family reunion applicants must submit a birth or a marriage certificate.
Citizenship
The Portuguese government changed the citizenship law in 2018 and decreased the minimum qualifying period of residence in Portugal from 6 to 5 years. Now a foreigner legally residing for five years in Portugal may make an application to obtain Portuguese citizenship. However, it takes some time to process a citizenship application, so the final decision may be taken in a year or later. The state duty for processing a citizenship application is €250.
An applicant seeking citizenship must prove Portuguese language knowledge at the A2 level and must not stay outside of Portugal for more than 183 days a year over the five years preceding the application for the Portuguese passport.
A spouse of a Portuguese citizen may apply for citizenship after living for three years in the country. Children born in Portugal get citizenship if their one parent is a Portuguese citizen or a foreigner legally residing in Portugal for at least one year. 
Portuguese citizenship opens up the opportunities to live, study, and work in any EU country. A Portuguese passport allows its holders to travel without visas across 172 countries of the world, including the USA. Portugal recognises dual citizenship. Immigrants to Portugal do not have to renounce citizenship in their home country.
Subscribe not to miss new articles
We will send you a content digest not more than once a week
Subscribe