International investors return to Cannes for MIPIM September Edition
Promo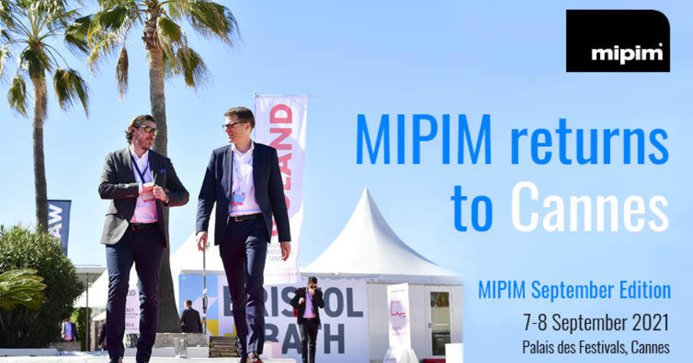 International investors and representatives of financial institutions will be attending MIPIM September Edition, offering a unique opportunity for real estate executives to meet them again after long periods of lockdown.
MIPIM September Edition will be held at the Palais des Festivals in Cannes on 7 and 8 September 2021 (opening reception on Monday 6 September). The event will feature an exhibition area, high level conferences, and numerous networking opportunities.
The investors coming to Cannes in September will include sovereign wealth funds and pension funds such as Qatar Investment Authority, FGIS (Gabon), APG Asset Management (Netherlands), AP2 (Sweden), ATP (Denmark), Pensionskassen for Akademikere (Denmark), APG Asset Management (Netherlands), AG2R La Mondiale (France), as well as insurance companies and financial institutions such as Zurich Insurance (Switzerland), Axa REIM (France), Redevco (Netherlands), Ivanhoé Cambridge (France), Crédit Suisse (Switzerland), First Abu Dhabi Bank (UAE), Commerzbank (Germany), Deka Immobilien Investment (Germany), Union Investment Real Estate (Germany), Areal Group Wealth Management (Germany), Ardian (France), Perial (France), Mozaic Asset Management (France), DWS (UK) or Capitaland International (Singapore).
The not-to-be-missed REinvest Summit will also be on the MIPIM September Edition agenda. Organised in partnership with Redevco, REinvest Reunion will take place on Tuesday 7 September, bringing together the world's leading institutional investors. This year's closed-door discussions will focus on environmental, social and governance (ESG) risk management.
Compacted into two days, the MIPIM September Edition will mark the return of face-to-face meetings and feature as the major international real estate and city event of the autumn season.
Many public and private players have already confirmed their participation at event.
As regards cities and public representatives, Paris, Berlin, Hamburg, Stockholm, Helsinki, Riga, Poznan, Lyon, Aix-Marseille, Dijon, Nice, Grenoble and also Barcelona, Malaga, Murcia and Rome will be at the Palais des Festivals to promote their urban regions.
Among the bellwethers of real estate, Gecina (France), ICN (Luxembourg), Nexity (France), Skanska Commercial Development Europe (Poland), Bouygues Immobilier (France), Icade (France), CBRE (Netherlands), JLL and RICS (UK) will be attending.
From hospitality, there will be Accor (France), Intercontinental Hotels Group (UK), TUI Hotels & Resorts (Germany), Prizma (Germany), Aranil (Latvia) and Covivio Hotels (France).
And innovation will also be in the spotlight with Saint Gobain (France), Buildingminds (Germany), Kel Foncier (France), Drooms (Germany), Solaris Tende (Italy), Rebuilding Network (Italy), Nuvolo (United Kingdom), OfficeRnD (United Kingdom), as well as the 12 finalists of the Propel by MIPIM Startup Competition.
The conference programme is available here.
The MIPIM World 365 digital platform is already accessible here, offering members an opportunity to organise online meetings, watch replays of conferences, and discover more exclusive content.
About RX France - RX France manages a portfolio of world-class, French and international face-to-face, virtual and hybrid events covering 20 industry sectors including MIPIM, MAPIC, Batimat, Pollutec, EquipHotel, SITL, IFTM Top Resa, MIPCOM, MIPTV, FIAC, Paris Photo… and many more. RX France's events take place in France, China, India, Italy, Mexico, Russia and the United States. We serve our clients as we accompany their strategic business development and roll out the best of physical and digital events. RX France is part of RX (previously Reed Exhibitions). 
About RX Global - RX is in the business of building businesses for individuals, communities and organisations. We elevate the power of face-to-face events by combining data and digital products to help customers learn about markets, source products and complete transactions at over 400 events in 22 countries across 43 industry sectors. RX is passionate about making a positive impact on society and is fully committed to creating an inclusive work environment for all our people. RX is part of RELX, a global provider of information-based analytics and decision tools for professional and business customers. 
Subscribe not to miss new articles
We will send you a content digest not more than once a week
Subscribe
Done!
Top 5 Articles of the Month