Risk-free transaction: this Tranio client bought a foreclosed flat in Marbella
Irina, Tranio's client from Moscow, chose a foreclosed flat in Spain's sunny town of Marbella. She tells us about the pros and cons of buying a home that was repossessed by the bank and why it didn't originally even get short-listed after the first visit.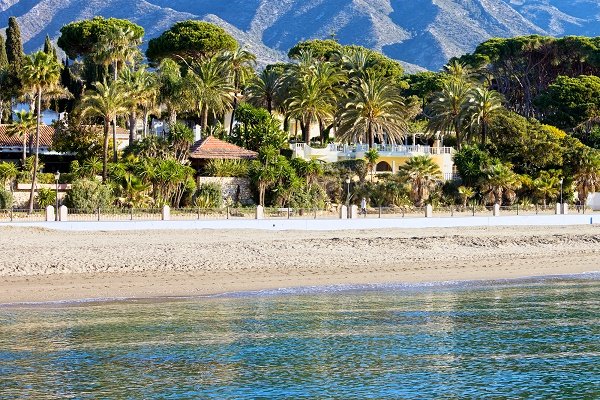 — Irina, tell us, why did you choose Spain and Marbella in particular as to buy property?
— Our family has a long-standing love for Spain as a holiday destination, and we've already been to Marbella for five times. We like it there, no matter the season. The country has won our hearts with its climate, and its people with their optimism. The Spanish are always friendly; they appreciate the good times and create them in their lives, regardless of the external circumstances. Marbella is a cosmopolitan town where you don't experience any language barrier speaking English. It's also easy to travel to Seville, Granada, Cordova or the small towns around here like Puerto Banus and Estepona. Also, some of our friends have already settled there. This is why my husband and I decided to buy a holiday home there that we can use for long-term residence in the future.
— And how did you begin looking for it?
— Our acquaintances recommended Tranio and I really liked your website: it's informative and convenient.
— What kind of flat exactly did you want?
— We didn't have any well-defined criteria at the beginning. We came to them step by step, as the saying goes. To start with, we planned to stay within the intended budget. We also wanted to buy a property in a good residential complex at walking distance from the sea. Then we thought about the future price growth: the Spanish property market had just started its recovery and it was the right time to buy. All we had to do was find a property to meet our requirements.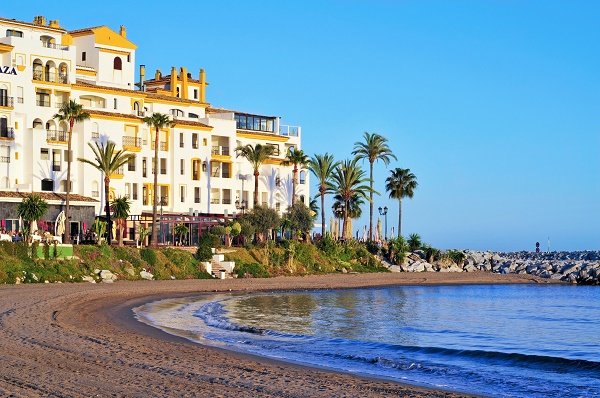 — What properties did you view?
— Initially we planned to view property in Marbella itself, but most residential properties were old, I mean traditional homes with low ceilings and rather small living areas, while we prefer modern layouts with open spaces and a lot of air.
So we extended the search area to the west but no further than Estepona, also known as the New Golden Mile. As a result, being determined to buy a flat, we viewed over twenty properties.
As I've said, we were looking for a property near the sea, and not only because we enjoy sunbathing and swimming. That's what we thought: all the seafront, first and second lines, is already built up, and there are no, nor will there be, any sites for construction, that's why this property should always be in demand.
We also viewed some property a little further away from the sea, on the hill, where the golf courses are. The territory is lovely, but it will still be built up, therefore property there will be less liquid in comparison to the seafront.
— How did you find your future flat?
— During the viewing tour we made a shortlist of the properties we liked. The most interesting thing was that our future flat wasn't in it.
— And why?
Actually, it was a foreclosed property that was repossessed by a bank. The viewing of a foreclosed property is different from the usual one, when the seller is a person. As a rule, bank-owned property viewings are organised with bank representatives who have the keys. They are in a hurry and have a lot of thing to do. They make an impression of not being interested in a successful result.
When owners are selling a flat, they do their best to make it look good before the viewing. But when banks evict people because of unpaid debt, they don't take an interest in preserving the property's marketable condition. What is more, the property could have no owner for several years and nobody is there to do the cleaning. When we were viewing our future flat for the first time, there was rubbish on the floor and there were some things just lying around. The viewing itself took place in the dark: the iron venetian blinds were lowered and there was no electricity to pull them up. We had to use our smartphone's backlight to see anything. Naturally, the flat didn't make an impression on us.
— What made you return to this option?
— At the last minute, when we were considering all the pros and cons, we got back to discussing this flat. I found the description of the residential complex online. The complex where it was located was marketed as a prime one, and there were very few properties on sale there. We believed it to be a good omen, as from our viewing experience we knew that a lot of flats selling in the same building was a sign of something wrong with the building.
We decided to give that flat a second chance with a more powerful torch, and it seemed interesting. Unlike the options on our shortlist, this flat didn't require much money for repairs — and it was cheaper than its market price.
— Tell us more about the flat and the complex.
— There is a large living room, three bedrooms and a big balcony of about 20 sq m. There is also a smaller balcony linked to the two smaller bedrooms. The windows face the sea and the mountains. As a housewife, I was very pleased to have a pantry near the kitchen.
The residential complex offers lots of amenities usually only found in high-class hotels like an indoor swimming pool, shared sauna, jacuzzi, gym… The complex is rather new, completed in 2005.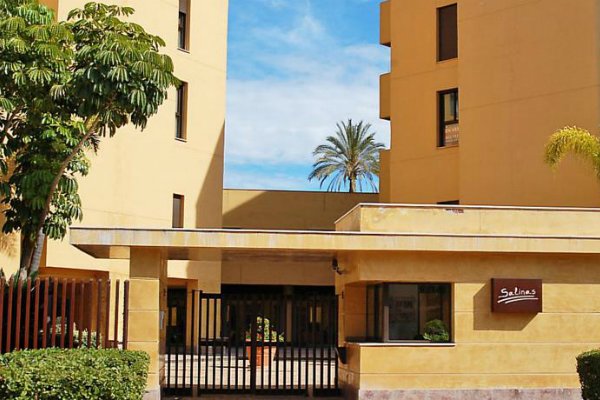 — Did you have much work to put the flat in order after the previous occupants?
— In fact, we got it in good condition; we only had to repaint the walls. All the rest: floors, bathrooms, kitchen didn't require repairs. In general, we got the impression that the previous occupants didn't live there long.
— Did you have any concerns about buying repossessed property?
— Before closing the transaction I consulted the agency about the risks of buying property from a bank. It was crucial for me to make sure the property had no debt. They answered that there were virtually no risks as banks settle all the legal matters flawlessly. They also pay the utility bills. So in the end, repossessed property turned out to be the most reliable type of transaction.
— How did it go? Were there any additional procedures?
— Buyers of foreclosed property should be patient, because this kind of transaction is more time-consuming than buying from an individual. We announced our decision in April, and closed the transaction only in late June. This was due to internal bank procedures that we, fortunately, didn't have to take part in, our lawyer was doing everything in situ. The only thing is that we don't have yet is the property deed, but we can live in the flat.
— How did you equip the flat?
— It took us twelve days to renovate it, buy the furniture, hang lamps and curtains. It became nice and cosy. The furniture cost us about €10,000 except the kitchen, which was already well equipped. The washing machine and the oven didn't work so we had to get them serviced, but these are all trivial things.
— Did you have any unpleasant surprises?
— We got €800 debited for electricity and were shocked. The sum included the work needed to provide the flat with electricity but we didn't expect it to cost so much. Even when you don't use electricity, you pay a customer charge of about €1.50 per day. We also pay the shared electricity expenses.
— Do you have all the essentials within easy reach?
— There are a couple of cafés in the complex and a good restaurant a little way off. The bus station is a five-minute walk away. We rent a car to go to the supermarket. To the beach it's five minutes on foot at most. And the bigger beach with bars, clubs and water amusements is also five minutes away by car.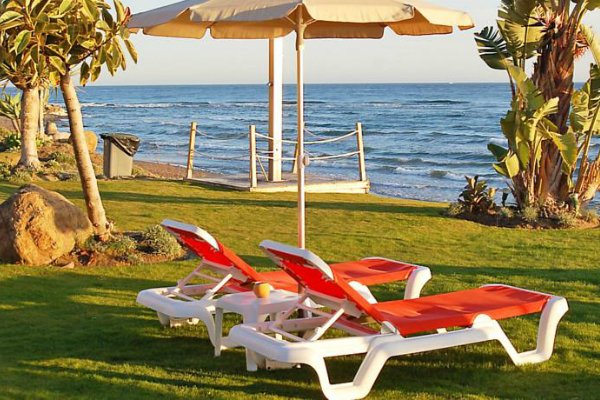 We were surprised by how few people go to the beach nearest to us, despite several prime residential complexes and a five-star hotel that are located nearby. And that was in July, at the height of the season! However, we found a simple and logical explanation: the beaches are very big and there is room for everybody.
— Do you plan on visiting your Spanish home often?
— So far, we don't have much time because of our busy work schedule but we do plan to visit Marbella during the winter holidays.
Buying foreclosed property in Spain means a reliable transaction. Banks confirm there are no debts and check all the documents thoroughly.

Large banks create special agencies to find new owners for this kind of property and, at Tranio, we have several agencies like these among our long-standing partners.

Our client Irina had the opportunity to buy a good flat at a substantial discount, but that does not mean the Spanish banks sell property for pennies. More often than not, there is little difference between their prices and market ones. However, banks can lower the prices moderately, because they want to sell these properties quickly and cover the expenses for the loans they provided.
Anna Bugayeva, Tranio
Subscribe not to miss new articles
We will send you a content digest not more than once a week
Subscribe
Done!
Top 5 Articles of the Month