Russian foreign property investments grow for the first time in 4 years, exceeding $1 billion
According to the Russian Central Bank, Russian citizens spent €1.1 billion on international real estate in 2017 – 26% more than in 2016, when the volume of cross-border transfers amounted to $870 million. This means the volume of Russian investment in foreign real estate grew for the first time in four years, though it is still half the total of its peak in 2013 ($2.2 billion).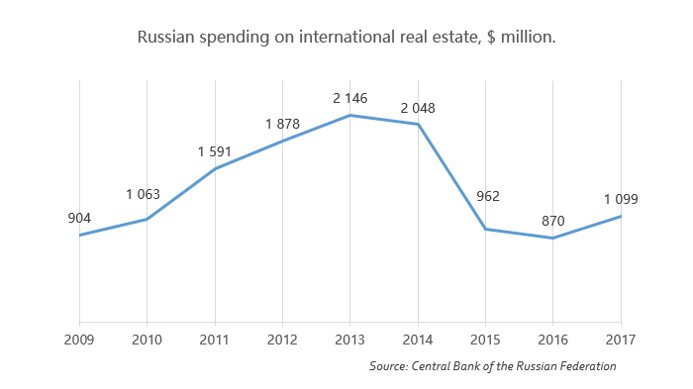 The Russian Central Bank has been publishing data on cross-border property purchases since 2009. Statistically, Russian investment grew by an average of 25% annually between 2009 and 2013. In Q4 2017, the amount spent on international real estate rose 30% compared to the same period in 2016 (from $249 million to $324 million).
The total amount of money sent abroad by Russian nationals in 2017 was $31.3 billion, which exceeds the 2016 figure ($24.8 billion) by 26%. The most popular destinations to send funds were Switzerland, the United Kingdom, Latvia and the United States.
Foreign currency deposit rates have declined, so Russian nationals are looking more actively for reliable alternatives for capital maintenance and accumulation. We believe that the volume of capital outflow from Russia for property transactions will continue to rise in 2018, largely through investment purchases. The main investment flow will be aimed at the traditional market leaders: Germany, Spain, the United Kingdom and the United States. 
Among other countries, we see that the Greece property market has a potential for demand growth. 
As for property types, the most popular category will be apartments and commercial properties such as shopping malls and hotels. From our experience, 90% of investors buy property to lease it, while the other 10% consider more complex Value Added projects. The main motive is security: everybody wants to maintain their capital, guarantee a comfortable retirement for themselves and subsequently pass the property on to their children.
Subscribe not to miss new articles
We will send you a content digest not more than once a week
Subscribe
Done!