Slight growth for Russian overseas property investments in Q3 2015
Foreign property purchases by Russians rose for the first time since the spring 2014 according to the Central Bank of Russia. During Q3 2015, spending increased by $3 million (1.7%) to $233 million compared to last quarter ($229 million), heralding hopes that Russian overseas real estate investments are stabilising.
These results are still far below pre-crisis activity. Buyers invested $351 million less between July and September 2015 than during the same period last year. In fact, this quarter's results amount to just one third of what was spent during the peak investment period of Q4 2013, when buyers injected $676 million into foreign property markets.
Overseas real estate investments stumbled and plunged in the last quarter of 2014 when oil prices bottomed out, taking down the commodity-driven ruble at the same time. However, growth, even small, is a positive sign but recovery is still far off, experts believe.
"This can hardly be called 'real growth', it is rather about the market stabilising. I think this is due to the growing interest of Russians in buying income-generating property abroad. The majority of commercial real estate transactions happen outside the Central Bank's reach and their statistics, as most clients finance their purchases with funds held on foreign accounts", says George Kachmazov, managing partner at Tranio, international property broker.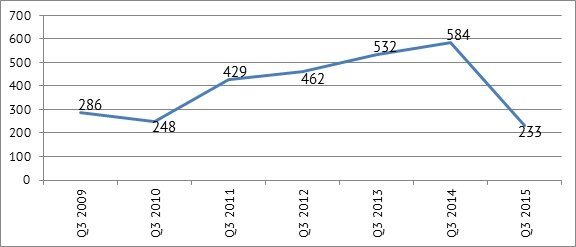 The Central Bank OF RUSSIA has been publishing cross-border real estate transaction volumes since 2009, showing steadily rising investments until 2013 in stark contrast with the current state of affairs. The Russian regulator announced total multi-purpose outbound transfers of $6 billion during Q3 2015 — of which, outbound property transfers only made up 3.9%. This is just half of the total outbound transfers ($12.3 billion) witnessed in Q3 2014, when the ruble was trading at 36.07 against the US dollar on average, compared to 63.18 during the third quarter this year.
The report names Switzerland, Latvia, the USA, the UK, Spain and China as the most popular destinations for Russian funds this year. However, in terms of property, their activity has yielded more surprising results. In fact, although Russian foreign purchases have fallen, buyers are directing more investments into commercial property and residential real estate in Eastern European countries according to Tranio research on Russian and CIS overseas property activity 2015.
Traditionally, Russians buy more property overseas during the final quarter of every year, except in 2014, but there is no guarantee foreign real estate markets will see it this year.
"I believe that next year will bring another decrease in residential real estate transactions proportionate to the ruble exchange rate, but buyers of foreign income-generating property should increase gradually", says George Kachmazov.
Yulia Kozhevnikova, Tranio
Read more:
Subscribe not to miss new articles
We will send you a content digest not more than once a week
Subscribe
Done!