Tranio: Europe's most demanded "golden visas" in Q3 2022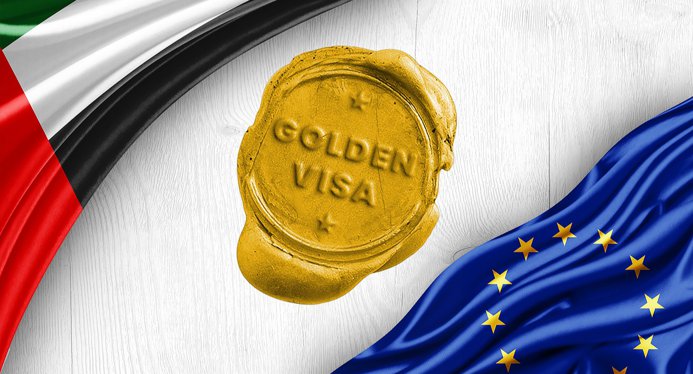 Tranio has revealed the most demanded residence-by-investment programmes based on customer request statistics from July to September 2022. The Greek, Portuguese and Latvian «golden visas» turned out to be the top-3 investment choices.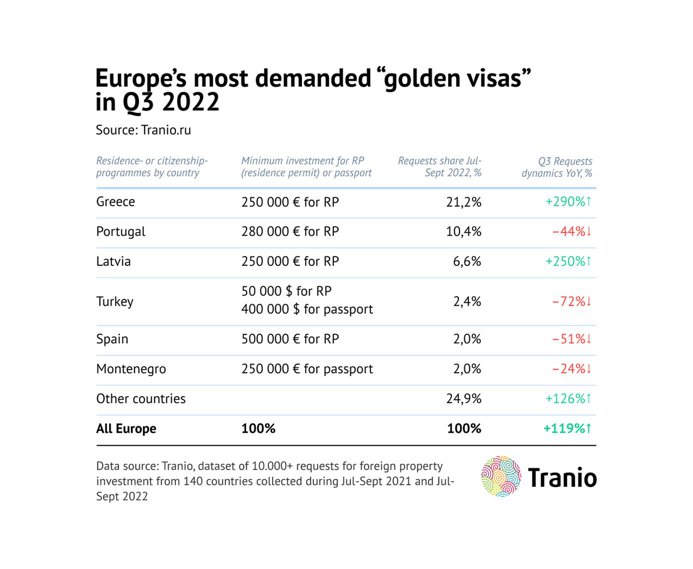 The golden visas of Southern European countries are remaining long-term favourites among foreigner investors as they combine the benefits of holiday property ownership and EU residency. In Q3 2022, the Greek programme had seen a 290% surge in demand associated with the upcoming sharp increase of investment limit — from 250.000 to 500.000 euro. Slight decline in requests for the counterpart programmes in Spain and Portugal may be an indirect impact of the current recession.
EU-candidate Montenegro is another popular investment destination that grants a «golden passport» for a property purchase from 250.000 euro which is a considerably modest amount for a prospect of EU citizenship. However, yearly dynamics show that the country was losing demand while another significant raise of 250% was recorded in the Latvian programme. This seems to be the «last call effect» following the government's decision to close the golden visa programme in 2023. The Turkish government tightened the regulations by suspending the residence-for-investment issuance in many popular destinations of Antalya and Istanbul and increasing the citizenship-for-investment limit to 400.000 US dollars.
Demand for European golden visas has been affected by the political turmoil of 2022, yet we cannot say that the decreasing figures is simply a share of dropout Russian applicants. Investors from China, India and European countries are now looking more towards the UAE market promising higher yields during the anticipated recession.

The overall performance of the European property markets is quite stable. For instance, Montenegro's real estate sector was one of the most affected by the recent sanctions, but there are now Germans, Italians and other foreigners investing in the country.

Italy's own golden visa is only less popular than EU counterparts as there is no option for real estate investment. Currently, our customers look primarily at the global top property markets securing a more stable performance than bonds or venture investments
Despite the decrease in requests for some of Europe's top-5 programmes, the Q3 figures showed the growing demand for other «golden visa» or «golden passport» providers in Europe including Malta, Hungary and Cyprus.
Subscribe not to miss new articles
We will send you a content digest not more than once a week
Subscribe
Top 5 Articles of the Month