Barcelona: investing in a city tired of tourists
Tourism generates over 14% of Spain's GDP and employs 2.6 million people in the country. Barcelona, the country's economic centre, is one of the most visited European cities among tourists. According to official statistics, the city annually receives 9 million tourists, a number that is constantly growing.
Tourismophobia
How do Barcelona residents feel about living in a city where visitors exceed the population fourfold? Graffiti on the streets of Barcelona say "Tourists go home!" and "Tourist, respect or die!". In a video shot by Spanish daily newspaper El País, locals do not hesitate to voice their dissatisfaction. "We feel like outcasts in our home city", one of them said. Other locals have taken more radical action, such as activists from the Arran youth movement, who attacked a tourist bus in Barcelona this summer.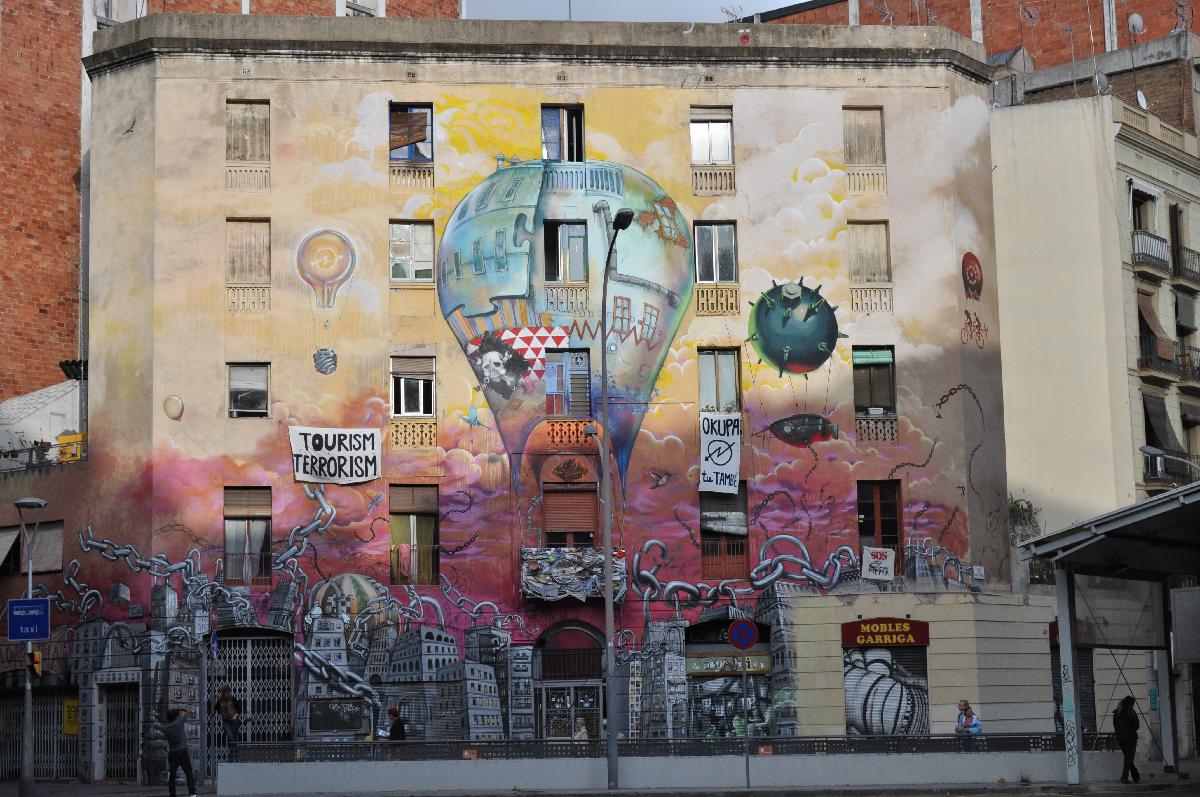 Growing residential property prices are adding fuel to the fire. Property owners do not hesitate to raise prices as tourists are prepared to spend more than local residents do on rent. Rental rates in touristy locations have increased by almost 40% in 5 years.
Chaos in the market worsens the situation. According to El País, around 7,000 of the 16,000 flats available for rent on weekends are leased illegally via online platforms. The Barcelona City Council has imposed a €600,000 penalty on Airbnb for featuring flats without a tourist licence in its ads, and the owners of such properties will have to pay a €60,000 fine. The online platform has deleted over 1,000 listings on request of the authorities.
As of now, the city has stopped issuing rental licences, and many existing ones will not be extended (mostly for properties in the city centre). Since the introduction of a new urbanisation plan in February 2017, the city has prohibited the construction of new hotels in certain districts.
Why Barcelona is ripe for short-term investments
With such a turbulent property market, Barcelona is ripe for short-term investments in value-added projects. Investors can profit from the current growth in prices. a number of factors indicate that the prices for property in Barcelona will continue to grow in the next few years.
Low mortgage rates
One of the main reasons behind the growth in the local market, as well as in Spain on the whole, are low interest rates. Mortgage rates in Spain are based on Euribor, the Euro Interbank Offered Rate, which has been falling since June 2014. In October 2014, it reached a negative value for the first time, falling from above 4% at the onset of the 2008 crisis.
Price growth potential
Property prices in Barcelona, have still not reached pre-crisis levels. According to Idealista.com, the price per square metre fell from a high of €4,732 in Q1/2007 to €2,957 in Q3/2013, or 37%, after which it grew 44% to €4,253 in Q1/2017.
Demand exceeding supply
Since 2012, the pace of new-build sales has steadily outstripped the volume of construction taking place. In 2014, the gap was the biggest: the number of transactions involving new builds exceeded construction volume by 111%, but by 2016, the difference shrank to just 1%. Both figures have been growing constantly since 2013: by 2016, the number of transactions involving new-builds had increased 2.1 times, while construction volume increased 1.9 times.
According to CBRE, Barcelona needs 7,900 new properties annually, while fewer than 2,000 are under construction. Moreover, there is a shortage of land to build on: the city cannot expand much further as it is limited by the sea in the south, by mountains in the north and by built-up municipalities in the east and the west.
Growing local consumption
Between 2013 and 2016, the unemployment rate in Barcelona fell from 23.7% to 14.4%. Local household spending is also 14% higher than the national average.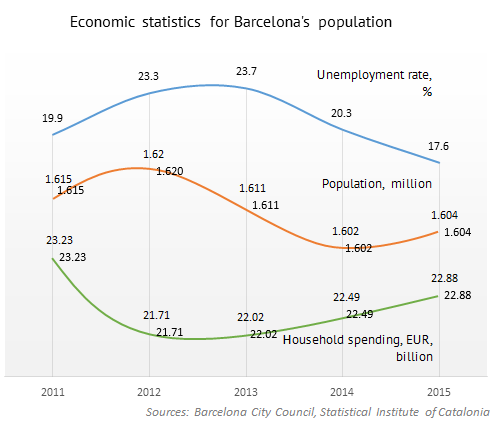 Summary
In light of the current situation, the best strategy for property speculators who want to invest in Barcelona is to purchase residential, office or hotel properties in poor condition, and to renovate or change its function so as to increase its value. It can then be sold at a higher price after 1–2 years. Such redevelopment projects allow investors to make 12–20% on their investment after management company fees and local tax expenses, compared to a yield ceiling of 5–7% per annum for rentals.
Rental property investments are still a good option for those who plan to relocate or send their children to study in Barcelona. By obtaining incomes in the currency of their future expenses, these investors minimise inflation risks.
Alexandra Savina, Tranio
Subscribe not to miss new articles
We will send you a content digest not more than once a week
Subscribe
Done!