Basque Country: best places to buy property and have a holiday
The Basque Country gets little attention from foreign citizens — undeservingly. In fact, buying property in the region is a good deal for a few reasons:
excellent quality of life: the Basque Country has some of the highest living standards in Spain.
unique culture: it has its own language, Basque, and its own culinary traditions. It also hosts one the most famous food festivals in the world, the "San Sebastian Gastronomika" as well as several annual film and theatre festivals.
mild climate: the Basque country is close to the ocean and mountains, which keeps the climate pleasantly mild. It is neither too cold in the winter nor exhaustingly hot in the summer.
one of Spain's greenest regions: it's very green compared to the South, which gets very little rain.
falling prices: property values dropped 4.4% in 2015 according to Spanish portal Fotocasa.es.
Despite falling prices, the region is still one of the most expensive nationwide: homes cost 70% more than in the rest of Spain (€1,619/sq m). In December 2015, one square metre in the Basque Country was worth €2,755. Rental rates during the first three months of 2015 were the highest in Spain: 44.8% above the national average.
Province
Selected towns
Average price,
EUR/sq m
Álava (Araba)
Llodio
2,082
Vitoria-Gasteiz
2,081
Province average
2,037
Vizcaya (Biscay)
Amorebieta-Echano
2,437
Arrigorriaga
2,440
Baracaldo
2,282
Basauri
2,480
Berango
3,161
Bilbao
2,966
Durango
2,455
Echévarri
2,734
Erandio
2,571
Galdácano
2,517
Górliz
3,060
Guecho
3,316
Lejona
3,034
Lequeitio
3,014
Munguía
2,383
Ortuella
2,019
Plencia
3,018
Portugalete
2,683
Santurce
2,608
Sestao
2,053
Sopelana
3,073
Urdúliz
2,678
Province average
2,765
Guipúzcoa (Gipuzkoa)
Andoain
2,241
Azcoitia
2,068
Beasain
2,333
Éibar
2,140
Fuenterrabía
3,590
Hernani
2,494
Irún
2,389
Lasarte-Oria
3,853
Orio
2,953
Pasajes
2,272
Rentería
2,332
San Sebastián
4,124
Tolosa
2,168
Vergara
2,194
Zarauz
4,331
Zumaya
2,726
Province average
3,058
The Basque Country is made up of three provinces: Álava, Vizcaya and Guipúzcoa, the latter two are the most attractive for overseas buyers because they are on the Bay of Biscay, also known as the Cantabrian Sea. The local coastline is called the Costa Basque (Costa Vasca).
Álava: wine tourism and medieval forts
Average price: €2,037/sq m
The Álava region only attracted 0.8% of deals with foreign property for sale in Spain in 2014, compared to Vizcaya (1.5%) and Guipúzcoa (2.0%), as reported by Colegio de Registradores.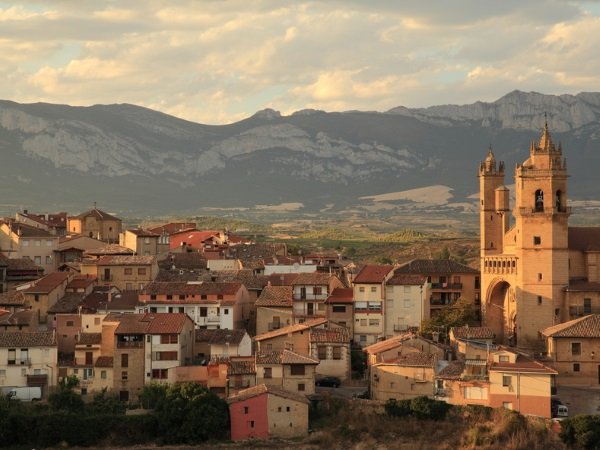 The region is quite flat and has many vineyards, scenic villages and medieval forts. The town of Vitoria-Gasteiz is particularly popular with culture and history buffs. There are many architectural landmarks: palaces, monasteries, churches and stunning houses. However, Álava is a landlocked province with no resort towns, but has plenty for wine-lovers to do. For example, Spanish citizens often come here for wine tastings.
The Marqués de Riscal vineyards are located here and its visitors often stay at the Starwood Hotels & Resorts. It is a futuristic hotel designed by the famous architect Frank Gehry that has its own wine restaurant and wine therapy spa. Real estate in Álava is less expensive than other provinces of Basque Country at €2,000 per sq m on average.
House planning in Basque Country is different to that on the Mediterranean coast of Spain. It is common for property here to have more bedrooms. There are many apartments on the market of up to 550 sq m with 5–8 bedrooms. The average size of a two-three bedroom house or apartment ranges from 150 to 300 sq m. This is because Spain's northern provinces were traditionally home to the country's elite and a holiday destination for members of the royal family. Moreover, it was common to have 5–8 children per family. Large homes were also due to the climate: there is more rain so people stayed inside more.
Vizcaya: developed economy and natural landmarks
Average price: €2,765/sq m
Vizcaya is one the most prosperous provinces in Spain with many resorts, fishing villages and sandy beaches along its 80-km stretch of coast.
Bilbao is the biggest city of the Basque Country and the capital of Vizcaya with a population over 350,000 people. It is also a large commercial port and one of the fastest developing cities in Spain. However, many do not think that Bilbao is a nice city, especially its suburbs, but it has its advantages: there is plenty of entertainment and restaurants for all tastes. It is also home to the Guggenheim Museum, also designed by Frank Gehry.
Many locals go on holiday just 15 km from Bilbao where there are four well-known golf courses, many walking paths, spas, hotels and thermal springs. During the winter, downhill skiing is particularly popular and horse riding during the summer.
The average price per square metre in Bilbao exceeds €3,000, and yet, it's not the most expensive place in Vizcaya. A 2–3 bedroom apartment costs from €110,000–230,000 on average.
Bilbao, in my view, is a contemporary and fast-growing city with interesting architecture. It has everything you could need from international schools (British, American, French, German), offices, boutique stores, medical centres to real estate for all budgets, including reasonably priced homes to upmarket apartments downtown. At the same time, the city is calm with a good climate, parks and nature reserves. Property owners in Bilbao generally go to the beach in Guecho that's just 10–15 minutes by subway or car.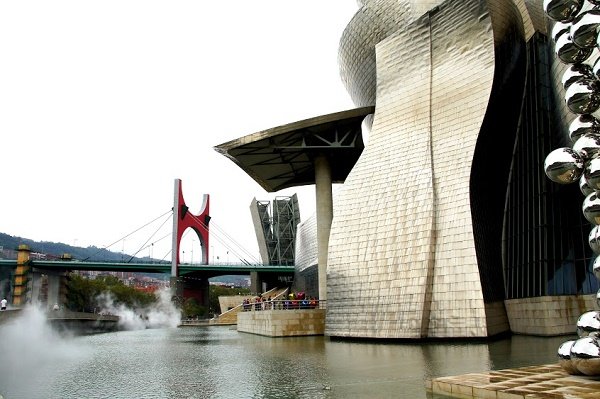 Guecho, just 15 km from Bilbao, has the highest property prices in Vizcaya. One square metre costs €3,316 on average, making it one of the priciest markets in Spain. In the 19th century, Guecho became popular among the wealthy merchant class and, nowadays, it is still in demand among affluent individuals, which explains the high prices. Guecho attracts upmarket buyers because it is close to Bilbao and has excellent amenities like a marina, golf course and various sports facilities.
Bermeno is a town to the North-East of Bilbao. It has a fishing port and excellent seafood restaurants. The nearby town of Mundaca is also a popular destination for surfers, foodies and art lovers. North of Mundaca is Urdaibai, a natural reserve with swamps, lakes, dunes, caves and the "magical" Oma forest, where pines are painted different colours by the artist Agustín Ibarrola.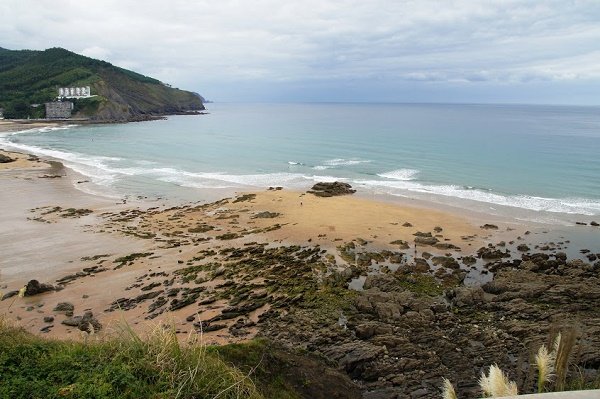 About 20 km east of Oma forest is the coastal town of Lequeitio, which is one of the most beautiful places on the Bay of Biscay. It even competes with San Sebastian as tourist capital of the Basque Country. The landmark of Lequeitio is the turquoise sea, snow white boats and sandy beaches overlooking San Nicolas Island (Isla de San Nicolás). There is a lot to see in the old town including castles, towers, churches and monasteries. Elanchove, 50 km from Bilbao, is a seaside town nestled in the cliffs, a great place for holidays in the Basque Country.
Guipúzcoa: fish restaurants and upmarket property
Average price: €3,058/sq m
Guipúzcoa is the most popular place to buy property in the Basque Country for foreign buyers. It is also the smallest province of Spain and borders on the French Atlantic Pyrenees region (Pyrénées-Atlantiques). There are many fishing villages, beaches and green cliffs along its 50-km stretch of coast. The main resorts offer high-quality beaches, seafood restaurants and landmarks.
San Sebastian is the administrative centre of Guipúzcoa. Many say that the town is equal to luxury destinations like Nice and Mote Carlo and it is often called the "Paris of the Atlantic" or the "Spanish Biarritz". This is because the city centre looks a lot like those in France. In 2013, Condé Nast Traveller named it "5th most popular destination in the world" and first in Spain. San Sebastian attracts tourists and property buyers with its blooming gardens, excellent restaurants, summer festivals and gorgeous views of the Bay of Biscay. Alina Batyrshina describes it as "one of the most beautiful and safe towns on the Atlantic coast. It is popular among surfers — which is basically nearly every local citizen."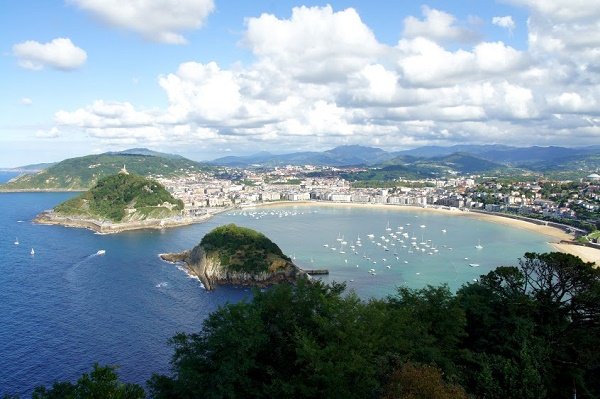 While the town is reputed to have one of the most expensive property markets in Spain, according to Fotocasa.es, there is a more upmarket town: Zarauz (also in Guipúzcoa). Homes there sell at an average of €4,331 versus €4,124 in San Sebastian. Nevertheless, you can still find villas selling at €5,000–6,000 per sq m.
San Sebastian survived the crisis better than the rest of Spain as prices only fell 10% between 2007–2015, compared to 40–45% elsewhere in the country. Today, good quality apartments cost upwards of €450,000 to several millions. The prices are linked to the high lifestyle (better than Madrid and Barcelona) and excellent salaries (about 25% higher than the national level).
20 km from San Sebastian is the exclusive resort town of Zarauz. It is known for its 3-km beach, the longest in the Basque Country, and Narros Castle (Palacio de Narros) that has a collection of van Dyck paintings. The town became popular in the 19th century, when a lot of luxurious mansions were built along the coast. Even the Queen Isabel II of Spain and Queen Fabiola de Mora y Aragón of Belgium visited Zarauz on their summer holidays. Many old mansions have now been demolished and new apartments built in their place. The town is famous for its restaurants, including one owned by famous Spanish chef and TV host Karlos Arguiñano. It also has a great stretch of sea for surfers where they host international surfing championships. Another surfer's paradise, Deba, is just 20 minutes away by car.
Guetaria, a fishing village, is one of the most beautiful on the coast, located just east of Zaraus. The famous navigator Juan Sebastián Elcano, who circumnavigated the globe in 16th century, was born here. There are many restaurants with terraces and beautiful old buildings as well as a spacious sandy beach. The landmarks include the San Salvador Gothic church (Iglesia de San Salvador), Almadar Palace (Palacio de Aldamar) and traditional buildings on the San Roque street.
About 20 km east of San Sebastian, close to French border, is the fishing village Fuenterrabía. It is famous for its food and the iconic architecture of its old town. During the summer, citizens of Madrid come here on holiday. Many Spaniards acknowledge that the local cuisine is on par with that of San Sebastian. One square metre in Fuenterrabía costs €3,600 on average.
The Basque Country is perfect for travellers. Out of all cities in the region, I would recommend San Sebastian or Bilbao for buyers. Both would make excellent places for a permanent residence and a holiday home. San Sebastian is loved by all: families with children, young people and retirees. Life in the city never stops. Bilbao is calmer compared to San Sebastian — and has everything you could need close to hand.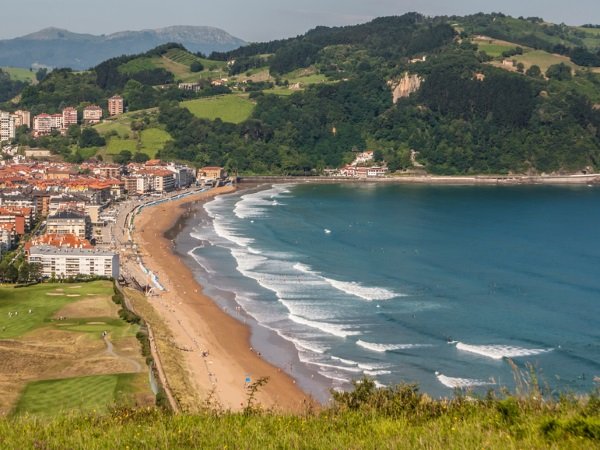 Tranio recommends for:
— families with children: Bilbao, San Sebastian
—
yacht owners: Guecho, Lequeitio, Elanchove
—
foodies: Bermeno, Bilbao, San Sebastian, Zarauz, Fuenterrabía
—
surfers: Deba, Mundaca, San Sebastian, Zarauz
—
young people: Bilbao, San Sebastian
—
golfers: Bilbao, Guecho
—
permanent residency: Bilbao, San Sebastian
Yulia Kozhevnikova, Tranio
Subscribe not to miss new articles
We will send you a content digest not more than once a week
Subscribe
Done!
Top 5 Articles of the Month