Did the Fed just break the real estate market?
Onwards and upwards, America's interest rate is going up for the first time in nearly a decade — by one-quarter percentage point. The Federal Reserve has finally announced a rate rise from 0.25% to 0.50% and maybe even 3.25% by 2018. Property markets are the first in line for disruption as history has taught us: expensive credit reduces real estate value. The butterfly effect impacts both local buyers and foreign investors who will hold off or redirect their funds into more lucrative markets (e. g., stock markets). So it's official, the Fed, chaired by Janet Yellen, has a new motto: balance; but is real estate the loser in the battle for growth?
Same-same but different?
It seems like the Federal Reserve is no longer fearful of America's weak inflation, it is considered "transitory" and brought on by low oil prices and a strong dollar restraining import prices. During the Fed's press conference on December 16th, Janet Yellen confirmed forecasts that inflation will reach its 2% target by 2018, provoking a media storm over the Fed's ability to accurately predict this important metric. And understandably so, since it has incorrectly forecast stable inflation for the last four years, a main parameter in their interest rate decision.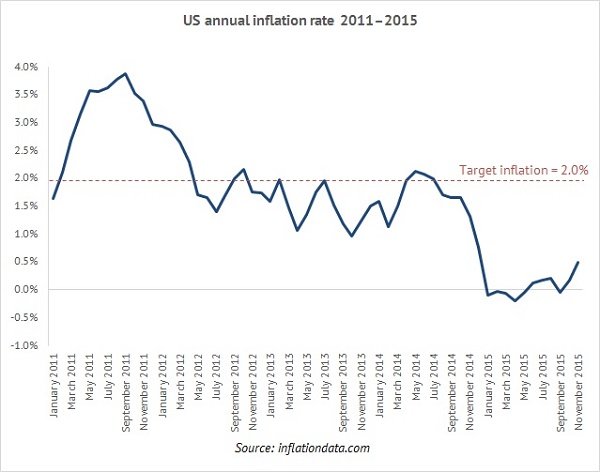 Property market disappoints
Only residential property building and oil/mining have failed to satisfy on the Fed's financial report card, although even the primary metrics like employment, GDP and inflation still have "room for further improvement". The topic of real estate was only vaguely broached and briefly described as having improved residential investments but "new home building still […] low." So far, there is little fear that a higher interest rate will curb trends and prices on commercial and prime markets like New York, on which some see a bubble rising.
What now?
Property is not the loser yet. Wild cards like the weak oil market and fragility on overseas economies like China worry the Fed, preventing them from taking any drastic measures that could hurt economic growth. Instead, the Federal Reserve has adopted a progressive and flexible approach to interest rates that can be reigned in. Global property giant CBRE framed the situation perfectly in their press release, "sit back and watch the data" because this decision is "just another baby step in a long haul toward conventional monetary policy".
Read more:
Leigh Stewart, Tranio
Subscribe not to miss new articles
We will send you a content digest not more than once a week
Subscribe
Done!
Top 5 Articles of the Month