Foreign buyer's guide to residential property in New York City


It's been a great year for property in New York, particularly within the "trophy property" segment, which was snapped up by foreign buyers — many from China. Prices skyrocketed and pushed even more buyers out of Manhattan into the "suburban" NYC boroughs, Brooklyn in particular. With low vacancy rates and high demand, it's still very much a seller's market — even though there is often room for negotiation.
Borough
Median sale price, USD
Average rental rate,
USD
Bronx
0,311,525
1,813
Staten Island
0,401,000
2,114
Queens
0,470,000
2,825
Brooklyn
0,650,000
3,189
Manhattan
1,150,000
4,073
Manhattan attracts the richest foreign buyers
Manhattan is leader of the pack: rental rates are twice those of other boroughs and average sale prices are now in the millions of dollars. In 2015, for the first time in nearly 30 years, median prices in Manhattan exceeded the $1 million mark and the average price per square foot also set a new record at $1,645, according to realtor company, Douglas Elliman.
-> Chinese billionaires take over New York prime property
But all is not lost for buyers; recent research shows that sellers are extravagantly overpricing their property, then eventually accepting a discount of 28% on average. Nevertheless, there were actually less sales last year than in 2014 and the market closed with an additional 1% of listed properties. However, real estate in Manhattan now spends less time on the market with only 82 days between listing and sale, compared to 105 days in December 2014.
Number of bedrooms
Median sale price,
USD
Average price per sq ft,
USD
Studio
0,411,500
0,765
1-bedroom
0,772,500
1,132
2-bedroom
1,634,146
1,452
3-bedroom
3,160,000
1,821
4+ bedroom
6,500,000
2,592
Brooklyn confirms its new elite reputation
Brooklyn's fate is now sealed as a hotspot for the trendy elite and wealthy artists. From a down-and-out borough made up of docklands, industrial space and underground culture, it now competes with Manhattan for price growth records.
 
Q4 2015
Market dynamics
Year-on-year
variation, %
Median sale price
$650,000
▲
+11.1
Listing inventory
3,233
▼
 –6.5
Days on market
64
▼
–17.9
Median condo price
$725,000
▲
 +5.1
Median CO-OP price
$360,000
▲
+12.5
In fact, 5 neighbourhoods in Brooklyn demonstrated stronger price growth than Manhattan and New York City as a whole over the last fifteen years. The top places for price growth and gentrification in Brooklyn are:
Williamsburg
Bedford-Stuyvesant
Park Slope
Crown Heights
Bushwick
The Bronx and Queens could be next
The Bronx is becoming a secret sweet spot for developers, who pumped $1.8 billion into this poverty-stricken borough, often described as "urban decay", in 2014. Most of this investment went into residential real estate and 8,000 new units should soon hit the market. This borough will also be endowed with an 8-rink ice-skating complex, an open air food market and the headquarters of food company, Fresh Direct. Growing interest for this frontier land was to be expected, considering how it shares borders with Manhattan in the South.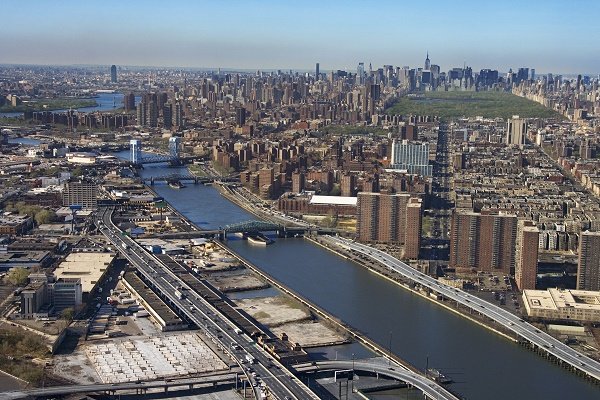 Another noteworthy borough is Queens, which had little commercial property or residential development just a decade ago. Since then, it has blossomed into an up-and-coming district with rents rising along the 7-train line (commuter transport). Recent plans to introduce a trolley bus, dubbed "state of the art street car" between South Brooklyn and North Queens should encourage the area to thrive by facilitating the commute for tenants forced out of hotter neighbourhood markets.
Leigh Stewart, Tranio
Subscribe not to miss new articles
We will send you a content digest not more than once a week
Subscribe
Done!
Top 5 Articles of the Month