Greek Rental business: European residency, high yields given price growth
On 30 August 2018, Greece's Independent Authority for Public Revenue (AADE) announced the launch of a digital registry for those leasing Greek real estate short term via online platforms, such as Airbnb, Booking and HomeAway. Ignoring the new rule will incur a €5,000 fine. The regulator's goal is to provide tax control and protect tenants' rights. Although the respective law came into force on 1 January 2018, the registry launch had been postponed several times and took place only eight months later.
This news is important not only as a stimulus for current and potential landlords. The registry launch is further proof of changes in the local real estate market. Given the positive economic news — the growth of GDP for a fifth quarter straight and completion of the third macro-financial assistance programme — Greece's property market is starting to attract international investors. But why?
Golden Visa for apartment purchase
One of the motives for international buyers is the prospect of European residence. In 2013, Greece launched its Golden Visa programme. The country issues residence permits to the buyers of property totalling at least €250,000. According to state investment agency data from Enterprise Greece, between the programme's launch and late July 2018, the country issued 2,968 investment-based residence permits (7,565 including those awarded to investor family members). Greek residence permits are among the cheapest in Europe: the minimum investment threshold is the same in Latvia, but investors have to pay a 5% fee there. Residence permits for the purchase of real estate of at least €350,000 in value in Portugal, and €500,000 in Spain. In Malta, investors have to put funds into both property and bonds which raises the minimum amount to €300,000 and €330,000 in Cyprus.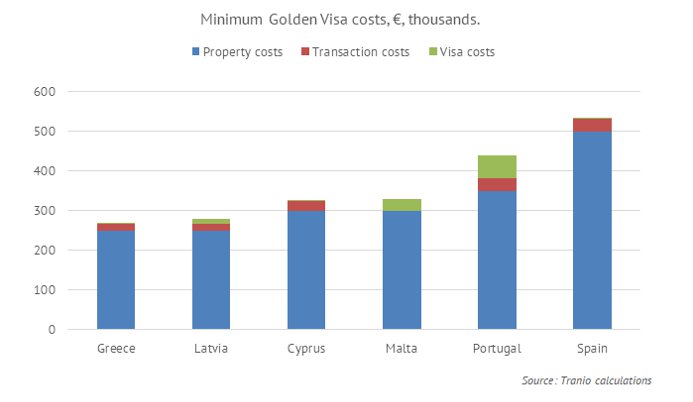 Most recipients of the Greek residence permit are Chinese (47%), Russian (15%) and Turkish (10%) investors. Golden Visa hunters most often buy property in Piraeus and Athens: they account for 27% and 25% residence permits, respectively.
High yields
Many investors rent the purchased properties out short-term to compensate for the investment. The record tourist flow creates the demand for daily rent: according to Bank of Greece data, over 30 million international tourists visited the country in 2017.
Thanks to the high demand and low property prices, the net yield rate for short-term rentals in Athens is 5–7 % per annum versus 3% in most European capitals. Greece is one of the last real estate markets in Europe that is still seeing a capital drought and has not recovered since 2008. "The prices for property in Athens are 42% below the pre-crisis level", George Kachmazov, founder of Tranio international real estate broker, explains.
Price per square metre rising
Those who want to get high yields need to hurry: the Bank of Greece has been observing growth in residential property prices for a second straight quarter.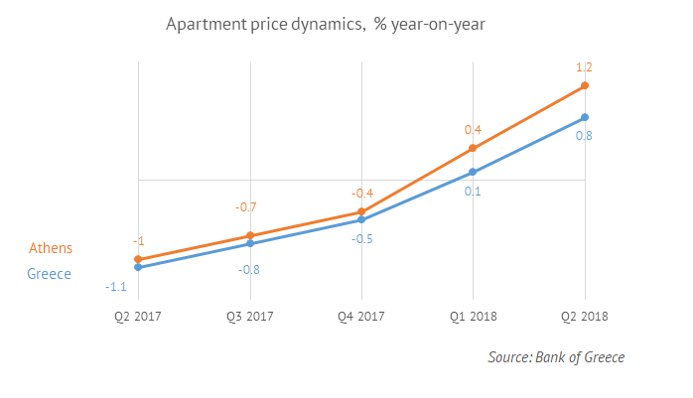 In Athens, prices are growing faster than in the rest of Greece: in Q2 2018, the property price went 1.2% up year-on-year, against the 0.8% average. As explained by Alina Churikova, Tranio's project manager for Greece, the capital demonstrates the highest occupancy rate in the short-term rental market throughout the year. "Unlike resort locations, Athens also attracts tourists in winter, for which reason local properties bring money without a break for the low season, while investors receive more appealing yields than anywhere else in Greece", she says.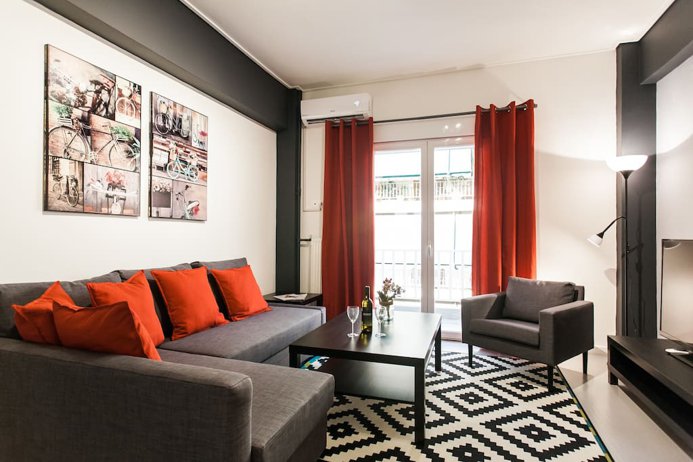 Subscribe not to miss new articles
We will send you a content digest not more than once a week
Subscribe
Done!
Top 5 Articles of the Month