Highlights from EXPO REAL 2019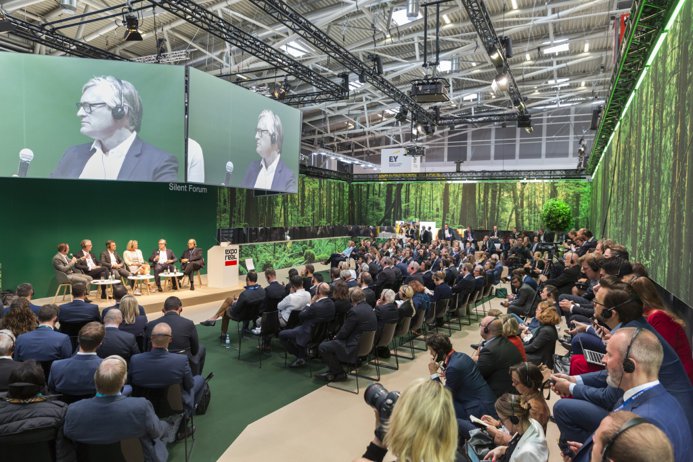 EXPO REAL, one of the largest real estate exhibitions in Europe was held last week from 7-9 October 2019 in Munich, Germany. The event attracted more than 45,000 visitors, with some of the biggest names in the real estate industry, local and international, attending as exhibitors.
Tranio's team was there to document some of the highlights of the event's conference programme, including panel discussions and debates on various topics related to the key trends in global real estate markets.
Investment volumes slowing down in Europe due to product scarcity
There is a noticeable decline in investment volumes in Europe. Whilst one of the main reasons for this slowdown in the UK is the uncertainty caused by the endless Brexit negotiations, continental Europe has suffered because of product availability.
In a panel discussion hosted by CBRE, we learnt that Germany ranks number one in the top five most liquid markets in Europe, followed by the UK, France, the Netherlands, and Spain. Germany and the UK still reign strong in total volumes despite the slowdown, while France and Spain have noticed a slight increase in investment volumes over the past year, with France registering a 6% increase and Spain a 38% increase in capital flows.
Country

Investment Volumes

2019 Q2 Euro, bn

Investment Volumes

2018 Q2 Euro, bn

Germany

71

77

United Kingdom

62

77

France

35

33

The Netherlands

18

23

Spain

18

13

Table 1. CBRE Global Investment Briefing 2019 EXPO REAL
Asian capital flows into Europe have decreased by 58% from China, 78% from Hong Kong, and 51% from Singapore. South Korean capital, however, has registered an increase of 70%, totalling €5.9 bn rolling over four quarters. Cheap financing, high yields, and currency hedging premiums have attracted investors like NPS – South Korea's state-run National Pension Service – to buy up prime big-ticket European office buildings. According to the Financial Times, London was the favourite property investment destination for South Korean investors, followed by Frankfurt, Brussels, and Paris.
According to Jan-Willem Bastijn, head of capital markets for the EMEA at Cushman & Wakefield (C&W), South Korean investors are now pickier and more demanding, while Japanese investors are discreetly showing signs of new interest in European property.
North American real estate capital flows into Europe have also increased by 14%. Investors from the US and Canada are the most active cross-border capital source for European multifamily housing, according to CBRE. 
Conclusions:
Experts from CBRE wrapped up their panel discussions by recommending that investors should target multi-let office buildings in both Germany and the UK, more specifically in London, along the crossrail line. 
C&W warns of more expensive assets caused by the huge levels of liquidity and funds on the market – there's new money coming in from Canada, Australia, Asia, South Africa, and Latin America (as well as UHNWIs) in the guise of family offices, trusts, and evergreen funds.
Money doesn't seem to be the problem, but product availability is an apparent issue for Europe and especially Germany, according to several panel experts.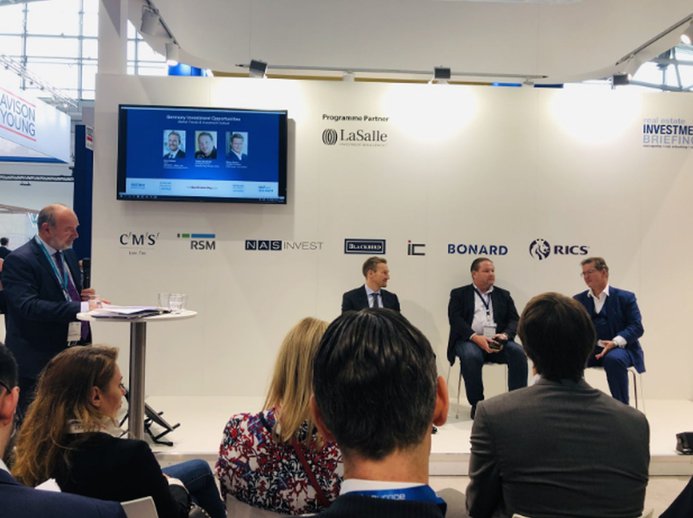 Germany – Still holding strong
Despite the ongoing issue of product availability and soaring property prices, Germany's status as a haven for investors remains...well, safe. Europe's economic powerhouse is overtaking the UK as the first port of call for Asian, US, and other foreign investors. In H1 of 2019, property investment volumes reached €32bn and if predictions are to be trusted, the figure will hit €71bn by the end of the year. 
Key findings from a panel discussion organised by Investment Briefings during EXPO REAL revealed that one of the main reasons for investment in German property is capital preservation. Office buildings and land development are the main asset classes experts recommend to invest in. However, the German residential market is just as secure, with a new report by Ziegert Bank und Immobilienconsulting showing that Germany's top eight cities are all developing strongly and growing faster than the rest of the country.
Although there's a strong focus on new-build residential property, some experts argue that old existing buildings in need of renovation should also be taken into consideration. With new regulations and rent caps being discussed, new-build property seems to be a safer bet for investors focussing on Berlin. According to the Telegraph, Berlin's regional government is considering plans to freeze monthly rents on homes across the city of just under €8 per square metre (68p per square foot). This would have a dramatic impact on prices in the German capital's prime neighbourhoods, which currently command monthly rents of more than €17 per square metre (£1.43 per square foot). New-build developments would be exempt from these regulations, but land plots are scarce and hard to find, and the ones which are available are already very expensive.
According to another panel expert, local investors often won't compete with international investors in Germany. Locals are usually more informed about what's up for grabs and know the issues and risks involved, and they are usually not prepared to pay a premium. Foreign investors on the other hand, are ready to put their money in Germany at all costs. 
To find opportunities, private investors should team up with professional partners when it comes to equity or debt investment. It's better to lower expectations and go for better location and less leverage. The reality is that you can gain 3-4% return with a buy to let strategy and 8-10% in value added projects.
Valentin Fedyaev, director for strategy and investments at Tranio adds: "In general, developers are well provided with liquidity today. However, they are still ready to attract financing at a cost above 10% per annum, provided that they do not invest their own funds in the project, and the investor only receives a fixed percentage. Investors' expectations are decreasing: today the main benchmark is 8-10% per annum, both for local and foreign investors."  
Even so, Berlin still ranks as the number one city in Germany for foreign investors. The main reasons behind this is the low vacancy rate, limited pipeline of projects, and high demand. According to one of the panel experts, Berlin will continue to thrive because of the government's future plans to relocate regional offices back to Berlin and also because of the relocation of tech departments by multinational companies, all of which have contributed to a high demand for office space. 
According to a report by Savills, more than 50% of the approximately 1.8 million square metres scheduled for completion in the Berlin office market by 2021 is already pre-let. Companies requiring additional space are often restricted to relocating their personnel to up-and-coming locations with good connections to the city centre and adequate local amenities. These include Südkreuz and Ostkreuz in Berlin.
Subscribe not to miss new articles
We will send you a content digest not more than once a week
Subscribe
Done!