How HNW Russians are coping with heightened tax/financial obligations
Two regulatory developments have set Russia's high-net-worth individuals (HNWI) on edge, with some reportedly contemplating obtaining foreign citizenship as a means of dodging the new rules.
In May 2016, Russia joined the Standard for Automatic Exchange of Financial Account Information (the Common Reporting Standard or CRS). As a result, starting in 2018 the Russian tax authorities will gain access to information on Russians' foreign bank accounts.
This came on the heels of the entry into force in 2015 of a set of restrictive new controlled foreign companies (CFC) rules requiring Russian taxpayers to provide the tax authorities with details regarding various foreign business interests.
Though the CFC rules brought about increased tax burdens for Russians with ownership interests in foreign companies, this isn't the key concern among HNWI. Rather, they are concerned by the prospect of the government having access to key details of their foreign assets and capital. Furthermore, they are wary of such details falling into the wrong hands, including those of criminals or anyone else with a desire to illegally withdraw their foreign funds.
Tranio explains
In joining the CRS, Russia signed the Multilateral Competent Authority Agreement (MCCA). The MCCA compels the banks, brokerages, insurance companies and investment bodies of signatory countries to provide the tax authorities of other signatory countries with bank account information pertaining to the tax residents of the latter.
As of 2 November 2016, the MCAA had 87 signatories, according to the Organization for Economic Co-Operation and Development (OECD). Some of the signatories will begin the automatic exchange of information as early as September 2017, while others — including Russia — will begin in September 2018.
Controlled foreign companies (CFCs) are foreign companies that are not tax residents of the Russian Federation, but whose controlling parties are Russian taxpayers. The Russian tax code stipulates that the owners of CFCs must disclose information on their foreign bank accounts and pay taxes on the income generated abroad by their CFCs.
To better understand how Russia's HNWI are reacting to the CRS and CFC regulations, the international real estate broker Tranio and the UK´s Adam Smith Conferences conducted a survey among 50 private bankers who work with Russian HNWI.
Our survey revealed:
Most (46%) of the bankers we surveyed stated that few, if any, of their high-net-worth Russian clients had shut down their foreign bank accounts since Russia joined the CRS.
A sizeable minority (37%) reported that they had witnessed a marked trend with respect to HNWI Russians closing their foreign accounts since Russia joined the CRS, but that they had not seen mass closures
The remaining 17% reported that most of their Russian HNWI clients had closed their foreign accounts since Russia joined the CRS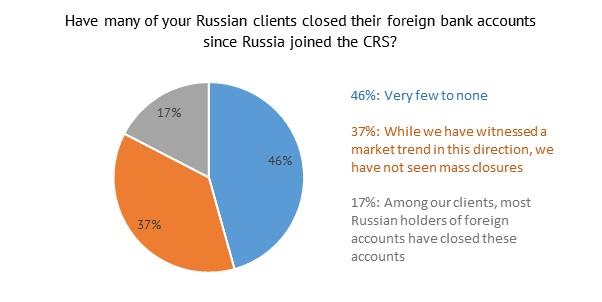 "When Russian nationals move to close their foreign bank accounts, they typically do so in a bid to get rid of their transaction histories. To facilitate the process, they generally withdraw the cash from their existing accounts and deposit it into new ones; they then inform the Russian tax authorities only of the latter," said George Kachmazov, managing partner at Tranio.
Tranio also asked the bankers what other moves their Russian clients had taken with respect to their foreign bank accounts since Russia joined the CRS.
Nearly half — 48% — answered that many such clients had opted to change their tax residency statuses
Nearly a quarter — 24% — answered that many had switched the beneficial owners of their foreign accounts (replacing the previous beneficial owners with third parties, funds, trusts, etc.)
Just a slightly smaller number — 22% — stated that their clients had not taken any decisive actions in response to the CRS
One-fifth of respondents stated that their clients had divested their bank accounts, favoring alternative types of assets, with the most popular such assets being securities (37%) and real estate (24%)
With respect to the 22% who stated that their clients had not taken decisive action, Tranio's immigration program expert Timur Sitdikov said: "About one-fifth of the respondents' clients either don't believe that the CRS will create any risks for them, or they are willing to accept the possible consequences of the entry into effect of the new regulations."
Some Russian HNWI have reacted by transferring the funds in their foreign accounts to accounts in other countries. Among the respondents' Russian clients who had opted to do so:
Many (37%) decided to move their funds back to their home country
One-fifth decided to move their funds to accounts in countries that were not MCAA signatories
Only 15% decided to move their funds to accounts in the United States, and only 17% decided to move their funds to Asian accounts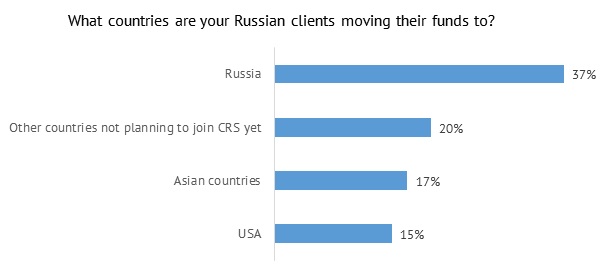 We asked the respondents whether many of their Russian clients were making use of citizenship/residence by investment programs and — if so — which countries they were favoring for these purposes.
Some two-thirds of respondents said that their clients were making use of such programs, with Cyprus (41%) and Malta (24%) accounting for the most popular choices.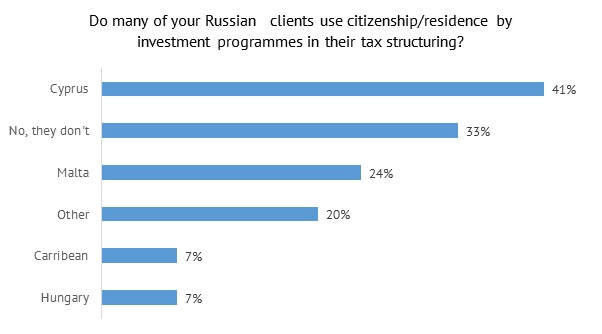 According to George Kachmazov, HNWI Russians who make use of citizenship/residency by investment programs tend to fall into two categories:
Those who do so and then leave Russia: It is common for such clients to gain citizenship in Cyprus or Malta, and then to relocate to the United Kingdom
Those who do so and stay in Russia: It is common for such clients to gain citizenship or residency in foreign countries either for their own future use or for the use of their children, many of whom study in the EU or UK
Those who leave the country tend to be ultra-high-net-worth individuals (UHNWI), i.e., individuals with a net worth exceeding $30M. UHNWIs find this option safer than exposing their Western structures to Russian tax authorities, or worse, to criminals or others with illicit intentions. Leaving is generally economically beneficial for UHNWIs.

With the introduction of the CFC rules, both personal and company account information were exposed to heightened transparency. As such, the UHNWI owners of Russian businesses structured through companies in Cyprus, the Netherlands and Luxembourg tend to leave Russia for other countries with lower tax burdens. In doing so, they cease to be Russian tax residents, thereby escaping the Russian CFC transparency requirements.

Notably, even upon leaving Russia, such clients remain partially dependent upon their home country due to the fact that in many of their cases, their Russian assets are their key sources of income; few UHNWIs have really figured out how to make money in the West.

Because ordinary HNWIs don't have such big businesses, moving away from Russia wouldn't necessarily be economically effective for them. As such, they tend to stay in Russia, where they have to either comply with the Russian regulations or engage in various legally questionable manoeuvres to shield their money from the Russian authorities.
Daria Berezina, Yulia Kozhevnikova, Tranio.com
Subscribe not to miss new articles
We will send you a content digest not more than once a week
Subscribe
Done!