Montenegro to launch a citizenship by investment programme
On 26 July 2018, the Montenegrin authorities announced the launch of a citizenship by investment programme. To obtain a Montenegrin passport, investors have to buy local property and put €100,000 into a special fund for national development. In the lagging regions of the north, the minimum property value is €250,000, and in the advanced regions of the south, it is €450,000. The programme will be launched in October 2018. The number of participants is limited to only 2,000 applicants, who will be able to become Montenegrin citizens in just three years.
What are the benefits?
The Montenegrin passport provides visa-free access to 123 countries throughout the world, including the entire Schengen area. However, Montenegro is not an EU member (although it has been considered an official candidate since 2010) or part of the Schengen area, for which reason its nationals cannot live in another country. The Moldovan passport offers investors similar benefits: in July, Moldova also announced that it would start issuing citizenship via investment, namely for a non-repayable €135,000 contribution to the country's economy.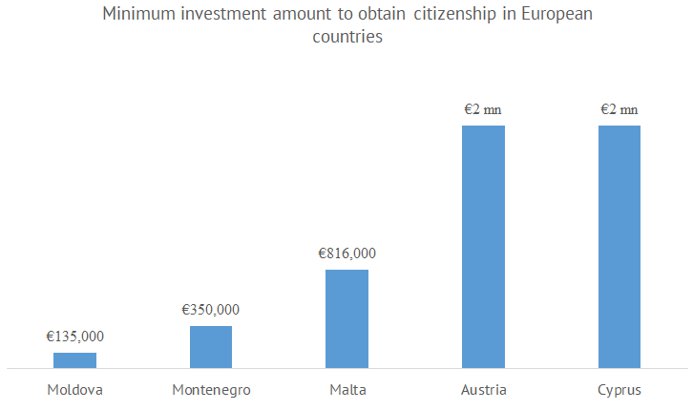 EU passports are much more expensive. For example, Maltese citizenship can be obtained for a minimum of €816,000, Cypriot or Austrian citizenship can be obtained for €2mn. "As Montenegro is now just a candidate to the EU, its programme will not be able to compete with that of full-member countries effectively", Ekaterina Maslova, Tranio Client Relations Manager, believes.
Foreign investors, however, should bear in mind that the country has not yet joined the MCAA. "This means that if the client opens a bank account in Montenegro, the bank will not send information about it to the tax authorities of the client's country of residence", Ekaterina Shabalina, Tranio lawyer, explains.
International investors are already taking an interest in the programme. "I have already had a couple of requests from South Africa, and the clients are primarily interested in residency. They contacted me immediately after there was information on the programme", Svetlana Larionova, Tranio Sales Manager for Montenegro, says. "In my opinion, if the conditions are reasonable, and properties are attractive to investors, the demand for property in Montenegro will grow. At least, in those countries whose nationals seek European residency".
Property market
The global 2008 financial crisis strongly affected Montenegro's property market. According to data from the New York Times, the price per square metre fell by 20–30% in the middle of 2009 and has not yet recovered. According to official statistics, in Q4 2017, residential property in Montenegro's existing property market cost €1,079/m², 11% higher than the year before, but 3% cheaper than in late 2015, for example. The market is expanding, however. In 2017, 7% more residential property construction permits were issued compared with 2016, which was also 36% more than in 2015.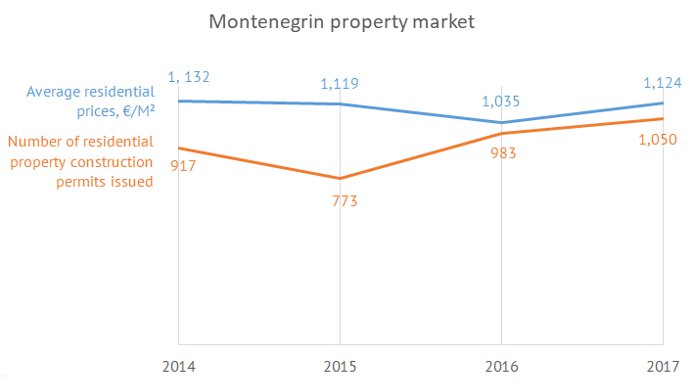 Experts believe in price growth, largely thanks to the country's volume of tourists. According to data from the Statistical Office of Montenegro (MONSTAT), the number of arrivals to the country grew from 1.5mn in 2013 to 2mn in 2017. The overwhelming majority of visitors are tourists coming from Russia, Serbia, Bosnia and Herzegovina, Ukraine and Germany. These tourists prefer spending holidays on the beach, with the southern seaside resorts accounting for 95% of overnight stays in the country. Property in the south is significantly more expensive than the north. The Statistical Office of Montenegro, in Podgorica, Bar and Budva, located in the south, property costs €1,119/m², €1,105/m² and €1,212/m² respectively, versus an average of €881/m² in other cities.

Subscribe not to miss new articles
We will send you a content digest not more than once a week
Subscribe
Done!
Top 5 Articles of the Month