The advantages of investment in Polish real estate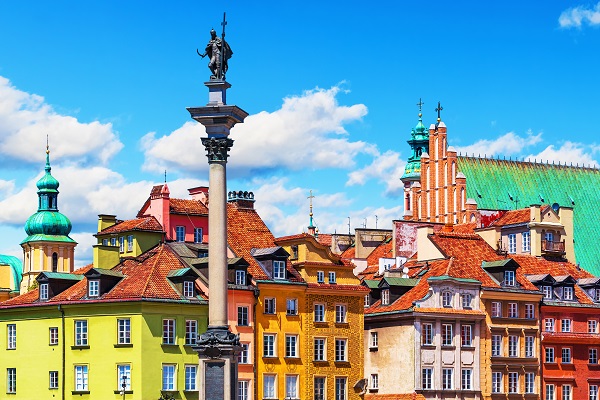 An optimistic mood prevails in the market, and there are several reasons for it, including economic growth, increases in investments causing price increases, relatively high yield rates and real estate market stability. This Tranio.com report highlights the various features of Poland's promising economic trends and their implications for real estate investment.
A sustainable economy: five-year GDP growth forecasted
Poland is one of the few European countries that passed through the 2008 financial crisis unscathed, undergoing no recession. Its economy is the eighth largest in the EU. Its GDP has been increasing since 2013 and, according to forecasts, the expected annual growth until 2020 will total no less than 3.3%. Moreover, Poland's public debt amounts to 50% of its GDP, whereas the rest of the EU averages at around 87% of GDP. Industrial production, trade turnover and domestic demand for goods show growth. Economic development is caused by increases in purchasing power and rising investments, meaning a promising outlook for the real estate market.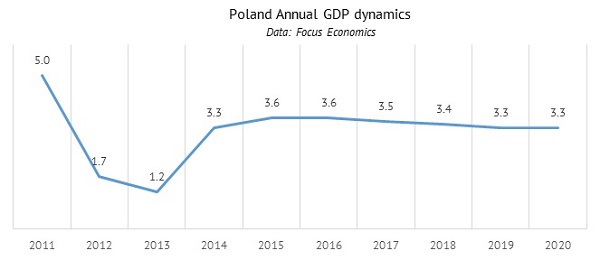 Another important indicator — unemployment — has shown a tendency to decrease in Poland: the unemployment rate is forecasted to decrease from 9.1% in 2016 to 6.9% in 2020. For investors, first, it means lower risks for leasing property. On top of that, the Polish labor market is attractive for business people due to a significant quantity of highly qualified personnel with higher education and knowledge of foreign languages, along with low salaries compared to Western European countries.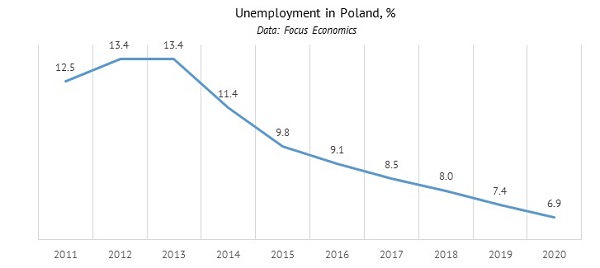 Another positive trend is the reduction of the prime rate, which in March 2015 was lowered to 1.5%, the lowest in the country's history. Due to this, a mortgage rate reduction has also been noticed; such reductions usually cause increases in demand and costs for residential real estate.
Growth in investments: a 10-year maximum can be reached in 2016
Those investors having detected positive trends in the Polish economy have already begun actively investing into the country's real estate. There were €4.05 bln invested into Poland's commercial objects in 2015, which was the highest since 2006. In H1 2016, investments exceeded €2 bln (which is already 155% more than in the H1 2015); by the end of the year, this could become a record for the past 10 years, reaching €4.5 bln.
There are two main reasons for this. Firstly, investors who have not closed deals but are already negotiating purchases show extra activity. Secondly, investors consider developing markets such as Poland's with increasing frequency as return rates decline in Western Europe. After the Brexit referendum, many buyers of investment properties can opt for Poland as an alternative, as it is the largest developing market in Central Europe, accounting for half of the investments in the region.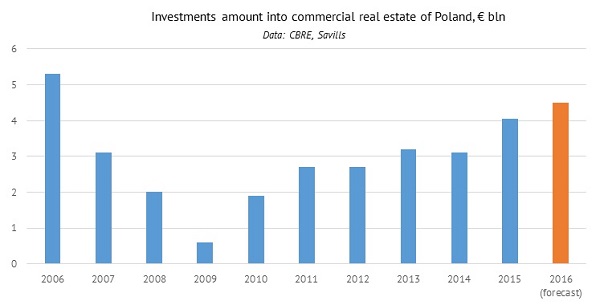 Earnings potential: income rates higher than in other countries
Prices for property for sale in Poland are trending upward, whereas rental rates in 2015-2016 were stable (in the retail real estate sector) or in decline (in the office and industrial sectors). This is the reason for income rates' decline in Poland, as in the majority of other European countries. Therefore, offices' profitability in Warsaw decreased from 7% (peak rate) to 5.5% in 2Q 2016, profitability of street retail dropped from 9.5% to 5.25%, and industrial property profitability slipped from 8.5% to 6.75%.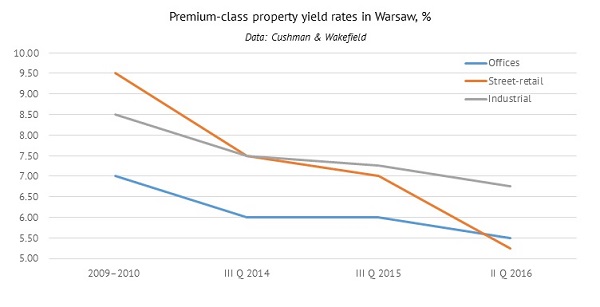 However, even despite the decreasing returns, the ratio of rental income to real estate cost in Poland is higher than in other countries. For instance, premium-class offices in Warsaw generate on average 5.5% per annum, whereas in Prague the average is 5%, in Vienna 4% and in Berlin 3.9%.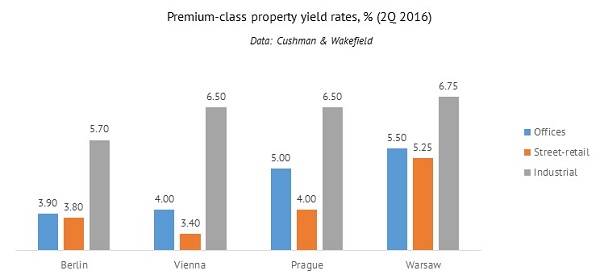 A stable market: no slumping house prices in the past 20 years
As is already well known, real estate can generate not only income from rent, but also from resale. Poland offers good opportunities for income due to capital gains: its residential real estate market stands out with its relative stability, and it did not have any slump in prices as Greece or Spain did, for example; starting from 2007, real estate values decreased 40%. Periods of decline on the Polish market lasted 1-2 years, after which growth started again.
Housing prices showed sustainable growth for 6 years prior to 2010, after which there were fluctuations ranging from -6 to +10% per annum. From 2014 to 2015, the cost of one square metre in Poland reduced by 1%; however, in 2016 there was visible growth. For the past 10 years, housing prices have increased by 55%.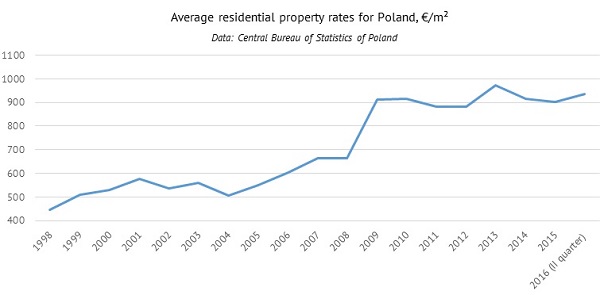 Increases in housing prices in Poland are affected by low mortgage rates, as well as incentive programs for borrowers aged up to 35 years (Mieszkanie dla Młodych, MdM) buying their first houses. The program offers subsidies totaling 10% for singles and couples, and 15% for families with children.
The average cost of a square metre in Poland (€934.5) is significantly lower than in other European countries. For comparison, housing in Spain costs on average 1,600 €/m², and in Germany 2,400 €/m². Prices significantly vary from city to city, though. For instance, the highest cost of a square metre can be found in Warsaw (€800 on average) and Krakow (€1,600), and the lowest in Zielona Góra (less than €800 on average).
Consequently, housing in Poland attracts investors with its low price and opportunity to profit due to price appreciation.
How to choose investment objects
Warsaw is the biggest business and finance hub, not only of Poland but also of the whole of Central and Eastern Europe. There are offices of major international companies, developers and investment funds located in this city. Other cities in Poland also draw attention from foreign investors. The seven largest real estate markets of the country, beside Warsaw, consist of Krakow, Breslau, Trójmiasto (Gdansk, Gdynia and Sopot), Katowice, Poznan and Lodz.
The largest office markets of Poland are Warsaw and Krakow. These cities are in demand for residential property purchase. Retail properties in Krakow, Poznan and Trójmiasto bring in most of the capital. Investments into industrial properties centre in Breslaw and Trójmiasto.
Retail real estate accounted for the greater part (55%) of investments in 2015, and it is attractive due to rental rate increases and active construction. Investments into offices total 32%. This sector stands out because of an unparalleled demand for rent and record development scale. Industrial objects, which brought in 12% of investments, are also popular with investors due to a high demand for rent.
Advantages and disadvantages of investment into different segments of real estate in Poland
Data: Cushman & Wakefield, Knight Frank
 
Advantages
Disadvantages
Retail
— Active construction (600,000 m² in 2015, above average for 5 years) and redevelopment
— Low share of vacant space (no more than 5%)
— Increasing rental rates
— Abundance in retail space, 240 m²/1,000 residents (above average in Europe)
— Increase in rental rates drives profitability down
Offices
— Record construction volumes (1.3 mln m² in 2015, 44% less than on average for 5 years)
— Record demand (1.3 mln m² rented out in 2015, 50% more than on average for 5 years)
— Potential demand growth, as Poland is attaining the status of main European outsourcing destination
— Rental rates in premium-class segment have tended to decrease
Industrial (warehouses)
— Record demand for rent (5 mln m² were rented out within 2 years)
— High demand from international manufacturers, transport companies and electronic commerce representatives
— Record low vacancy (below 5%)
— Distribution of projects with the purpose of trade-ins can "overheat" the market
Residential
— Increasing prices
— Low prices in comparison with Western Europe
 
A forecast: what to look out for
The forecasted GDP and consumer demand growth both match increasing activity in the commercial real estate market in the short and long-term perspectives. Apart from that, record demand for office and industrial space, as well as the increasing volume of commercial property construction, indicate increasing activity on the market.
Investors consider Poland a steady market. Commercial real estate supply in Warsaw and provincial towns is still under development, which is why there is still more potential for market growth.
The main trends of 2016 will be as follows:
A decrease in profitability. Rental rates have a tendency to decrease, which is the reason for a possible decrease in profitability
Increase in the gap between rental rates for premium-class and lower quality-class objects
Shift of investors' interest towards provincial towns (e.g. Gdansk, Lodz and Poznan)
Yulia Kozhevnikova, Tranio.com
Subscribe not to miss new articles
We will send you a content digest not more than once a week
Subscribe
Done!
Top 5 Articles of the Month