The best countries for retirement: Greece
Spain, Portugal and Malta are usually among the top countries for retirement according to various media rankings. Although Greece is rarely included in such lists, it has a number of unique advantages over its rivals.
Comfortable climate
Life in Greece is comfortable, partly thanks to its geographical location: it occupies the southern tip of the Balkan Peninsula as well as the islands in the Ionian, Mediterranean and Aegean seas. Of almost 10,000 Greek islands only 220, including Crete, the Cyclades, the Dodecanese and the Ionian islands, are inhabited.
The sun shines 300 days a year on average. In winter, the temperature rarely falls below 10 °C, and it averages 26–29 °C in summer .
Over 450 Greek beaches boast a Blue Flag, which is only awarded to environmentally friendly beaches that comply with stringent safety and water quality standards. Only Spain and France have more Blue Flag beaches.
European level healthcare
Historically, Greece is one of the leaders in health indicators in the World Health Organization (WHO) European region. The average life expectancy in Greece is higher than in most European countries: men live to 78 years — 5 years longer than most Europeans — and women live to 83 years, compared to the European average of 80 years (it is 79.4 years for men and 83 years for women in the UK and 76.9 years for men and 81.6 years for women in the US).
According to the latest WHO data, the air in Greece is cleaner than in the majority of countries popular for retirement: the concentration of fine particulate matter (PM 2.5) in Greece is twice lower than in Thailand and Vietnam, almost 1.5 times lower than in Italy and one-quarter lower than in Malta.
Greece has the highest number of medical practitioners per capita in Europe. According to the WHO (2014), the skilled health personnel density is 97 per 10,000 people, which is higher than in Israel, Spain, Malaysia, Vietnam, Thailand and Caribbean countries. Many Greek health professionals work abroad, especially in the UK, Germany, Cyprus, France and Switzerland. According to Ekathimerini, the Athens Medical Association has issued about 10,000 permits for work abroad.
Prior to 2009, Greece's healthcare spending as part of GDP matched the EU average, but it dropped significantly following the economic crisis. Today, analysts are positive about the country's prospects: according to the IMF, the Greek economy will grow by 2.8% by the end of 2017, and the EU expects its GDP to increase by about 2.2% annually between 2017 and 2019. Deloitte highlighted that international investors are becoming interested in the Greek healthcare segment. The country's healthcare spending expenditure grew from 7.94% of GDP in 2014 to 8.38% in 2015, and the Greek Parliament is currently discussing new legislation on primary healthcare.
Delicious, healthy and cheap food
Greek cuisine is popular worldwide for its simple and healthy nature. the country is also known for its fresh and high-quality local produce. According to Eurostat, Greece is one of the European leaders in tomato and fruit cultivation.
Greece is the world's third largest exporter of olive oil, producing 11% of its total global production. About 80% of the oil produced in the country is Extra Virgin, the largest among olive oil producers worldwide.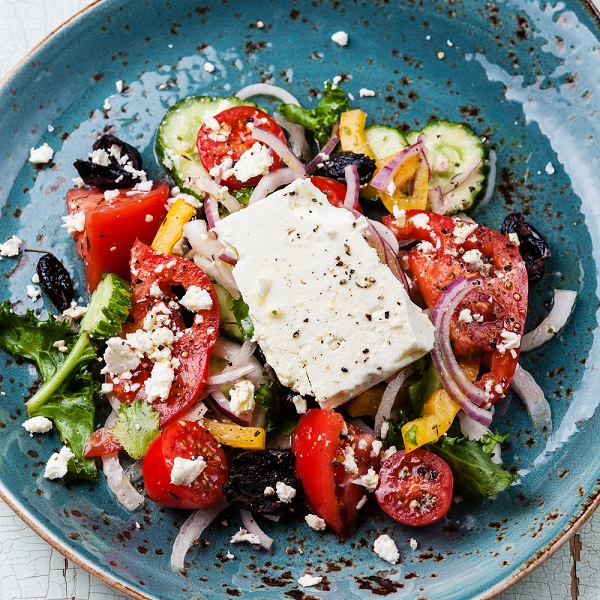 The Mediterranean diet, based on the traditional cuisine of Crete and Southern Italy, is said to prevent cardiac disease and lowers cholesterol levels. Its staples include fruits, vegetables, potatoes, whole grains, rice, beans, nuts, chickpeas, lentils, herbs and olive oil, which is an excellent source of antioxidants and monounsaturated fatty acids that strengthen blood vessel walls, lower cholesterol level and help regulate arterial pressure. Such a diet is rich in nutrients and fibres that are good for health.
According to the WHO, the average amount of fruits and vegetables available per person per year in Greece (386 kg) is among the highest in Europe and exceeds the EU average (231 kg) by over 50%. The death rate from diseases of the digestive system is at an extremely low level and continues to fall by an average of 0.1% per year.
Cheap residential property
Low property prices is one of Greece's strongest advantages when compared to other countries. the Greece real estate market is one of the last European markets where prices have not increased since 2008. Property in Greece is cheaper than most of its rivals. it is about a quarter cheaper than in Vietnam, a third cheaper than in Portugal and almost twice cheaper than Spain, Thailand and Malta.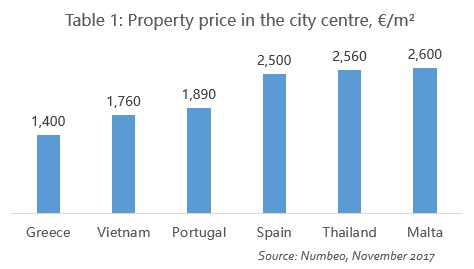 The difference between the property prices in the capitals of countries in Table 1 is even more significant. Athens property costs about 2.5 times less than Lisbon, Portugal and Bangkok, Thailand, thrice less than Madrid, Spain and four times less than Valletta, Malta.
The situation is the same in the rental market: renting a one-bedroom apartment in central Athens is a third cheaper than in Vietnam and Thailand, twice cheaper than in Portugal and Spain, and almost thrice cheaper than in Malta.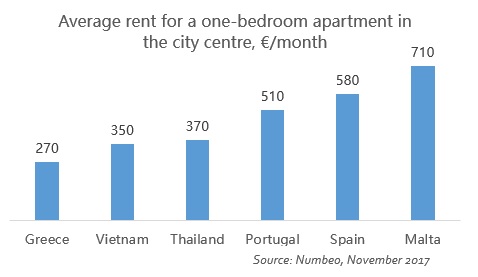 As such, property investors get larger, higher-quality properties for the price in Greece than in most other European or Asian cities.
Additionally, Greece offers property buyers an opportunity to obtain a European residence permit. Under its residence-for-investment programme, investors can get a residence permit when buying one or more properties for at least €250,000. the main applicant's spouse, their parents and children are also eligible for temporary residence. Residence permits can be extended every five years. Between 2013 and late September 2017, 2,014 residence permits were granted under the programme, with 388 going to Russian nationals.
Anna Danishek, Tranio
Subscribe not to miss new articles
We will send you a content digest not more than once a week
Subscribe
Done!
Top 5 Articles of the Month