The best European cities for property investments in 2017
Most property market players concur that with respect to successful investment, location is key. Tranio.com has analysed the 2008-2016 property price dynamics across 26 European cities to determine which markets will be most favorable for property buyers in the coming year.
For investors whose primary goal is to earn capital
For those who wish to make short-term investments, Tranio.com's experts recommend choosing markets that have entered the recovery phase. These are locations where prices have fallen dramatically, but have recently started to rebound and still have considerable growth potential. Such markets favour redevelopment projects, i.e. buying cheap property, remodelling and selling it a couple of years later at a profit thanks to the appreciation and renovation surcharges. Buying property under construction for further speculative resale is another option.
Our study revealed that in 2017 these strategies are expected to bear fruit in eight European cities: Bucharest, Madrid, Barcelona, Sofia, Dublin, Bratislava, Lisbon and Warsaw.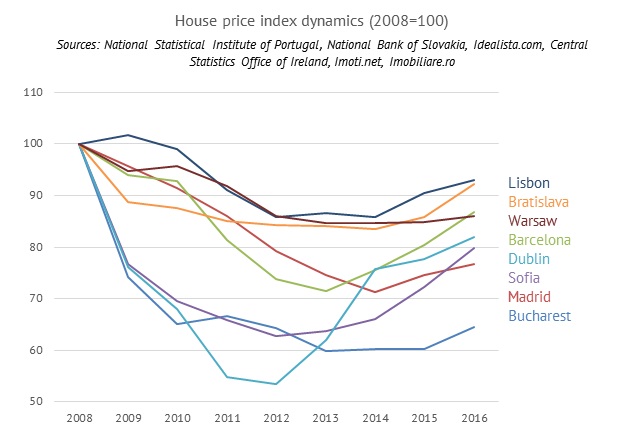 One of Europe's most promising property markets in 2017 is Bucharest. According to Romanian real estate site Imobiliare.ro, residential property prices in the city fell by 35.4% between 2008 and 2016: from €1,771 to €1,144 per sq. m.
In 2015-2016, the market began its recovery. According to a Financial Times analysis, in 2015 residential property sales in Romania reached a post-2007 peak. Imobiliare.ro noted that between September 2015 and September 2016 residential property prices in Bucharest surged by 5%. These positive market dynamics are backed by economic growth: in 2015, the country's GDP increased by 3.7% (one of the best figures across Europe).
That said, Bucharest has not yet proven to be a favorite among international investors.
According to our estimates, Madrid and Barcelona will be the hottest markets in 2017.
As a whole, Spain's economy is growing, and its unemployment rate is shrinking. Meanwhile, mortgage rates are low and demand for property is on the rise. All of these factors indicate that the country's property prices are poised for further growth, and Madrid and Barcelona are expected to outpace the rest of the country in this respect.
According to Idealista.com, a Spanish real estate site, property prices in the country's capital decreased by 23.3% Between 2008 and 2015, when they began to rise again. In Q3 2016, local residential property sold for an average of €2,902 per sq. m.
The prices of property in Barcelona began to sink in 2007, reaching their nadir in 2013. In Q3 2016, a sq. m. in the city costed an average of €3,667 – 13.1% less than in 2008. But Barcelona is on the rise.
For those who prefer property in a lower price bracket, Sofia is an excellent choice. Prices have plummeted by an average of 20.1% in recent years – from €570 per sq. m. in 2008 to €450 in Q3 2016. However, Sofia's market is recovering, and buyers have become more active. Low construction volumes are expected to encourage further price growth.
Prices for residential property in Dublin also decreased significantly in recent years. In 2016, property values were an average of 18% lower than in 2008. However, recovery began in 2013, and prices have risen by about 32% since then. There is still potential for growth. According to global cost of living database Numbeo, flats in central Dublin sell at an average price of €5,000 per sq. m., which is higher than in other recovering markets.
Moreover, the markets of Bratislava and Lisbon, where in 2016 the prices were 7.8% and 7% lower than in 2008 respectively, also have growth potential: both of them began to recover in 2014. According to the statistical offices of Slovakia and Portugal, as of Q3 2016 residential property cost €1,818 per sq. m. in Bratislava and €1,308 in Lisbon.
The Warsaw market is also poised for growth in 2017. According to the National Bank of Poland (Narodowy Bank Polski), property prices in the city fell by 13.9% between 2008 and 2016: from €2,314 to €1,992 per sq. m.
Analysts are divided with respect to Poland's growth prospects. Those from the popular website Trading Economics expect Polish real estate prices to fall slightly in the near future, but they expect prices to subsequently return to the 2016 level by 2020.
Meanwhile, experts from professional services firm EY and real estate firm Knight Frank have displayed considerably more optimism about Polish prices in the coming year, anticipating growth across the country, with pronounced growth in Warsaw. Mortgage rates in the country remain low, while the population and demand for property are on the rise.
During the global financial crisis, prices also fell across the Baltics. For instance, according to the Ober-Haus real estate agency, between 2008 and 2009 property prices plunged by 30% in both Vilnius and Tallinn, and by 42% in Riga. These markets began to bounce back as early as 2010, and as of Q3 2016, residential property prices in Tallinn had surged by upwards of 40% as compared with 2008. In the near future, prices are expected to decline in the Lithuanian market, according to a forecast by Trading Economics.
For investors whose primary goal is to maintain capital
Those who wish to play it safe and who prefer reliable long-term investments would do well to consider putting their capital into rental properties in stable markets. Tranio.com's survey revealed that in many European cities, residential property prices weathered the storm of the global financial crisis admirably. What's more, according to Trading Economics forecasts, residential property prices in these markets are expected to continue to grow until at least 2020.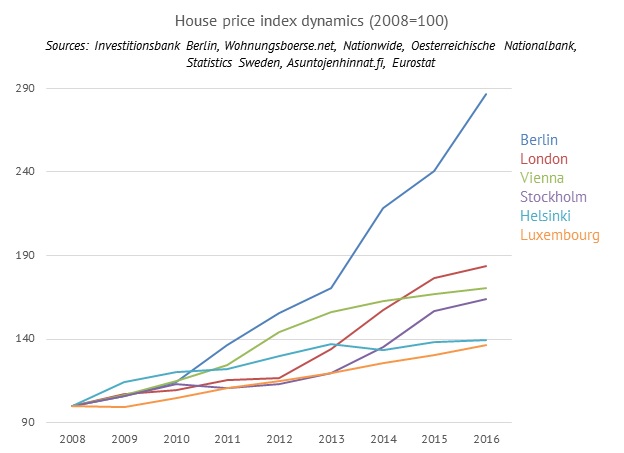 In Berlin, Vienna and London, residential property prices have increased continuously.
Berlin experienced the most dramatic growth, with prices of property in Germany's capital continuing to soar in the years following the crisis. Overall, prices have nearly tripled since 2008, increasing from about €1,610 per sq. m. to €4,613 per sq. m., according to German real estate site Wohnungsboerse.net and the results of a survey by Investitionsbank Berlin.
The recent property boom in Berlin is attributable to a number of factors: including the growing population, shrinking unemployment rates, mortgage rates having sunk to an all-time low (1% p.a.) and the construction volume failing to satisfy growing demand. The well-developed rental property market has also been attracting investors to the city. Some 80% of Berliners rent flats. According to many experts, in the nearest future demand in Berlin, especially in its newly-built property market, will still exceed the supply and the prices will keep growing.
Prices in London grew by 84% between 2008 and 2016. According to the Nationwide Building Society, residential property prices in the UK capital grew from an average of €300,000 in 2008 to €560,000 in Q3 2016. According to Numbeo, a sq. m. in central London costs an average of €18,000.
As of late 2016, flats for sale on central London's newly-built property market were available at prices that were 15-25% lower than they had been prior to the Brexit referendum in June. In 2016, a downward trend was observed in London's existing prime property market segment, but on a whole, the city's real estate has been gaining in price: according to Knight Frank and Nationwide, in Q2 2016, the prices increased by 5-7% year on year.
In 2017, London's market is expected to stagnate, with dynamics of between -1% and +1% anticipated, but price growth is broadly expected to resume in 2018. The potential for growth is especially high along the commuter belt near Crossrail high-speed railway stations.
Between 2008 and 2016, Vienna residential real estate prices increased by 20.7%, according to the National Bank of Austria's (Oesterreichische Nationalbank) residential property price index. Property prices in the city range between €4,000 and €11,000 per sq. m., according to Austrian real estate site Immopreise.at.
Vienna's market is similar to that of Berlin: 80% of the city residents rent flats, and international investors actively buy local rental properties. Austrian mortgage rates are broadly expected to remain low (2-3% p.a) in 2017, and demand will likely continue to exceed supply. Therefore, property prices in Vienna can be expected to continue growing.
Stockholm, Helsinki and Luxembourg also experienced double-digit price growth, but each of them suffered periodic declines as well.
For example, residential property prices in Stockholm have increased by an average of 63.7% since 2008. Prices have generally been continuously on the rise in the Swedish capital, with the exception of 2011 when residential property prices fell by an average of 1.3% as compared to 2010. As of late 2016, flats in central Stockholm were selling for an average of €9,500 per sq. m., according to Swedish real estate statistics firm Svensk Mäklarstatistik.
Price surges of more than 30% have been observed in Helsinki and Luxembourg.
A slight decline in the capital of Finland was only observed in 2014. At present, property in the city costs an average of €4,514 sq. m., according to Finnish real estate site Asuntojenhinnat.fi.
In Luxembourg, prices only fell in 2009, and as of late 2016, had picked up by an average of 36% since 2008.
Residential property price dynamics in the largest European cities
Sources: Trading Economics, national financial organisations and statistical offices, online real estate platforms
| | | |
| --- | --- | --- |
| Berlin | 186.5 | ↑ |
| London | 84.0 | ↑ |
| Vienna | 70.7 | ↑ |
| Stockholm | 63.7 | ↑ |
| Copenhagen | 62.8 | ↑ |
| Helsinki | 39.5 | ↑ |
| Tallinn | 39.2 | ↑ |
| Luxembourg | 36.2 | ↑ |
| Paris | 27.9 | ↑ |
| Budapest | 25.0 | ↑ |
| Brussels | 24.5 | ↑ |
| Prague | 16.6 | ↑ |
| Amsterdam | 11.9 | ↑ |
| Ljubljana | 4.1 | ↔ |
| Lisbon | −7.0 | ↑ |
| Bratislava | −7.8 | ↑ |
| Barcelona | −13.1 | ↑ |
| Warsaw | −13.9 | ↔ |
| Dublin | −18.0 | ↑ |
| Vilnius | −18.2 | ↑ |
| Sofia | −20.1 | ↑ |
| Madrid | −23.3 | ↑ |
| Riga | −24.3 | ↑ |
| Zagreb | −24.7 | ↔ |
| Bucharest | −35.4 | ↑ |
| Athens | −43.8 | ↑ |
In 2017 we encourage investors to diversify their investments and distribute their capital between different markets.

If a client came to Tranio.com today and asked how they should invest, I would suggest that they put the majority (70%) of their investment capital into low-risk projects that are known to yield 4-5% per annum. Microapartments (20-30 sq. m. flats) in big German cities are perfect for this type of investment. Due to their minuscule size, microapartments are relatively inexpensive for tenants, while also ushering in relative high rental revenue per square metre for owners.

I'd encourage the investor to put the rest of their investment capital (30%) into a Spanish redevelopment. Such projects typically yield 12-15% per annum. Right now the Barcelona property market is ripe with opportunities. Residential property prices in the city are still a far cry from reaching their peak, there is a shortage of newly-built real estate in the city, loan rates have dropped to the minimum level and prices are broadly expected to soar in years to come.
Yulia Kozhevnikova, Tranio.com
Originally published on triplepundit.com
Subscribe not to miss new articles
We will send you a content digest not more than once a week
Subscribe
Done!