The Golden Visa Club: profile of the world's most affluent buyers
Immigration investment programmes attract more and more wealthy people each year. This new class is mainly from BRICS countries that are struggling to maintain vibrant growth of previous decades. With Golden Visa programmes gaining in popularity, experts investigate what nations are feeding this asset-rich flow and which countries are capitalising on their wealth.
Takeaways: — biggest investors from China — most attractive programmes in USA and UK — main schemes: business & employment creation or asset investment — financial and cultural motivations determine destination of choice
Preferential immigration for investors
More than fifty countries grant investment-based residence permits. While the "golden visa" comes in many legal shapes and forms, the general idea is straightforward: a residence permit in exchange for an investment into the country's economy. The most popular programmes are found the USA, UK, Latvia, Hungary, Cyprus, Portugal, Spain, Malta, Greece and Ireland.
Investment vehicles generally include one or more of the following options: property, state bonds, direct bank, equity or special purpose funds investments. Some programmes, like in the USA and the UK, target business creation and employment.
Over the last three years, fifteen new programmes were launched. An estimated 20,000 investment-based residence permits have been granted so far, however no precise data is available as not all governments are willing to disclose information on their elite clientele.
Nationality and destination of funds
The increased demand for the investment-based residence permits can be attributed to the wealth accumulated in emerging economies which is now threatened by sluggish growth and internal political struggles. These programmes cater to the world's new High-Net-Worth-Individuals, defined by a personal fortune of $1 million in assets and more.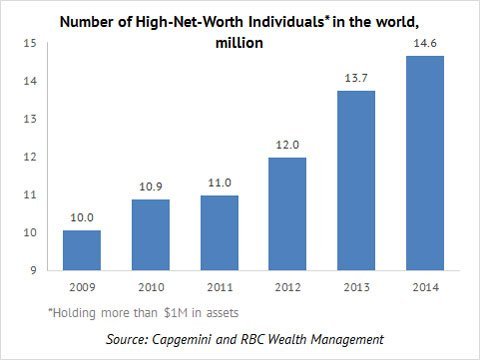 Chinese nationals are the most active segment of applicants. They compose 85% of applicants in the U.S. where they received 9,128 EB-5 Visas in 2014. They also form an overwhelming majority in Canada, Portugal and Hungary.
Russian, Brazilian, Iranian nationals as well as citizens of the Gulf states are also fond of these preferential programmes.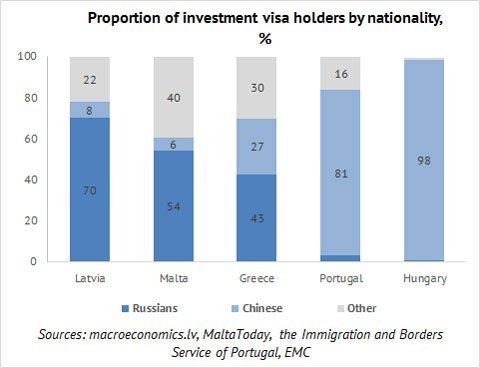 Interestingly, the choice of destination is often correlated to cultural attributes of the investor's nationality. According to Juwai.com, foreign property broker for wealthy Chinese, the main motivations of the latter for buying abroad are education, investment and residence. The United States, and New York in particular, are extremely popular thanks to its proximity to world-class educational facilities and a booming commercial property market.
In contrast, Russian investors often prioritize cultural proximity and/or leisure. The programme in Latvia has given 70% of their residence permits to Russians while the Portuguese Golden Visa programme – less popular – only has 3%. This can be explained by the low entry threshold in Latvia to get a residence permit, shared history and language (Latvians can speak Russian) and the proximity to their homeland. Nevertheless, Portugal recently dropped its minimum investment threshold from €500,000 to €350,000 and Latvia has been strengthening its requirements so this trend may change over coming years.
Leading programmes in the US and UK
The U.S. remains the undisputed leader in investor visas, the number of which is limited by quota: 10,000 EB-5 Visas per year in exchange for investments that set up businesses and generate employment.
Europe is the second most popular destination, with the UK attracting the majority of investors. Their Tier 1 (investor) visa demands a direct investment of £2M into government bonds, share or loan capital in active trading UK registered companies. However, 66% of applicants choose the Tier 1 (Entrepreneur) visa which offers a residence permit in exchange for investing £200,000 into a business. In both cases, the holder isn't obliged to live in the UK permanently and taxes are only paid on income in the UK, adding to the popularity of the programme.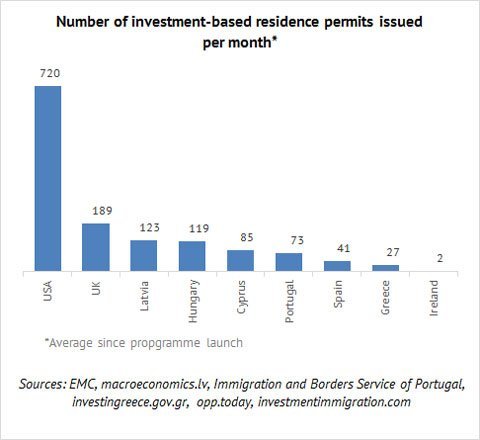 But these programmes also work to the benefit of the host country. Top destinations like the UK and USA are major international business hubs whose economies have recovered somewhat from the crisis: business creation and employment will cement this growth. On the other hand, smaller destinations within the EU benefit from this exchange, using their EU and/or Schengen membership to attract direct investments into government coffers.
Property is the most popular investment vehicle
Property is the most popular asset, even if it's off the menu in the UK. In Spain and Portugal over 90% of residence permits are issued to property buyers and 84% in Latvia. In contrast, bank deposits and government securities make up just 11% in Latvia and 8% in Portugal.
Countries whose real estate markets didn't suffer greatly during the crisis are more interested in receiving investments in their state funds or securities. In Hungary, for instance, owning property is not enough for a residence permit — there is a minimum investment of €300,000 in state bonds too.
Applicants choose to set up a business either in the programmes with no alternatives like in the USA or where the alternatives are very expensive like the UK.
Money matters
The main criterion for investors, no matter the nation, is cost. For example, in France where the minimum investment is €10 million, only fourteen residence permits were issued over the four years of the programme. Ireland approves two applications on average per month with a minimum threshold of €1 million in comparison to Hungary and Latvia who accept over 120 applications per month.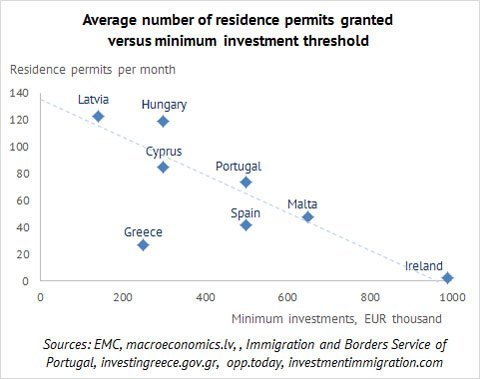 In Portugal the average value of Golden Visa property over recent years was €580,000, which is €80,000 higher than the minimum investment required. In Latvia, 75% of all the properties bought within the programme cost not more than €200,000 despite a minimum investment requirement of €142,000.
At the same time, investors are attentive to the economic climate, which may explain why Greece issues a very low amount of permits despite its low threshold (€250,000 minimum).
Driving up real estate prices
These preferential programmes have left their mark on estate markets. In Latvia, the initiative was an overnight success: buyers quickly snapped up much of the property in the price segment of the threshold (€142,000). In response, market prices rose and property priced at €100,000 before the scheme entered minimum investment segment. When Latvia raised the minimum investment requirement to €250,000 in September 2014, demand from its leading Russian investors nosedived, suffering from the double effect of a weak ruble.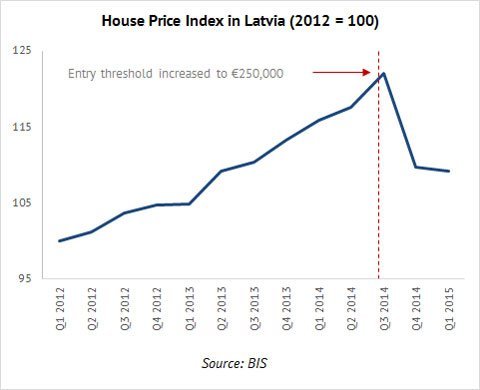 The influx of wealthy migrants also affects the property markets of major countries. For instance, Canada has been already issuing investor visas from 1986 to 2014. 80% of the new residents, mainly Chinese nationals, preferred to settle down in Vancouver. At the same time, local property prices have been rising steeply and made the price-to-income ratio double from 5.3 to 10.5 in the last decade, leading some experts to believe these events are related. In New York, the recent inflow of Chinese capital has pushed up the prices of prime commercial property, spurring rumours of a possible bubble to come.
Outlook
In the context of globalisation, wealthy emigrants from emerging nations are playing an increasingly active part in the business in the Euro-Atlantic region. Increasing political instability worldwide, the evolution China's economic and political situation, how the EU border policy evolves and future developments on the Russian front as well as in the Middle Eastern will determine how these policies evolve. As it stands in this year's close, the most famous investor nationalities are heading down to separate paths: Russian foreign investments are dwindling while affluent Chinese are still moving their assets abroad, particularly to the USA and UK.
Ivan Chepizhko,
Subscribe not to miss new articles
We will send you a content digest not more than once a week
Subscribe
Done!
Top 5 Articles of the Month