Tranio.com partners with Baku Property Show 2018
In early April the fourth private exhibition of foreign real estate will be held in Baku at the Hilton Baku Hotel. The success of the exhibitions of 2017 leaves no doubt that this exhibition will be as productive as in the previous years.
The key development factor of the foreign real estate market of Azerbaijan is the demand of Baku residents for property abroad, that increased over the past few years. As at all Global Promotion Group exhibitions, the first day of the exhibition - April 6 - will be aimed at the leading real estate agents in Baku, a round table with which will allow exhibitors to evaluate their strategy of entering this market.
On the second day - April 7 - the exhibition will be visited by potential buyers and investors. On the first and second day exhibitors will have the opportunity to present their projects as part of the business program of the exhibition.
To participate in the exhibition, register for a visit on the first or second day, leave an application on the exhibition's website or contact the organisers at: T +994 (516) 725 344, or e-mail: info@bakupropertyexpo.com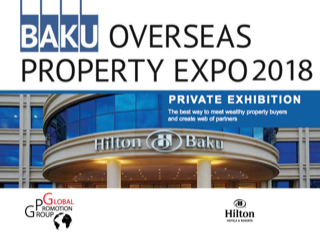 Subscribe not to miss new articles
We will send you a content digest not more than once a week
Subscribe
Done!
Top 5 Articles of the Month