Tranio.com partners with Moscow Property Show 2018
The third private foreign property exhibition - Moscow Overseas Property Show 2018 - will be held on March 30-31 in Lotte Hotel. There will be up to 15 participants that will present real estate abroad and overseas investment opportunities.
The exhibition will be held over two days: on March 30 the exhibition will be open only for local professionals of the foreign real estate market. Participants and visitors of the exhibition will gather at a round table and discuss the prospects of the Moscow market of foreign property, interesting directions, as well as the peculiarities of work at the Moscow market.
On the second day, the exhibition will be open to potential buyers and investors. In addition to communicating with buyers and investors at the stands, visitors will also be able to listen to the presentations of the participants.
To participate in the exhibition, register for a visit on the first or second day, leave an application on the exhibition's website or contact the organizers at +7 (495) 991 4717, info@overseasproperty.show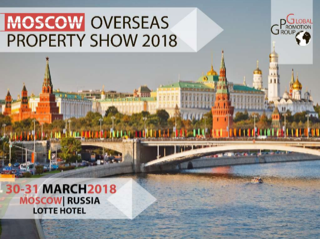 Subscribe not to miss new articles
We will send you a content digest not more than once a week
Subscribe
Done!
Top 5 Articles of the Month