«A company on which the sun never sets»: an interview with Oleg Dzenzerya, Tranio.com Partner Relations Manager
Oleg is the point man for partner relations at Tranio.com. He finds agencies and developers from all over the world and makes sure that both the quantity and the quality of their work increases. In an interview, Oleg told us how to get foreign companies to follow high standards, as well as what Tranio.com's greatest value is in the eyes of its partners.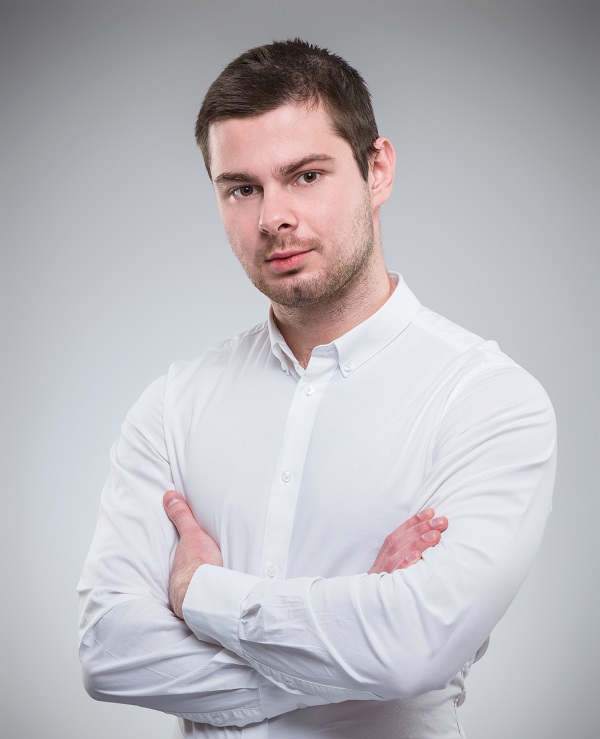 Standards above all
— Oleg, tell us, what did you do before Tranio.com and how did you become interested in foreign real estate work?
— Before coming to Tranio.com, I worked for a large it company as an engineer for two years. Having an energy management education, I helped programmers develop software for an energy company. It was a valuable experience in teamwork among high-quality professionals, but after a while I understood that the energy industry is not my cup of tea and decided to pause and think of what I would like to do next.
After seeing so many others hop on the startup bandwagon, I got the bright idea to join a small-scale enterprise: I wanted to be involved in the development of such a business. I found several companies that seemed interesting to me and sent them my CV. One of them was Tranio.com, an international real estate brokerage.
— How could a foreign real estate enterprise benefit from your previous experience?
While working for the IT company, I was trying my hand at inventing: registering patents, contacting foreign companies and collaborating with them. the experience of contacting foreign companies turned into an advantage when applying for a job at Tranio.com — I had to accomplish similar tasks as a Partnership Programme Manager.
— How many partners did Tranio.com have at that time and how many of them does it have now?
— About 500, and today, two years later, there are as many as 700. But the number of active partners — those adding properties regularly to the catalogue, keeping in contact with us and the clients, closing transactions — is more important to us. My main goal is to keep as many partners active as possible.
— How do you manage to find time for all the companies on your own?
— Interacting with such a large number of business partners certainly requires significant concentration. Currently, there are three of us in the department, and I can delegate some tasks. But before that, we had to optimise our interaction with partners in some way and make it more convenient for everyone. With this in mind, my colleagues and I developed working standards.
In this document, we provide a detailed explanation of how our partners should behave for the managers to connect them to an application, how they ought to interact with the clients remotely and, when they come, how they should conduct a viewing tour. The standards also regulate written correspondence, calls and online consultations. In other words, we now have a buyer-relations manual.
— What did you draw on in preparing this buyer-relations manual?
— We relied on the experience of our most effective partners and traced what they did at every stage to close a transaction. Our recommendations are almost always backed by figures: for instance, we calculated that even one Skype conference with a client increases the chance of closing a transaction by a factor of 3.5. It's all about trust: when a client arrives for a viewing tour and speaks to three experts, he or she is more likely to listen to one who is familiar to him or her.
— Tranio.com partners are experienced and successful companies. How much attention do they pay to your recommendations?
— I understand the reaction of some of our partners who say: "I've been in this market for twenty years, so what can you teach me?" Even still, we ask them to have a look at the standards, and we explain how exactly it helps with closing transactions. Often, after reading the recommendations, the partners realise that the recommendations largely correspond with their work approach and trust our advice more in the future.
We can also refer to the standards when a partner has a low conversion rate.
Looking for partners
— You can never have too many good partners. How do you know what kind of a partner you need at a particular moment?
— Firstly, we get regular feedback from the Sales Team. Sometimes, a manager tells me: "Let's find an agency in Marbella – I don't have any to submit an application to". Secondly, we assess the behaviour of our website's visitors, look at what they are interested in and see what catalogue pages are most popular. For instance, we recently noticed that the visitors are taking greater interest in Finland and Norway, so my colleague, Alla Apokina, and I began searching for partners in these two countries.
— How exactly do you reach out to new partners?
— I have a general sense of what partners would be interesting to work with in a particular country: these are large and well-known agencies and developers that have high-quality and even exclusive property. It is important to us that a company target foreign buyers and offer properties from the owners. More specifically, when first encountering a potential partner, I find out what experience their staff have, what types of property they specialise in and where their offices are located. The criteria by which we choose our partners are publicly available on Tranio.com.
— Are foreign companies easy to get in touch with?
— The level of ease depends on whether it's a buyer's or seller's market. Spain, for instance, has a buyer's market now: there are a lot of property offers, but the number of buyers is small. In other words, we promise to bring the agencies clients and they say: "that's exactly what we need". In contrast, the German market belongs to sellers. We've recently offered our services to a company in Frankfurt am Main, but the managers have replied that they do not need help, as they have a queue of 400 buyers and there are not enough properties for everyone.

— What can be done in such a situation?
— In this case, my goal is to explain the main advantage of Tranio.com to the company managers. We do part of the job for the agency: our sales team tells the clients about the properties, the purchasing procedure and tax obligations, and they familiarise the clients with the characteristics of a particular market. As a result, the partner gets a loyal, ready-to-buy customer.
— Is there anything special about working with commercial real estate companies?
— We have a special person dealing with commercial property — Elena Milishenkova. This market is different from that of residential property: the stock is much smaller, and many of the properties do not sell openly, meaning we can't list them in our catalogue. So, we work with our commercial property partners in a slightly different way. Elena's main goal is to find out the company's main area of expertise and the kind of property it offers and accordingly decide what type of clients she can connect with that company.
Quality over quantity
—Tranio.com has staff who control the sales team's customer support quality. How do you monitor the partners' performance?
— The process is usually based on the feedback we get from our clients when Tranio.com managers contact the buyers and ask them directly if they like the partner and the properties being offered.
After a Skype conference, the managers also leave comments in the system assessing the partner's behaviour, specifying whether it has followed the standards and whether the selected property matches the client's needs. We recently started sending such reviews out to our foreign colleagues.
— Why did you decide to assess the partners' behaviour openly?
— We want to be more open and transparent, as well as have feedback with our partners. Finally – just to compliment our colleagues – 90% of the comments are positive. That is how we motivate our partners to adhere to the standards.
— Does it work?
— The main indicator of our partners listening to us is an increase in the conversion rate, which has grown by 30% since early 2016.
— How can it be boosted?
— When a company seems interesting to us, we give it several clients and observe how it performs. If, after a while, we see insignificant results, we stop engaging the partner in customer service. The companies that are successful in closing transactions begin receiving applications from us. The ineffective partners drop out quickly, while the best remain with us. The conversion rate is growing as a direct result of this sifting process.
Extensive plans
— Tell us how your department plans to develop in the future.
We devised a new development strategy for our department in late 2016. Our partners' efficiency and effectiveness will be our main foci for the near future. We also plan on covering as many locations as possible so that none of our clients miss interesting offers.
— Does the Partner Relations Department have a top priority?
— It certainly does. Our priority is cooperation with major world market players to create the best possible property catalogue.

— What part of your job is most interesting?
— I enjoy tackling various and interesting tasks, one of which is the introduction of cool, new services, on our agenda. We have great potential for development; for example, now we are working on the automatic report we will send our partners monthly. In this report, our partners will see how many properties they have listed in the catalogue, as well as how many applications and viewings each property has; they will have access to our recommendations and much more. This tool is immensely useful, so I think it will make our partner relations even more effective.
Actually, one feature of my work at Tranio.com which I particularly like is that work never simply stops; rather, it's a fluid and continuous process. Sometimes I come to work and make a Skype call to a partner in Thailand whose workday is drawing to an end and who's watching the sun set. A little later, I call a colleague based in Miami, where it's the beginning of the work day in the Eastern Standard Time zone, and on Skype I can see the very same sun rising outside his office window. Such moments remind me of what people called the British Empire in the 19th century, and there's a unique satisfaction that comes from working for a company "on which the sun never sets".
Anna Bugayeva, Tranio.com
Subscribe not to miss new articles
We will send you a content digest not more than once a week
Subscribe
Top 5 Articles of the Month