A one-stop shop: how Tranio's team helped buy an apartment, register a company, obtain a residence permit and open a bank account in Dubai

Kirill approached Tranio with a request to find investment property in Dubai. He had already been living in two cities — Moscow and Dubai — for the past few years. This spring, our client made the final decision to settle in the UAE, buy an apartment there and relocate his business to the Emirates.
Our cooperation was not limited to the selection of real estate. Kirill was satisfied with the speed and quality of Tranio's consultants' work and so after closing the deal on the apartment he decided to register his company and open a bank account in Dubai with our help as well.
Invest only where you want to live yourself
Kirill chose an apartment in Dubai for investment. He was looking for a new development in a good location and with a relatively low price, so that it could be resold later upon the project's completion with a benefit from the difference in cost.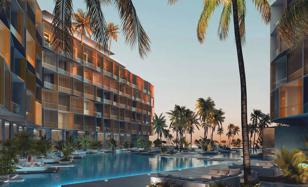 $477,000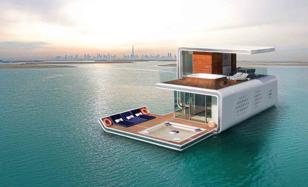 $5,538,000

$8,174,000
Kirill was quite thorough in his search for apartments. Even though at that moment in time he had no plans to live in the apartment himself, he did not rule out such a possibility completely. The investor wanted to be sure that he was purchasing a high-quality property, where he could live himself if he so wished. He understood that this approach would make it much easier to resale the property or find tenants for it.
Our client was already well acquainted with Dubai's real estate market, so he quickly formulated his selection criteria. It had to be:
a currently developing area;
a verified developer;
a studio or one-bedroom apartment, as these medium-sized layouts have the highest liquidity;
an apartment with beautiful views from its windows, preferably — overlooking Downtown's skyscrapers;
a project with high-quality finish of the apartment and of the residential complex itself.
The investor did not rule out the option of renting out the apartment for some time after the building would be commissioned. Therefore, Kirill was looking for a new building near Dubai's centre, from where one could easily get to the offices in Downtown or Business Bay. Housing in such locations is always in demand among foreigners who move to Dubai for work and are interested in long-term rentals.
We offered Kirill a project in MBR City. This is a young district that is currently being actively developed. It takes 15 minutes by car to reach the business centre of Dubai and that is considered an advantageous location for a city with an area of more than 100 square kilometres. Large areas in MBR City are reserved for parks and green spaces with tracks for jogging and bicycle riding, tennis courts and playgrounds for various sports. The area also has numerous shopping malls, bars and restaurants.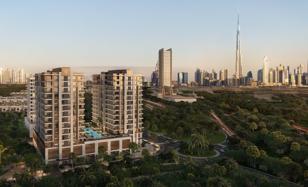 From $389,000

From $655,000

From $594,000
MBR City is a promising area for buying real estate, as there are still many properties under construction. Upon completion of the area's development, average housing prices should rise significantly.
According to CBRE, in the past month alone rental prices in Meydan — a sub-district of MBR City, where Kirill's apartment is located — have increased by 4.9%.
Kirill has chosen a project in a European-style clubhouse. Such projects have rich infrastructure and many common areas where residents can relax and work. For example, Kirill's complex has several swimming pools, a gym with premium fitness club equipment, a lobby with board games, a co-working and reception areas.
Apartments in clubhouses have higher liquidity than the ones in ordinary buildings as home buyers usually prefer projects, suitable for stylish and comfortable lifestyles. In our experience, clubhouses in Dubai are also very popular among tenants: families often choose them over standard residential complexes, even if the latter are located closer to the city centre.

It was important for Kirill to learn more about the developer from whom he was buying real estate, as well as to evaluate the already commissioned projects of that developer. We introduced Kirill to the developer's representatives and organised trips to the construction site, showroom and the developer's office. After that, our client made the final purchase decision.
Since Kirill was buying a property at the construction stage, and since Tranio had a partnership with the developer, we were able to agree on an individual discount of 2%.
As a result, Kirill bought two apartments at once instead of just one. Each of the apartments cost 3.5 million dirhams (approx. 953,000 US dollars).
A quest for transferring money from a Russian bank
The payment was made by a bank transfer from the client's Russian bank account. This year, such operations may prove difficult, so we have helped Kirill in that regard, taking over all communication with the Russian bank.
A transaction for the purchase of real estate in Dubai through a Russian bank can only be carried out if the owner of the developer company in Dubai is a citizen of a friendly country.

To confirm the transaction, it is necessary to submit the following documents: the developer's licence, information about the project, booking confirmation and invoice. Everything needs to be translated from English into Russian and certified. We prepared all these documents for our client and negotiated with the bank's currency control.
Kirill received an Oqood certificate after transferring the money to the developer's account. This certificate secures the investor's rights to a property under construction in the UAE. Oqood serves as the main document confirming the rights of the buyer until the residential complex is completed. When the project is commissioned, Kirill will receive the title deed — a document confirming his ownership.
After successfully purchasing apartments in Dubai and receiving documents for the properties with our help, Kirill immediately asked about other services Tranio could offer to help with the relocation to Dubai. It was easier for him to work with one proven team that could help both with personal investments and with launching business projects in Dubai.
Tranio provides services in Dubai on a one-stop shop basis. We accompany our clients on every step of the way from choosing a property to processing documents and obtaining a residence permit. We can also help with starting a company or opening bank accounts, as well as provide consultations on a multitude of topics, which include taxation, running a business, generating rental income and other investment opportunities in the UAE.
Business relocation to Dubai and opening a mainland company
Like many Russian entrepreneurs, Kirill decided to move his company to Dubai because of the comfortable tax regime and easy way of doing business. Registration of a company in the UAE makes it possible for a business to reach international level in addition to working on the domestic market of the country.
In Moscow, Kirill had been running a business in the Food & Beverage segment for several years and planned to enter foreign markets. When it comes to choosing a country for international business, Dubai benefits from its geographical position: in just 7–9 hours you can fly from Dubai to Europe or to Singapore and Hong Kong — the two largest markets in Asia. Kirill thinks about opening a company in Dubai as a step towards bringing his product to the markets of Europe and North America.

Entrepreneurs in Dubai have two main options: they can either register a legal entity in one of the free zones or open a mainland company.
Taking into account the business objectives of our client, Tranio's consultants recommended Kirill to register a mainland company. This type of licence will allow him to work with any partners: mainland companies from the UAE, residents of all free zones and foreign companies.
If the legal entity is registered in a free zone in the UAE, then it can only conduct foreign economic activity and work with residents of the same free zone.
It is also easier for mainland companies' owners to open accounts in local banks. Dubai banks trust mainland companies more, as it is easier to check their economic activity to make sure the application for banking services is submitted by an existing business rather than a shell company.
At the same time, opening a mainland company is more difficult and expensive than registering a legal entity in a free zone. The UAE government allowed foreigners 100% ownership of mainland companies in Dubai relatively recently, in 2021.
A mainland company in the UAE must prove its business substance. In other words, it must have a real economic presence in the country. This requires a legal address and an office, as well as regular submissions of the auditor's reports. Therefore, opening a mainland company in the UAE will be easier for experienced entrepreneurs who already have legal entities in foreign countries.
If the main goal of a foreigner is to obtain a resident visa, it will probably be better to register a free zone entity. The procedure for registering a legal entity in the free zone of the UAE is simple and fast, and the office rental is optional.
The comparison between mainland companies and free zone entities
| | Mainland company | Free zone entity |
| --- | --- | --- |
| Field of activity | Throughout the UAE and around the world | Only in the free zone where the entity is registered and abroad |
| Office availability | Obligatory | Optional in some free zones |
| Auditor's reports | Obligatory | Optional in some free zones |
| Bank account | Easy to open | High bounce rate |
Tranio's consultants helped Kirill prepare the documents and apply for a business licence. Then, as it is necessary to rent an office space with an area of no less than 20 square metres in order to register a mainland company in the UAE, we also helped Kirill with signing a suitable lease agreement for his office. To date, there are no corporate taxes in the UAE, but entrepreneurs still deduct money to the state. This is done through business licensing: each year, entrepreneurs must renew their licence for a fee. The Emirates also apply a VAT rate of 5%.
In 2023, the UAE authorities plan to introduce a corporate income tax for the first time in the country's history. Those companies that earn more than 102,000 US dollars per year will have to pay tax at a rate of 9%.
As the founder of the company, Kirill applied for a resident visa in Dubai. At its core, this type of resident visa is a residence permit, which is valid for the entire period of a company's activity. It needs to be renewed every 3 years; usually it is a fairly quick and simple procedure.
Opening bank accounts for legal entities
Having received a business licence and a resident visa, Kirill was almost done with preparations for business relocation. Yet another important task still remained on his agenda: opening a company's account in a local bank. Tranio's team took over that task as well.
When it comes to opening bank accounts, Dubai banks are more loyal to the companies with mainland licences rather than the free zone entities. The most important thing for a bank is to make sure that the business is profitable and earns money in an honest way. The clearer the type of company's activity and source of income is for the bank, the easier it is to open an account for a business in the UAE.
The bank makes a decision on each individual application based on criteria such as the type of business licence and the nationality of the company's founder. For citizens of Russia, it helps if the company's founder has another residency other than Russian as well as legal entities in other jurisdictions.
Kirill was pleased to work with Tranio and recommended our team to his friend, who was looking for the same service — to buy investment property, register a company and open a bank account in Dubai with the comprehensive help of one familiar and proven team of professionals with vast business experience in the UAE.
Subscribe not to miss new articles
We will send you a content digest not more than once a week
Subscribe
Top 5 Articles of the Month