Crowdfunding in real estate: the 12 largest platforms in Europe and the United States
It is hard to believe how enduring the idea of crowdfunding actually is: in 1997, fans of British rock band Marillion raised $60,000 via an online platform for a full US tour.
Crowdfunding has since evolved to become a platform for alternative finance or investments. The market for collective property investments is organised relatively simply: online platforms bring investors together to realise rental, renovation or construction projects and collectively purchase shares or provide loans in exchange for an interest on the profits.
Why has this investment strategy been growing in popularity? Unlike other vehicles, crowdfunding platforms are open to investors with modest budgets. They do not require investors to manage property. They also have a higher than average yield compared to a number of other investment vehicles, including securities, fixed deposits and commodities. The Internet makes the access to collective investments as simple as possible. According to Preqin, the volume of capital attracted to global closed-end real estate funds has been increasing by an average of 11% per annum over the past three years.
United Kingdom
Property crowdfunding platforms in the UK are characterised by:
Relatively high fees
Focus on rentals
Low investment threshold
Property Moose (Liverpool)

Property Moose explains the advantages of crowdfunding as simply, "Invest online. Anytime, anywhere". The platform focuses on UK nationals, but is open to international participants (except for US citizens). The platform caters to investors with budgets of all sizes, from £10 to several hundred thousand pounds. There are over 26,000 users on Property Moose.
Typically, properties that investors put their capital into is owned by a company created specifically for the project (SPV). The investor, together with other SPV participants, takes part in making key decisions, such as tenant accommodation and eviction. in exchange for their contributions, investors get a share in the SPV that they can sell anytime on the platform. Most projects last 12 to 18 months.
The participant is liable to fees at each investment stage: 5% of the contribution made when buying an SPV share covers fundraising, due diligence and transaction structuring expenses. The property management company takes a 10.5% cut of the monthly rental. Investors pay a 15% fee on the income obtained from the sale of the property and a fee equal to 15% of their SPV share when reselling the latter. In projects where the investor does not buy a company share but provides the company with a loan they are exempted from the platform fees.
Property Partner (London)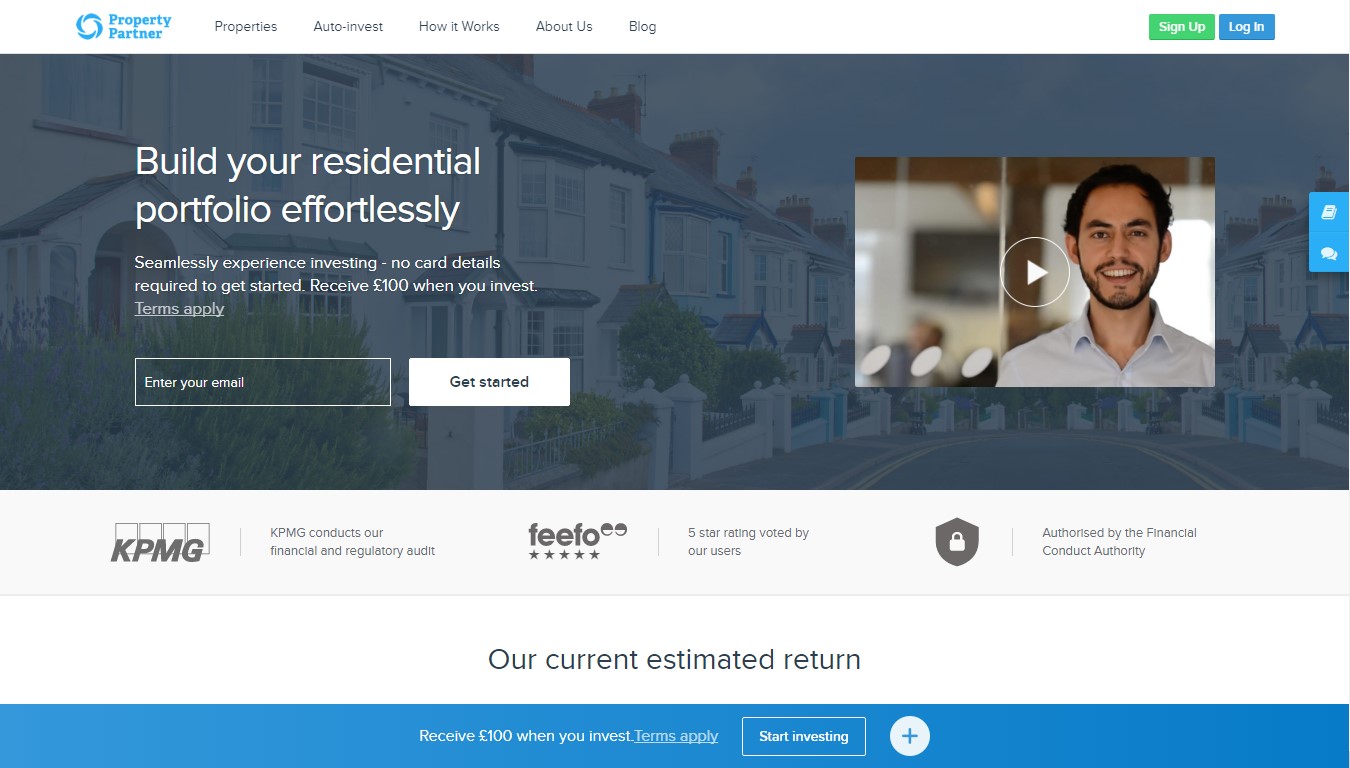 When Property Partner was launched in October 2015, the crowdfunding platform raised a record £843,000 in 10 minutes. Property Partner's projects are open to citizens of all countries except the US. The website currently has over 10,000 users.
Property Partner focuses on investing in student residences: studios or apartments with shared kitchens, dining areas and living rooms. Investor relations follow the same scheme: buying an SPV share (the purchase commission fee amounts to 2.5%, including stamp duty) brings a rental return on investment of 3.4% per month. Property Partner, who rents the property out, takes a 10.5% cut management fees. Taking capital growth into account, the project's yield increases to 4.3%.
An important feature of this platform is the absence of the SPV share purchase fee. According to the platform's founders, purchases take 4.7 days on average. Another project exit option also exists: the platform buys out shares at a price established by an independent appraiser.
Property Partner also allows investors to make contributions to projects not yet owned by the platform. in this case, money is withdrawn from the investor's account on the website but not the actual account until the entire project amount is raised. In such projects the investor receives a monthly return of 5% for two years.
Investors are protected by the Financial Services Compensation Scheme (FSCS), while the operation of the platform is regulated by the Financial Conduct Authority (FCA).
The House Crowd (Altrincham)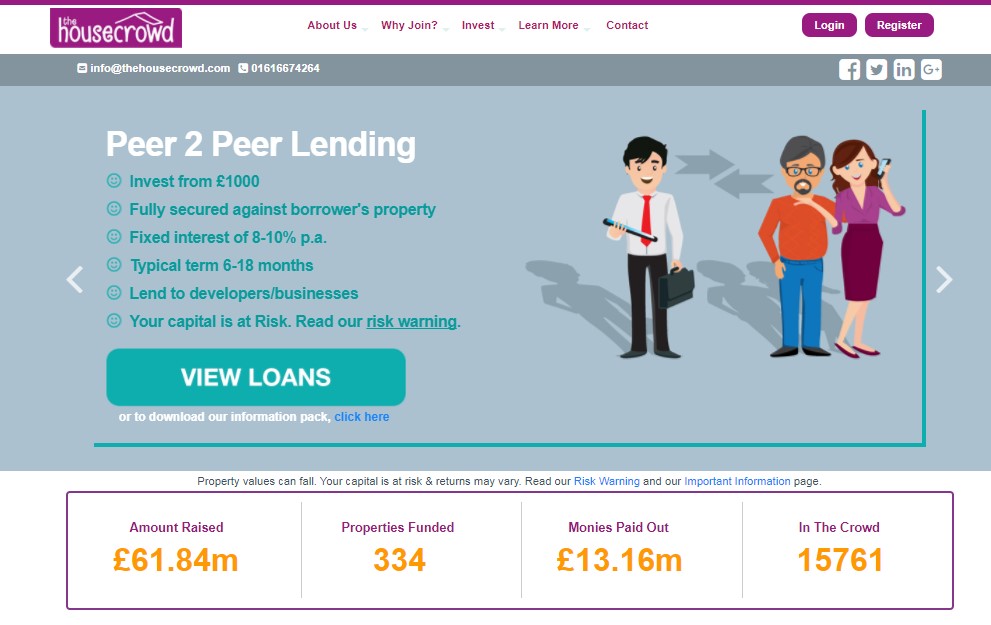 The House Crowd calls itself the first crowdfunding platform in the world. Since its founding in 2011, the company has realised almost 340 projects and raised over £60 million.
Individuals and legal entities can invest projects on the platform, which is open to all international investors except US nationals. The minimum investment amount is £1,000.
The House Crowd moderators perform a thorough property due diligence, and every project is assessed by the Royal Institution of Chartered Surveyors (RICS). However, they repeatedly warn website visitors of the risks relative to property capitalisation and liquidity. Users are not protected by the FSCS.
Germany
Property crowdfunding platforms in Germany are characterised by:
Absence of fees
Focus on mezzanine financing and Value Added projects with yields from 5% to 7%
Low investment threshold

Since the launch of the platform, Exporo has realised almost 80 projects and raised over €100 million, €16.5 million of which have been paid to investors. The minimum investment amount is €500; the investment term is two to three years. Foreign nationals can participate in Exporo projects using the English-language version of its website.
Unlike other UK crowdfunding portals, Exporo is funded by project owners and not investors, which make it completely free to use.
Investments are registered as mezzanine loans: the investor lends capital to the developer in exchange for a fixed interest for the use of the funds and gets a share of the profits earned. A mezzanine loan is a subordinated debt that has secondary priority after the senior debt – the bank loan. It is secured by a pledge of shares or by equity. Funds raised via Exporo are spent on commercial and residential property construction and renovation projects in Germany. The yields on Exporo projects range from 5% to 6%.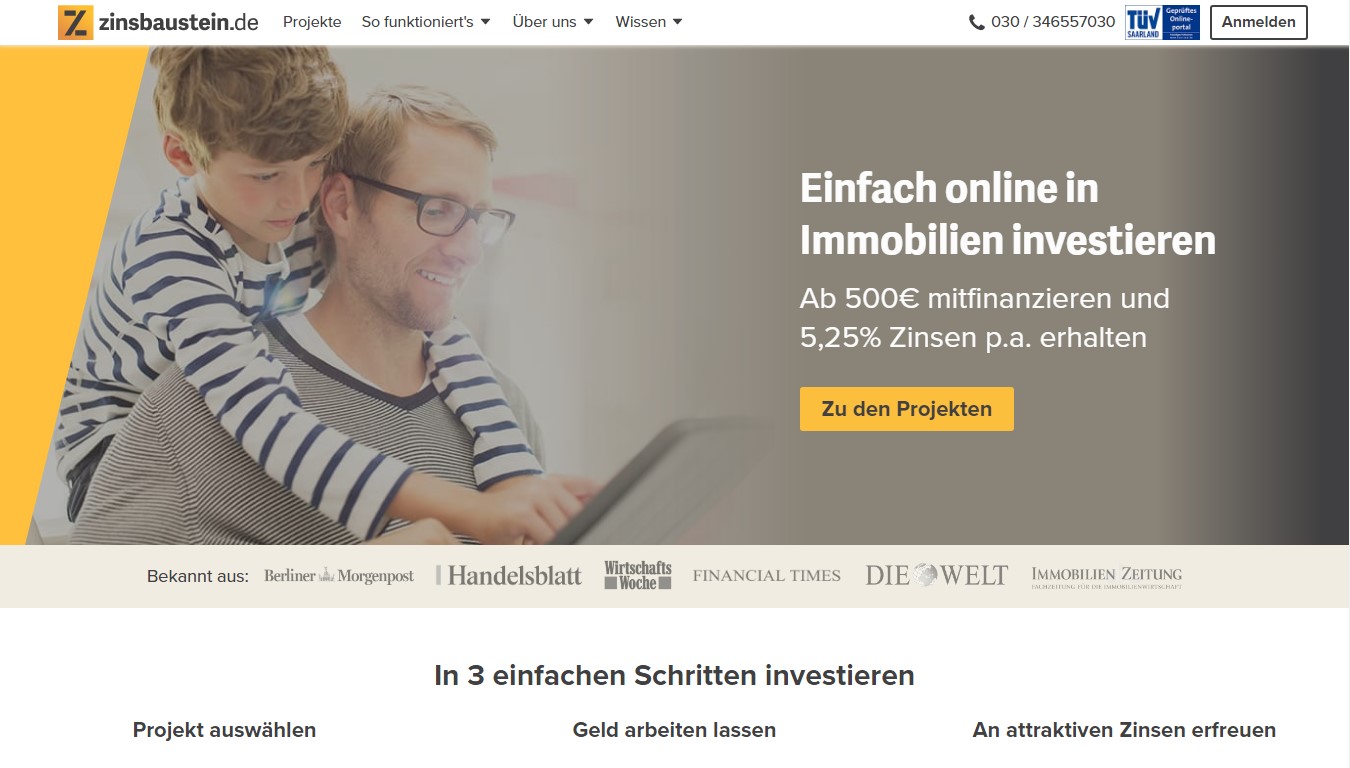 The relatively new crowdfunding platform Zinsbaustein has realised 13 projects and attracted a total amount exceeding €15 million over its 18 months of operation.
Under its terms, individuals can invest €500–10,000 (if they own €100,000 assets or the investment amount does not exceed their double net monthly income), while no restriction for legal entities exists. The possibility of international investing is not mentioned, the website is only available in German.
Investments are registered as mezzanine loans. The platform's founders warn of potential risks: investor loans are unsecured and repaid only after unsubordinated debt obligations. In a negative scenario, investors can be comforted by the fact that their losses are only limited to the sum of their contributions.
The platform projects typically involve micro-apartment and commercial property renovation and construction in Germany. Investment terms range from one to three years, the yield rate is 5.25%. Investors do not pay for Zinbaustein's services.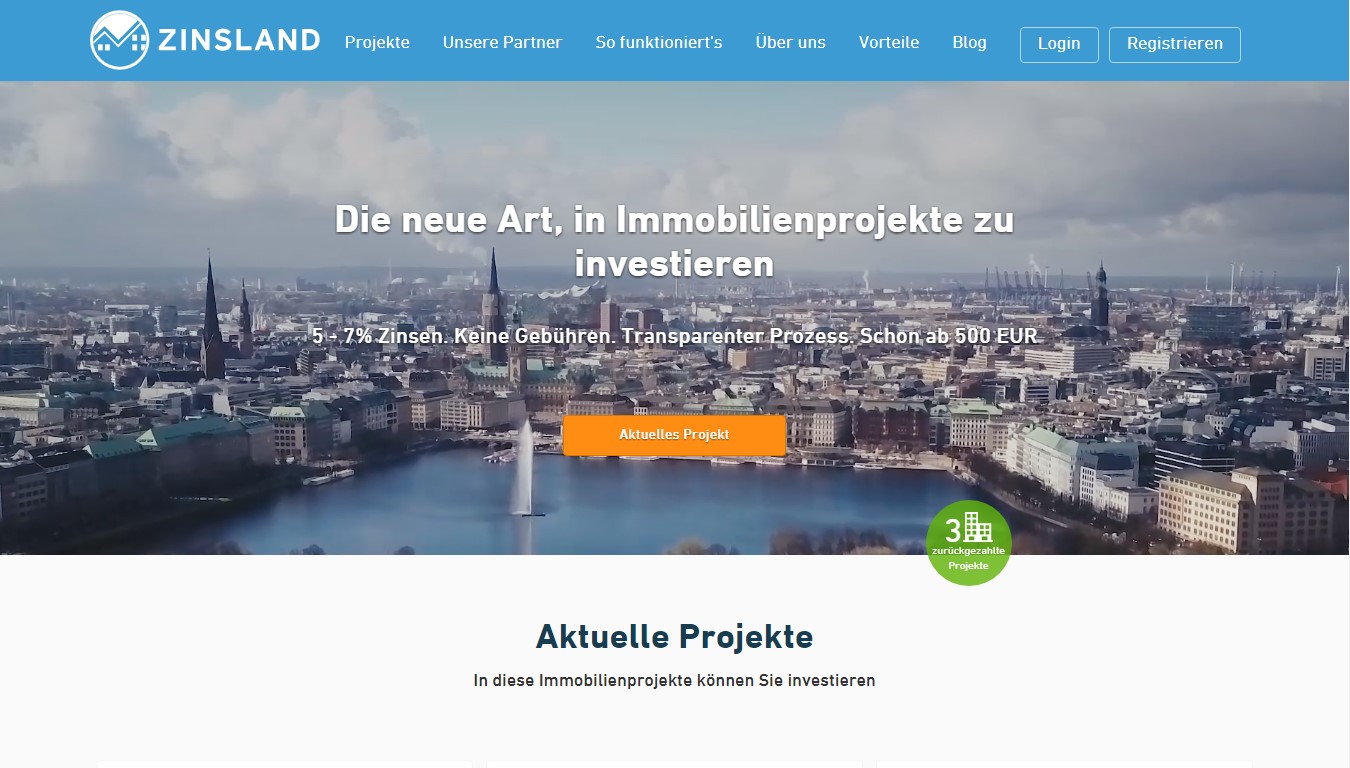 Of the 37 projects carried out by Zinsland since 2015, 22 were realised in 2017. the volume of capital the platform has attracted exceeds €27 million.
Like the other two German platforms, Zinsland registers the financial contributions it receives as mezzanine loans, charging only project owners and not investors. The yields offered, which average 5-7%, reflect the relatively high risks investors have. The platform works with developers directly, who receive investors' capital in full. Investment terms range from one to three years.
Investors provide mezzanine financing for the construction of micro-apartments and renovation projects in Germany. The investment amount typically ranges from €500 to €10,000. Investors who have €25,000 and above can participate in club deals. The participation of international investors is not specified, and the website is only available in German.
Spain
Property crowdfunding platforms in Spain are characterised by:
Flexible investor yields and fee calculation
Focus on renovation projects in large Spanish cities (Barcelona, Madrid)
Open to international investors (NIE number is required)
Housers (Madrid)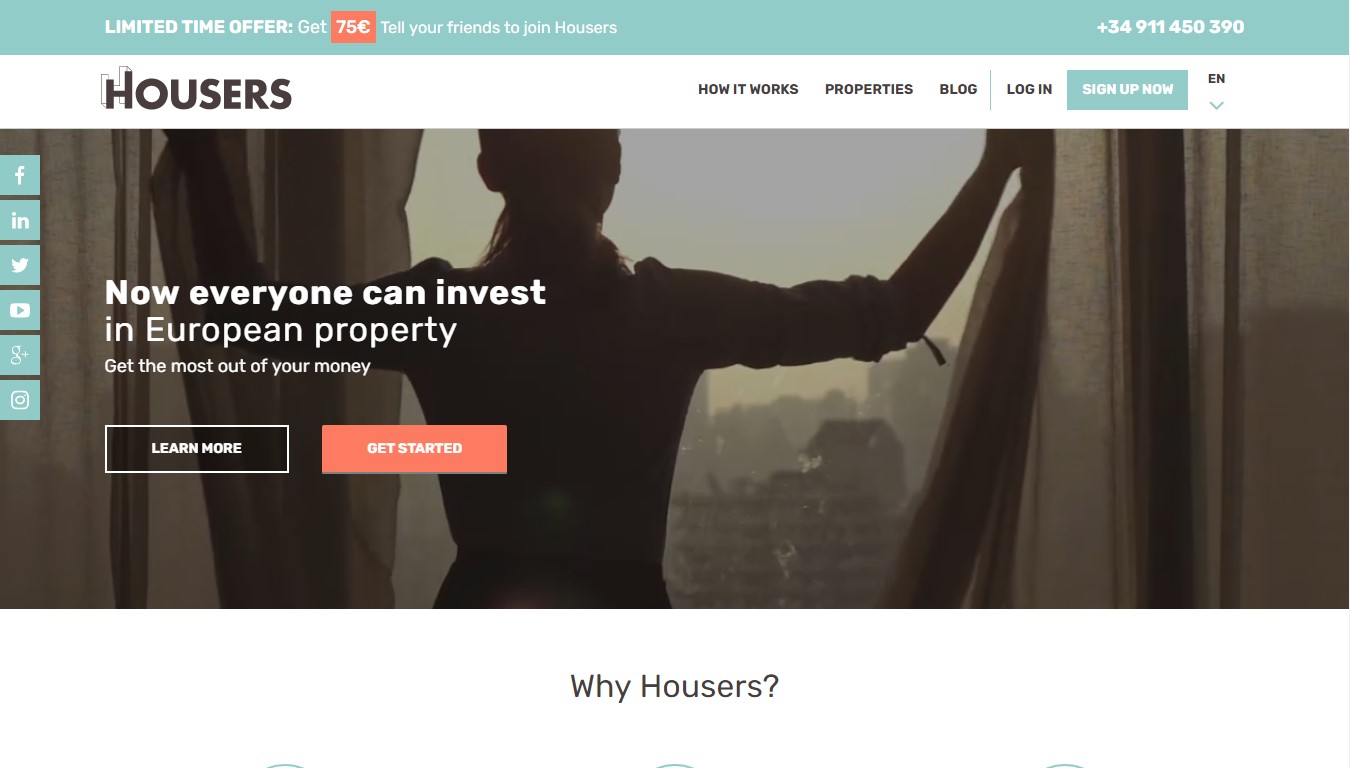 "What about creating a platform with a real estate portfolio, where anyone with a budget starting from €50 will be able to invest?". With this very question the story of Housers began, according to co-founder Tono Brusola. Since its launch in 2015, the platform has realised 86 projects and raised over €34 million.
The company focuses on commercial and residential real estate in the central districts of major European cities. Its users buy company shares or provide loans for the construction and renovation of apartments, which are mostly concentrated in Barcelona, Madrid and Milan. Investors can earn on the sale or lease of the property. Yields vary significantly between projects, and the average investment term is one year.
For most users the investment ceiling is €3,000 per project or €10,000 per year. Larger amounts are available to investors with annual incomes over €50,000 (for legal entities, the total asset value must exceed €1 million).
Housers charges 10% of investor profits as a service fee.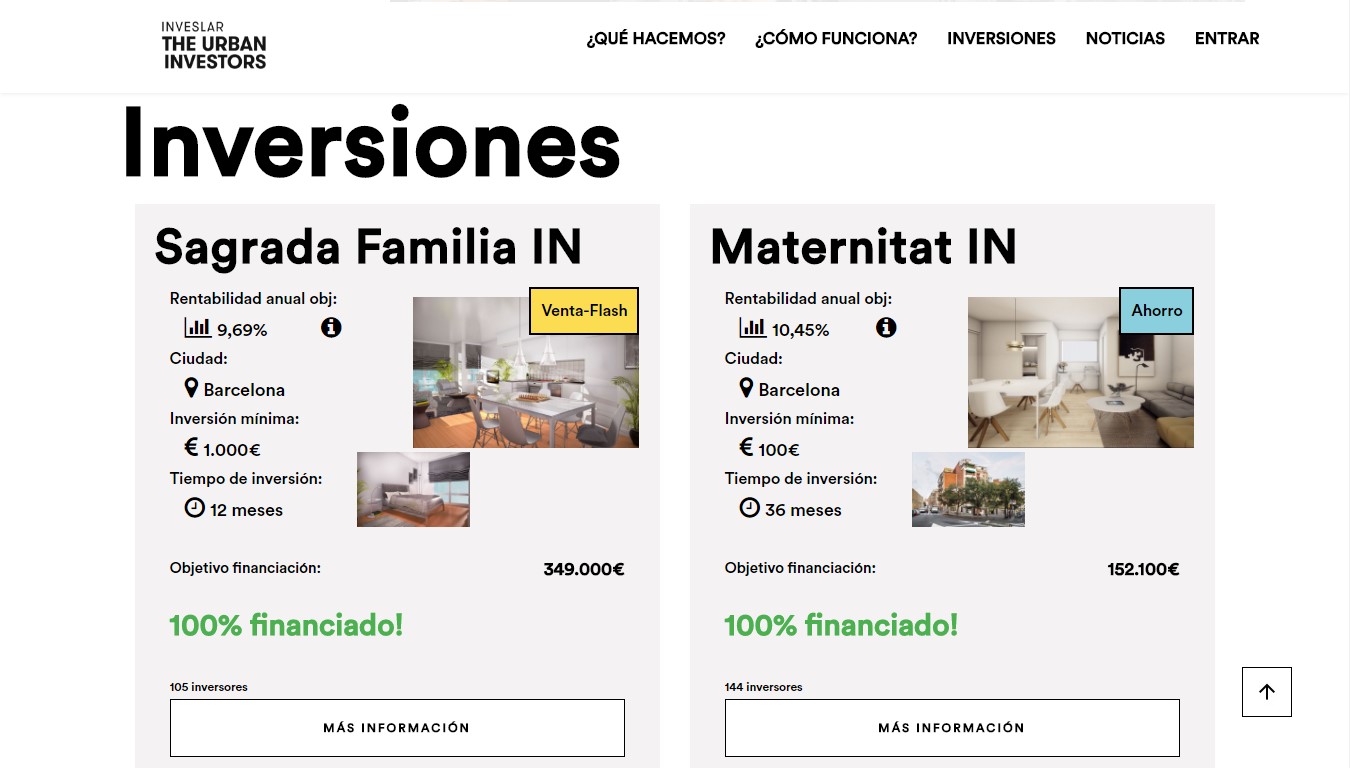 Fledging platform Inveslar was launched in 2016 and has already managed to realise nine projects and has raised almost €2 million in total.
Any Spanish or foreign national of age with an NIE (Número de Identidad de Extranjero) number can use the platform. Inveslar does not work with certain countries in Asia, the Middle East and Oceania.
Inveslar offers two investment options: property purchase, renovation and resale at a higher price in 12 months or property lease and sale in three years. The minimum budget depends on the project and ranges from €100 to €3,000. Its users buy shares of a company set up for apartment renovation purposes in Barcelona. Investment terms range from one to three years.
According to Jeangalea.com, Inveslar is sponsored by investors who pay 4% of their investments to participate in projects, 10% of the rental income when leasing property and 2% of the property's final price when selling it.
Privalore (Barcelona)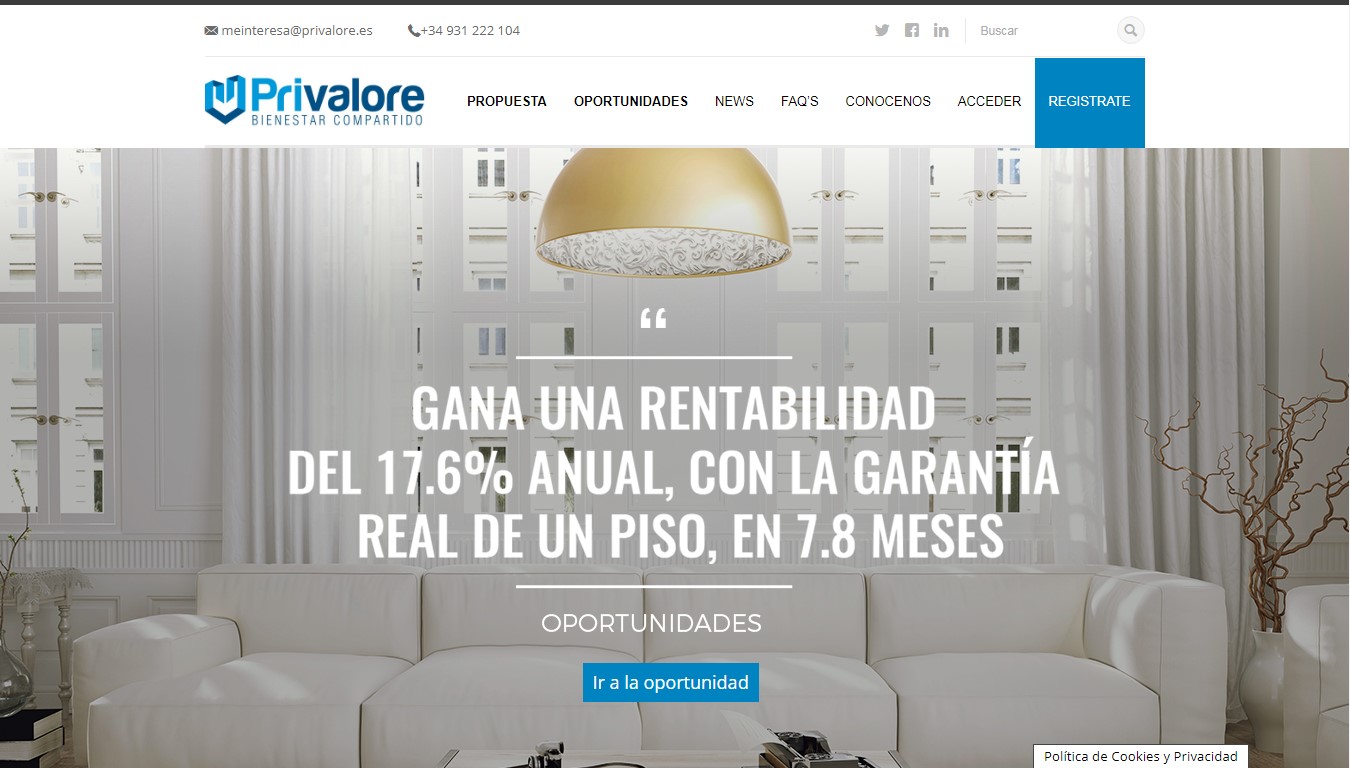 Privalore calls itself the first crowdfunding platform in Spain. The website, launched as Bricktal in 2014, has united over 1,000 investors who collectively have put in almost €3 billion into its projects. Unlike most platforms, Privalore invests in its own projects, making contributions of at least 65%. "If a friend suggests that you invest in a promising project, would not you ask him how much he is investing himself?", one of its users said.
Any individual or company with a current account with a bank in a country from the Organisation for Economic Co-operation and Development (OECD) can participate in Privalore projects. Foreign nationals must have a NIE number.
The minimum investment amount is €1,000. Privalore focuses on apartment renovations in central Madrid and Barcelona. The average investment term is eight months. The expected property reconstruction term is two months, and the sale term is six months. The average project yield rate is 17.6%. Privalore charges about 4% of the property sales price as a commission. the company says that reducing the number of intermediaries allows it to lower most of its project fees.
United States
Property crowdfunding platforms in the United States are characterised by:
Relatively low fees
A range of investment strategies offered
Relatively high investment threshold
Focus on US citizens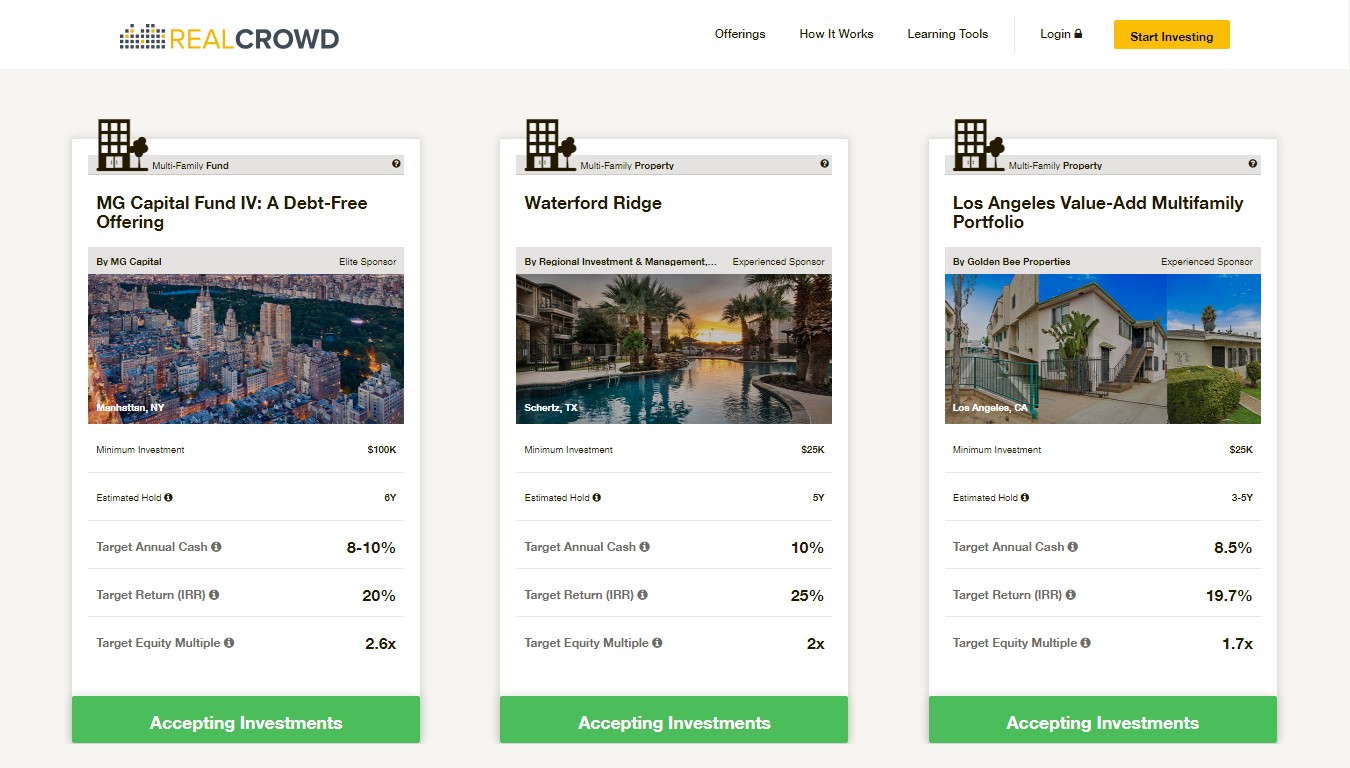 "RealCrowd is for serious investors", according to the platform's founders. Only companies with at least 10 years of experience and transaction volumes above €50 million can be RealCrowd partners. The platform focuses on commercial property which, according to its founders, is more profitable than any other investment vehicle. This includes offices, retail, apartment buildings and industrial premises.
The platform provides mezzanine financing, buys company shares or invests in a fund to carry out its various investment strategies (Core, Core Plus, Value Added, and Opportunistic). Investors do not pay for RealCrowd services.
RealCrowd only allows accredited investors (either HNWIs or individuals whose annual incomes exceed $200,000 for the two previous years) to participate in projects. The possibility of international participants depends on the particular project.
Investment terms start from one year. Unlike other platforms, RealCrowd investors cannot exit the project until it is terminated.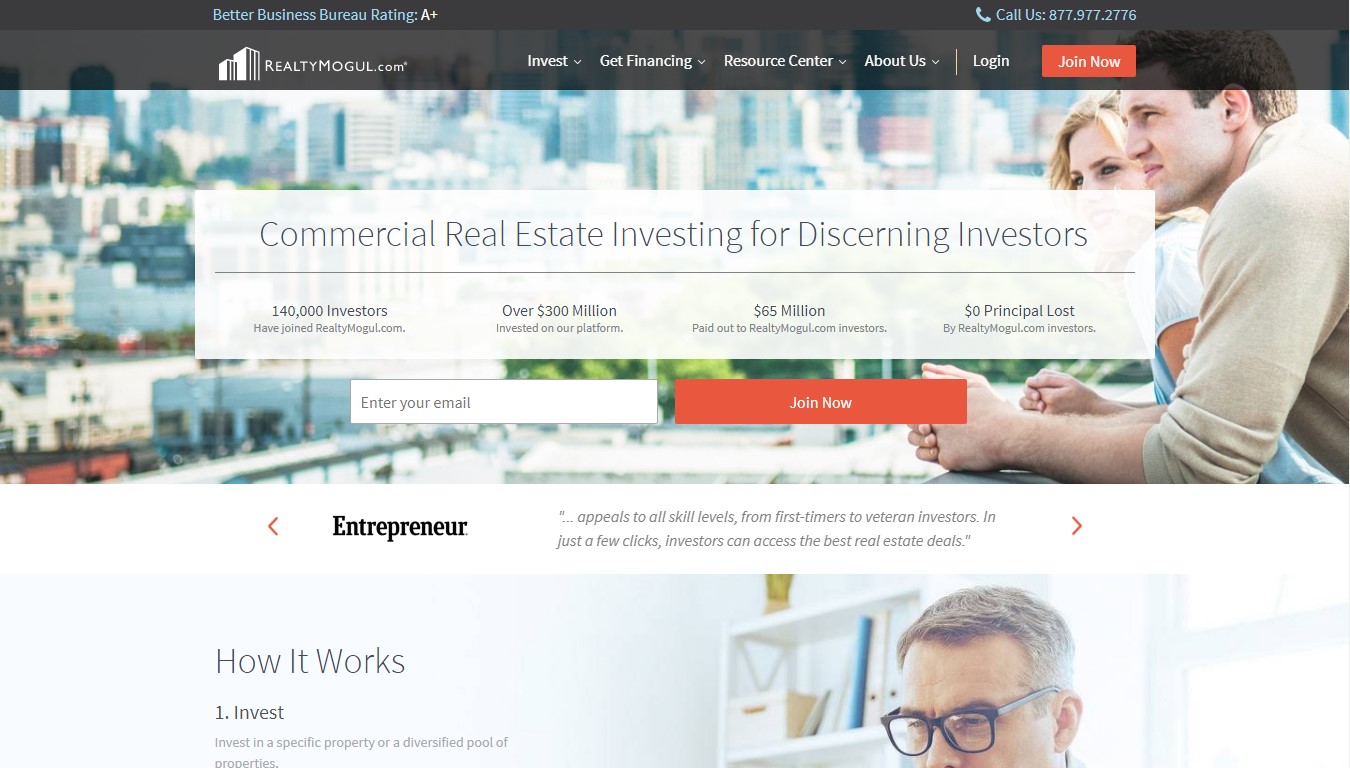 Realty Mogul has raised about $300 million and financed over 350 properties since its launch in 2013.
Realty Mogul users have two investment options: providing loans secured by property to get returns at a fixed rate for several months or years, or to buy shares in real estate, which include apartment and office buildings, warehouses and shopping centres. in the latter case, investors make money from the lease of property and its subsequent sale after several years. in most cases, investors cannot resell their investments.
Realty Mogul works with accredited and non-accredited investors, banks and family offices with budgets starting from $1,000. The participation of international investors is not specified on the company's website. According to Investmentzen, Realty Mogul charges about 1% to 2% of the investment amount as a service fee.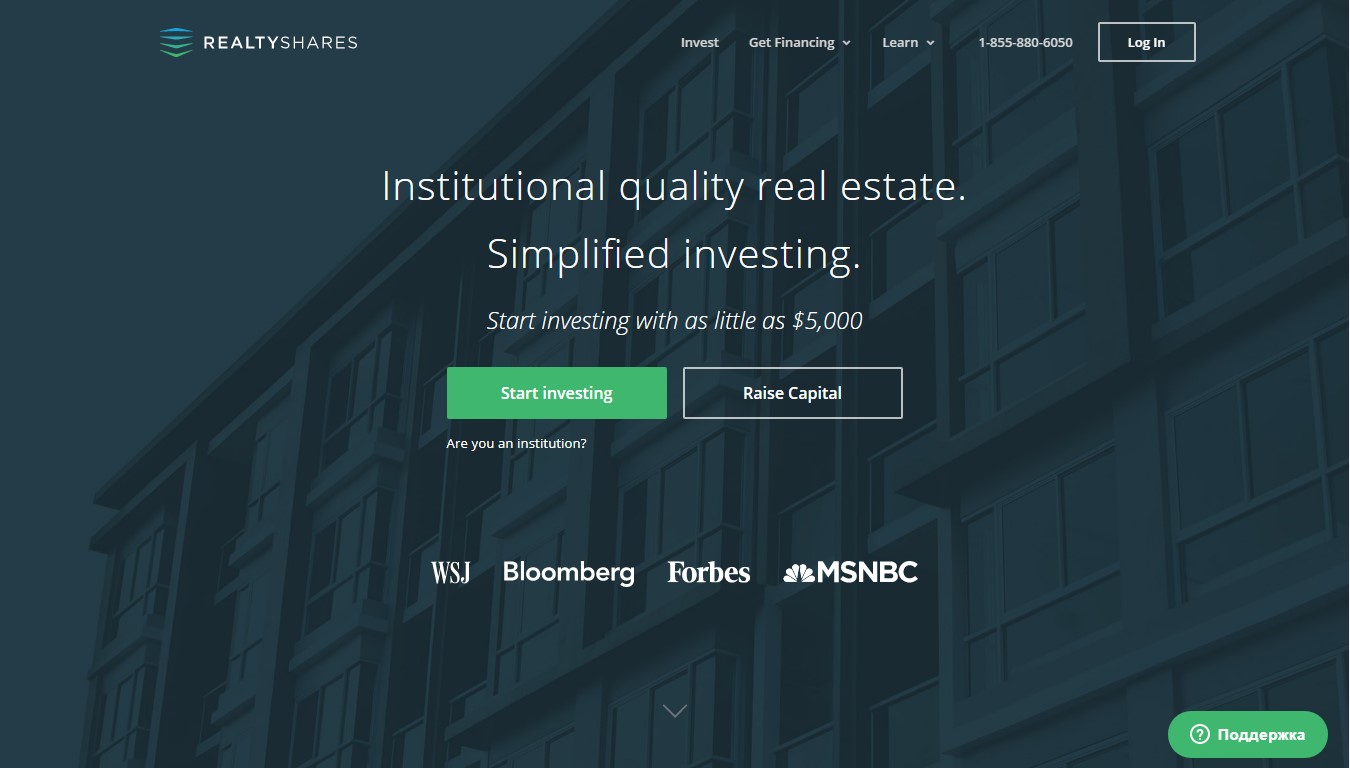 RealtyShares has financed over 1,000 projects and raised about $500 million so far. The company's portfolio features real estate in 220 cities across 35 states.
Like the other two US platforms, RealtyShares offers opportunities for property financing at 8% to 9% per annum or buying property shares and earning on property lease or resale in 6 months or 5 years. The minimum investment amount is $1,000.
RealtyShares allows accredited investors and investment funds to participate in its projects. Investors who have bought shares in projects on its platform must pay an annual service fee of 1% of their investment. The commission loan-providing investors pay is discussed on a case-to-case basis.
Yulia Kozhevnikova, Tranio
Subscribe not to miss new articles
We will send you a content digest not more than once a week
Subscribe
Done!
Top 5 Articles of the Month