Buying to let: Tranio client invests in rental property abroad
Elena, a Tranio client, decided to invest her family's savings in an apartment abroad that could be leased out. With so many different investment options available, we asked Elena why she went for a buy-to-lease flat, how she chose property for sale in Germany and what she thought of the local real estate agent's work.
— Elena, why did you decide to invest your savings in foreign property?
— Our family are conservative investors. We were unwilling to take risks on the foreign exchange market or the stock market that we find difficult to understand. Our primary objective was not to boost revenue but to secure the savings we had. We considered everything, closely studied the real estate market and finally decided that a buy-to-let apartment would be the most suitable investment.
— Did you consider alternative property investment options to the flat, like a hotel room or B&B?
— We were operating on a rather limited budget and B&Bs were much more expensive than a regular apartment. We also didn't really consider commercial property because it requires lots of time and attention. We already have lots of work in our daily lives so we weren't ready to invest our time and effort into managing a business, especially abroad. Besides, commercial property may be more profitable but it's riskier, too.
— Which is more important to you, seeing your flat increase in value or high rental yields?
— We would love to see both of course but it's rather unlikely. Look at it this way: high yields are often delivered by a pre-owned apartment in good condition which attracts a steady flow of tenants with lesser incomes but these flats are also harder to sell. A more expensive apartment in a new building is a highly liquid asset that gains value quickly. At the end of the day, tenants are less troublesome and it's easier to sell. That's why we chose the latter.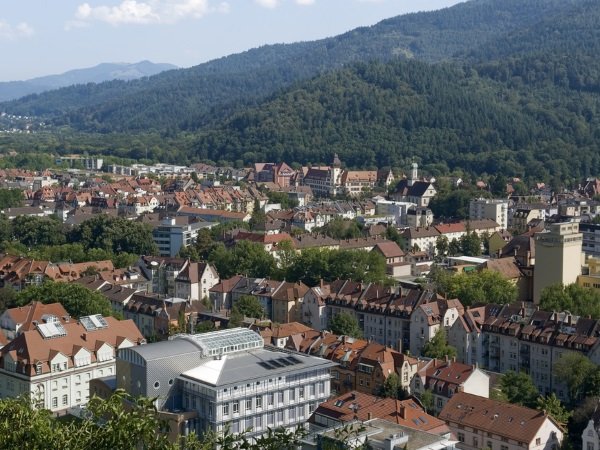 — Why did you choose Germany? What criteria did you consider?
— We immediately took the Asian real estate markets off the list as they are volatile and focused on countries with steady and developed economies. Then we excluded the US and UK for being far away making it harder to manage the rental situation. Then we considered continental Europe like France, Austria, Germany and the Czech Republic. At that point we decided we would be better off choosing the state with the strongest economy that would always be in the demand with professionals and therefore need accommodation. Another point to consider was construction quality. We wanted to make sure there wouldn't any bad surprises and we didn't want to have to renovate often. And this is where Germans exceed. Strict standards ensure high quality buildings and the law reliably protects the landlord's interests. For example, tenants have to produce a proof that they can pay the rent before signing the lease agreement.
— Of all the German cities, what made you choose Freiburg?
— Along with Freiburg, we considered Berlin, Munich, and Stuttgart. We wanted an apartment in a major administrative and commercial centre with high demand for rental apartments. First we excluded Berlin as an economically weak region. South Germany, Bavaria and Baden-Württemberg, suited us better. The Munich market was overheated, and apartments there were too expensive. Prices per square metre were exorbitant. Initially we considered the well-developed major city of Stuttgart in Baden-Württemberg, but then turned our attention to Freiburg. This city is smaller, but the location is better. It's not far from Switzerland, so Swiss nationals often lease or buy apartments there, as living in Germany is cheaper than living at home for them. Besides, Freiburg is known for having one of Europe's oldest universities and is an important medical research hub. So we chose Freiburg thinking demand for rental apartments would be steady enough.
— How long did it take to find your flat?
— In total it took us approximately eight months. We closed the deal a year ago. We had picked around 20 apartments and visited six of them personally.
— Did you borrow any money from the banks?
— Yes, we took out a loan for about 30% of the apartment's value. We didn't need a bigger loan, even though we could have borrowed up to 50%. We got the credit through German bank Sparkasse with the kind help of our real estate agent.
"In general, German banks are ready to grant a loan for as much as 50% of the real property value. It's easiest to raise a loan for a flat in a new building, as the appraised value equals its market value. The interest depends on the value of the real estate item and/or the land for which the money is borrowed. It will be considerably easier to get a loan via a Tranio partner in Germany because they have strong ties with German banks. Foreigners are likely to run into difficulties if they apply for a mortgage without the help of a reliable local real estate agent."
— Can you tell us a bit about the purchased apartment?
— We bought a 105 sq. m three-bedroom apartment not far from the centre of Freiburg. It is resource-efficient, which makes it much more popular with tenants, because Germans like to save money on their utilities.
— Do you use a management company to rent out the property?
— In our case, managing the lease is among the services offered by our real estate agent.
— What profit does your apartment yield?
— I haven't done the detailed calculations of the expenses, but I can estimate the net income at about 2% per annum. At that, the tenants cover about 80% of the expenses including utilities, while we pay the remaining costs like taxes and maintenance. We have a local consultant to help us with tax-related issues.
— What have you learned from your own experience?
— I think our major mistake was starting off wrong. We planned on finding the largest real estate company in the chosen country and asking them to assist us in choosing the area and the property. As it happened, there was no such company, but instead there were many small local ones. And this is where Tranio was helpful. Assisted by your experts, we chose the city and got in touch with reliable local real estate agents and consultants who turned out to be great professionals.
Besides, it is not worth the trouble to neglect the services of legal and tax consultants. German law is sophisticated. You should protect yourself from the risks that could cost you much more than the lawyer's services. Meanwhile, the tax consultant will explain to you that German taxes aren't as scary they might appear at first glance.
Ivan Chepizhko, Tranio
Subscribe not to miss new articles
We will send you a content digest not more than once a week
Subscribe
Done!
Top 5 Articles of the Month