Spain's Golden Visa programme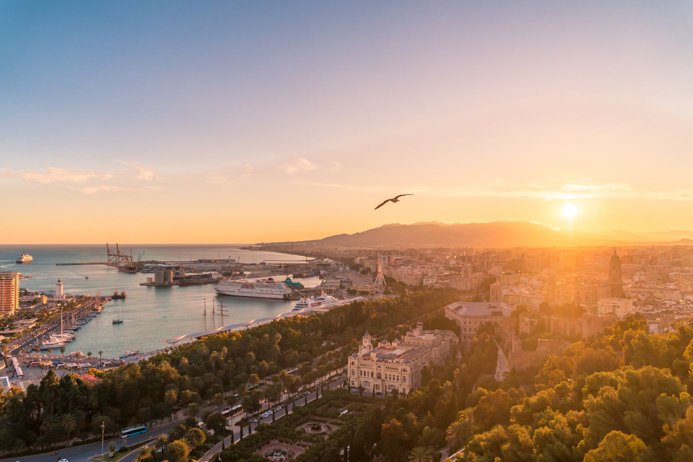 State-run immigrant investor programmes, also known as "Golden Visa" programmes, are designed to attract foreign capital and businesspeople by providing residency or citizenship in return. 
Spain's Golden Visa programme was enacted in October 2013 and is the most popular in Europe. 
Foreigners involved in the programme see their residency status progress as follows:
A national type D visa for a year → temporary residence for two years → extended for two years → permanent residency for applicants who prove they have not left Spain for more than 10 months within the previous five years → Spanish citizenship after ten years of residence in the country. 
However, if the foriegn investor does not wish to reside in Spain permanently, they can extend their temporary residence permit for five years (after previously extending it for two years). The permit can then be extended an unlimited number of times as long as the investor meets the conditions of the programme. 
The Spanish Golden Visa allows investors and their families to travel freely within the EU zone.

This visa also gives investors the right to relocate to Spain with their families.
Ways to obtain a Spanish Golden Visa
Buying residential property in Spain worth at least €500,000. It is necessary to own the property for five years, after which time it can be sold;
Depositing €1M in a Spanish bank for five years;
Buying and holding €1M worth of stocks from a Spanish company for at least five years;
Putting at least €2M into Spanish public bonds (the securities have a maturity period of at least five years);
Proposing a business project that will create jobs or fuel the country's economic development/ innovation.
Important: Under Spain's Golden Visa programme, investors can recover any of the above contributions after five years. 
The programme's advantages 
Freedom of travel. Spanish residence permit holders can travel freely in the Schengen Area.
No permanent residency requirements. Holders of a regular Spanish residence permit must remain in the country for at least 183 days a year for it to remain valid, while those with a investment visa must only spend at least seven days a year in Spain for it to remain valid. 
However, if the investor wants to obtain permanent residency and Spanish citizenship, it is necessary to live continuously in the country.
It takes 2-3 months to be issued, which is far quicker than obtaining a residence permit on general terms, which can take years.
Residency for the entire family. National residence permits are issued to the investor, their spouse, and minor children (under 18). The investor's parents and children over the age of 18 can also be included in the application if physically/financially dependent on the main applicant.
The right to work. Residence cards with the right to work are issued to the applicant and their closest family members.
Medical treatment Under Spain's Cuadro médico sin copago health insurance scheme, services including doctor's appointments, ambulance call-outs, hospitalisation, treatment, and surgical service are available for free.
EU driving license. The investor can buy and register an automobile.
School and university education for children. The investor's children can study in the country's public and private schools, as well as receive higher education.
No tax residency in Spain. The investor has no obligation to submit tax returns if they stay no longer than 183 days a year in the country.
No need to pass exams. It is not compulsory to speak Spanish or take an exam about the country's history.
Residency through buying property in Spain
To obtain a Spanish residence permit, an investor must purchase a Spanish property worth at least €500,000. It is also necessary to pay additional purchase-related costs including taxes and notary/legal fees, which usually amount to 11-12% of the property's value.
The investor can purchase a land plot or residential/commercial property. Buying several properties exceeding €500,000 in total value is allowed.
The applicant must invest at least €500,000 of their own funds without a mortgage, however, taking out a mortgage to cover anything in excess is not prohibited. Both individuals and legal entities can invest.
To extend a residence permit, it is necessary to own the residential property for five years, after which point it can be sold. However, it is possible to sell the property earlier and keep the residence permit when buying another Spanish home, which must also be worth no less than €500,000.
Nine steps to obtain a Spanish Golden Visa
1. Speak to a Tranio immigration expert and choose a property to invest in;
2. Obtain a Schengen visa to enter the country;
3. Open a Spanish bank account and receive a national tax identification number;
4. Pay a deposit equalling 10% of the property's worth;
5. Pay the investment in full;
6. Obtain a year-long type D visa at a Spanish consulate;
7. Apply for a two-year resident card within the visa validity period or no later than 90 days after its termination. After this period is over, the right to apply for residency in exchange for an existing investment is lost forever;
8. Submit fingerprints to the migration police department where the property was registered;
9. Receive a two-year residence card with biometric data.
Application requirements
The applicant must be over 18 years of age;
Investment in the Spanish economy must be over a period of five years;
Proof of financial soundness: having a sufficient level of income to reside in the country without applying for state-funded social benefits and government support. The minimum amounts required are €26,500 in the investor's deposit account and €6,600 per family member per annum;
Proof of the legal origin of funds;
A clean criminal record for the last five years;
No debt with the Spanish tax authorities;
No visa violations or limitations on entering the EU;
No threat to national security;
Free of infectious diseases.
Documents required to apply for investment-based residency
A passport, which needs to be valid for at least a year from the start date of the residence permit application;
National identity document (plus a photocopy and authorised translation);
Completed visa questionnaire and application form;
Two coloured 3.5 x 4.5 cm photos;
Spanish property sales agreement or documentary proof of any other type of investment;
Bank statements and documentary proof of deposit;
Police clearance certificate with notarised translation;
Medical certificate;
Health insurance from a Spanish company covering the entire visa validity period;
Documentary proof of the income's legal origin: personal income tax returns, bank statements, real estate/property sales/rental agreements from the applicant's home country;
Consular fee receipt.
Permanent residency in Spain
Immigrants who have lived in Spain for five years are eligible for permanent residency. Applicants must prove that they have not left the country for more than 10 months within those five years. Permanent Spanish residency gives holders the same rights as full citizens, apart from the right to vote and be elected into the political system.  
Spanish citizenship 
Spanish citizenship can be obtained on regular grounds. It is possible to apply for Spanish citizenship after 10 years of residency in the country.
Applicants need to obtain a temporary residence permit first and become a permanent resident five years later. Five years after receiving the status of a permanent resident it is possible to apply for Spanish nationality. To be granted this, applicants need to first pass Spanish language and history exams.
Spain prohibits dual nationality so applicants are required to renounce their birth citizenship before being issued a Spanish passport. There are only a few exceptions that mostly apply to citizens of Latin American countries.
Subscribe not to miss new articles
We will send you a content digest not more than once a week
Subscribe
Top 5 Articles of the Month