House prices, rental rates and yields on America's top residential markets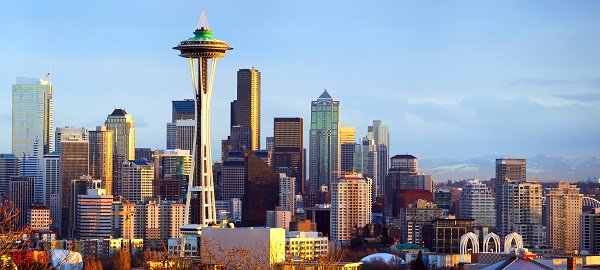 New York, Miami and Los Angeles are the most popular American cities with foreign investors, but it doesn't mean others are not worth looking into, especially considering how prices and occupancy have grown in 2015. There's good reason why America is such a popular property destination for foreign investors who want to safeguard their capital against currency devaluations at home.
The USA is leading the way in terms of economic recovery from the 2007 crisis, while many other countries like Russia and China are in the grips of an unrelenting slowdown. Not only does it allow them to maintain their asset value in dollars, it also means that capital gains and yields will be earned in strong and reliable currency.
America's "housing crisis" is good news for investors
America's residential market is experiencing a historic "housing crisis". In just ten years, 9 million households became tenants according to the Housing Studies Centre of Harvard. This is the largest increase over any 10-year period since 1965.
In 2015, 43 million households in America spent $535 billion on rent, which represents a $19 billion increase (3.7%) on the previous year ($516 billion). Nowadays the number of new families becoming tenants each year is growing at nearly double the speed of the '70s when the baby-boomer generation came of age.
Annual house price growth was 4.0% in December 2015, which represents a total gain of 17.0% between 2013 and 2015 according to The Economist. However, this has mainly benefited entry-level and mid-market ZIP codes as reported by Zillow, a major American property portal. These segments enjoyed 4.7% and 5.0% median growth respectively compared to just 3.3% for luxury ZIP codes.
East Coast residential markets and buy-to-let yields
On the Atlantic coast, investors are extremely active in the North (e.g., New York City, NY), the South (e.g., Miami, FL) and Charlotte, NC in the centre. The inventory of houses listed on these popular markets is often in decline, corresponding with high demand and price growth.
City
Median house
price, USD
Annual price
change, %
Inventory for sale
dynamics, %
Boston, MA
383,900
05.6
–13.6
New York City, NY
381,000
01.8
0–2.2
Miami, FL
225,700
10.4
–30.1
Orlando, FL
180,600
07.1
0+1.1
Charlotte, NC
157,000
05.1
–10.2
USA average
185,000
04.0
0–7.7
Rental rates are growing as demand increases from tenants. This has particularly benefited certain urban markets. In New York City, the most unique feature of the rental market at the moment is the lacklustre performance of the luxury segment.
Not the best year for luxury rentals in New York
Luxury rentals in the Big Apple didn't have a particularly impressive year in 2015. In Manhattan, the median rental price remained flat at $7,995 per month, but Brooklyn fared even worse. Monthly rental rates for elite property fell 6.1% over the year to December from $5,498 to $5,163 according to Douglas Elliman, a real estate agency.
City
Median rent
per month,
USD
Annual gross
yield,
%
New York City, NY
2,384
2.55–6.25
Boston, MA
2,224
05.25
Miami City, FL
1,822
09.33
Orlando, FL
1,343
10.43
Charlotte, NC
1,221
07.91
USA average
1,381
N/A
West Coast residential markets and buy-to-let yields
Residential property markets in the Californian cities of San Diego, Los Angeles, San Francisco and Riverside, as well as Portland, OR and Seattle, WA, all demonstrated price growth well above the American average. Los Angeles, San Diego and Seattle have not yet reached their pre-crisis peak, contrary to Portland and San Francisco which have already exceeded it.
City
Median house
price, USD
Annual price
change, %
Inventory for sale
dynamics, %
San Francisco, CA
785,800
12.3
0–2.0
Los Angeles, CA
554,700
06.1
0–9.2
San Diego, CA
499,900
06.8
–29.9
Seattle, WA
368,700
09.2
–28.2
Portland, OR
310,000
12.4
–24.4
Riverside, CA
298,200
06.2
0–5.6
USA average
185,000
04.0
0–7.7
West Coast cities are booming in terms of economy and real estate. Tech companies have provided the main stimulus for northern California (San Francisco), Seattle and Portland areas, which are some of the country's fastest growing property markets. Los Angeles remains a beacon for foreign investments and San Diego continues to thrive as a biotech hub on the border with Mexico.
City
Median rent
per month,
USD
Annual gross
yield,
%
San Francisco, CA
3,338
3.39
Los Angeles, CA
2,491
5.02
San Diego, CA
2,316
5.58
Seattle, WA
1,931
5.35
Portland, OR
1,691
5.96
Riverside, CA
1,689
5.02
USA average
1,381
N/A
Other residential markets and buy-to-let yields
The wide central strip between both coasts is no less interesting. In fact, it is an excellent option for investors with lower budgets who want to get more for their money. The following cities are those that show the most promise but are also just two flights away from any major overseas airport.
City
Median house
price, USD
Annual price
change, %
Inventory for sale
dynamics, %
Denver, CO
320,800
15.2
0–1.9
Dallas–Fort Worth, TX
177,200
14.0
–11.4
Atlanta, GA
160,000
05.5
0+7.0
St. Louis, MO
141,000
06.8
–10.0
USA average
185,000
04.0
0–7.7
These cities have a national power of attraction but, nonetheless, benefit from external influences. In fact, St. Louis is forecast to become the hottest property market in America this year according to realtor.com. Atlanta and Dallas–Fort Worth are major aviation hubs, connecting internal and Europe-bound flights. Dallas is also famous for its wealth in oil and the favourable state tax system (e.g., no income tax). Denver in Colorado has benefited from the tech industry, tourism and the recent legalisation of cannabis trade within state lines.
City
Median rent
per month,
USD
Annual gross
yield,
%
Denver, CO
1,952
7.29
Dallas–Fort Worth, TX
1,500
9.52
Atlanta, GA
1,274
6.87
St. Louis, MO
1,123
9.37
USA average
1,381
N/A
Recommendations for buyers
There are a few important recommendations for foreign buyers. The prices quoted from Zillow and Trulia, two of America's largest real estate directories, provide insight into the property market situation but should not be taken at face value. Only an experienced local real estate agent will be able to provide an accurate overview of the market.
-> Five reasons why you still need a real estate agent
Agencies and brokers are a necessary part of the property hunt in the USA because they are aware of future construction and infrastructure projects as well as risks linked to localised violent weather patterns and geological stability.
Leigh Stewart, Tranio
Subscribe not to miss new articles
We will send you a content digest not more than once a week
Subscribe
Done!
Top 5 Articles of the Month