How a Tranio client chose an apartment in Dubai to get a 10-year residence permit under the new rules

In April, due to a particularly high demand the UAE government relaxed a number of rules regarding the issuance of residence permits to foreigners. Right at that time, Tranio's client Svetlana was looking for an investment apartment in Dubai. When the news about the relaxed rules broke, Svetlana changed her search criteria in order to get a new residence permit for 10 years. This permit would be retained by the owner, even in the case of not visiting the country.
Svetlana came to know Tranio several years ago via her friend's recommendation. With Tranio's guidance, she bought property in Spain and managed to get a Spanish Golden Visa. Svetlana enjoyed working with the company's managers and was satisfied with her investment.
Dubai Golden Visa on more favourable conditions
This spring, Svetlana contacted us with a specific request to find a property in Dubai and apply for a long-term resident visa. Svetlana's main goals were to obtain a residence permit in a cosmopolitan country, open a bank account abroad and invest in real estate with a constant rental income all the year round.
Svetlana lives and works in Russia and has no relocation plans in mind. Therefore, it has been important to obtain a residence permit in such a country where the legislation does not oblige investors to visit the country of purchase often in order to extend their residence permit.
In October 2022, the new set of rules came into force in the UAE regarding the issuance of resident visas. Foreigners buying real estate in Dubai worth 2 million dirhams (approx. 545,000 US dollars) will then be able to obtain a Golden Visa for 10 years. Under the old rules, investors could only count on receiving a 5-year visa for that amount of investment. Another advantage of these changes is that foreign investors will not be obliged to visit the UAE during the entire validity of their resident visa and still retain their residency.
While waiting for the new rules to take effect, investors can buy real estate now and then apply for a residence visa in September.
Initially Svetlana planned to obtain a 3-year resident visa for an investment worth 205,000 US dollars. However, after the government announced new conditions of the 10-year Golden Visa's issuance, Svetlana promptly decided to raise the amount of money she was willing to invest in Dubai's real estate to 545,000 US dollars.

According to Dubai Land Department's official data for October 2022, the average price per square metre reached 5,630 US dollars, which is 18% higher than in October 2021. The majority of real estate sold on Dubai's residential property market in Autumn 2022 fell within the price range of 270,000–550,000 US dollars.
What is important to know about Dubai's Golden Visa:
Starting from October 2022, the Golden Visa can be issued for 10 years for an investment of 545,000 $. Previously, for the purchase of real estate worth the same amount of money, foreigners received a visa for 5 years.
With the Golden Visa, one can stay in the country for an unlimited amount of time, yet at the same time this visa does not tie investors to the place of their investment. Its holder may never visit Dubai, not even once in 10 years.
The Golden Visa allows its holder to open a bank account in Dubai.
The Golden Visa can be extended an unlimited number of times while the foreigner holds the ownership to the property.
A more affordable alternative to the Golden Visa is a long-term resident visa for 3 years, which can be obtained for the purchase of real estate worth 205,000 $ or more.
Read more about the Golden Visa programme conditions in this article.
Courtesy of the developer: a personal driver for the duration of viewings in Dubai
Since one of Svetlana's goals was to receive rental income and she herself did not plan to live in the purchased apartment, Tranio's managers suggested she consider a hotel apartment.
During property viewings in Dubai Svetlana was accompanied by her adult daughter, who had been living in Europe for a long time. Since both women had a fairly tight work schedule, they flew to Dubai with a similarly tight viewing schedule in mind and visited up to three development projects per day.
During their trip to Dubai, Svetlana and her daughter appreciated the courtesy of the developer Tranio works with. The managers of our partner developer company met the women at the airport and took them to the hotel. Throughout their trip, a personal driver drove our clients from the hotel to viewings, from project to project, and then back to the hotel in the evening.
Hotel apartments in the spa centre for daily rent
Eventually, Svetlana settled on a hotel apartment in the heart of Dubai — the Business Bay district. Most of the residential complex consists of apartments, like the one Svetlana has chosen, while one of the buildings is occupied by a five-star spa hotel. A bar, restaurant, swimming pool, fitness centre and all the services an elite spa complex can offer are available for both tenants and hotel guests.

The developer of the complex has a concierge service that deals with renting out apartments, communicating with tenants and solving a variety of everyday problems. The owner needs only to choose the renting option — short-term, medium-term or long-term.
Svetlana has bought an apartment that is rented out on a short term basis and already has a booking schedule with future tenants.
The developer predicts a yield of 4% from a long-term rental contract for a year, 9% if the apartment will be rented out monthly and 11% ⎯ from a short-term daily rent. This is of course the yield before taxes. While there is no tax on rental income in the UAE, the owners of residential properties in Dubai still pay a municipal fee of 5% if they rent out their properties. This being said, the profitability in this rental complex is not guaranteed, so it is not included in the cost of housing.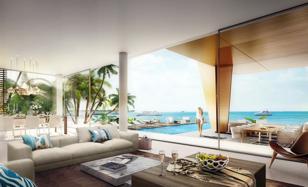 From $35,511,000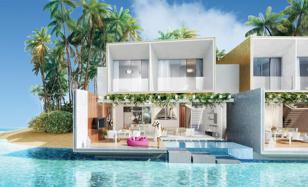 From $4,282,000
Making a purchase and future plans
The family transferred money for the purchase from Svetlana's daughter's European account, so Svetlana did not have to think about the possible difficulties associated with sanctions against Russian banks.
However, other Tranio clients are transferring money for real estate purchases in Dubai from Russian accounts in banks that have not been sanctioned, and all these transactions are successful. Also in Dubai there is an opportunity to pay for real estate purchases with cryptocurrency.
The new set of rules regarding 10-year Golden Visas for foreign investors came into force in October this year. Therefore, at the moment Svetlana is engaged in obtaining documents for real estate, which are being drawn up for her by a developer company. Then Tranio, together with the developer, will find a migration consultant for Svetlana, who will proceed to help her get a residence permit for 10 years and open a bank account.
Subscribe not to miss new articles
We will send you a content digest not more than once a week
Subscribe
Top 5 Articles of the Month